We live in a world that makes the novel 1984 seem tame. With nearly everyone voluntarily walking around with a tracking device in their pocket, it should be no shock that three-letter agencies, corporations, and advertisers want to know our every move.
This is simply the nature of Smartphones, and any phone, no matter what operating system, isn't completely private or untraceable.
As soon as a phone is turned on and either connected to a cellular network or Wi-Fi, it makes it easy to pinpoint location through triangulation.
However, we can optimize any mobile operating system for minimal tracking and greater privacy.
Related: How This Pandemic Allowed The Government To Track Preppers
Open Source, Privacy Minded Mobile Operating Systems
There are open source operating systems that use Android without Google services like /e/ OS.
There are also other operating systems that are based on open source Android like Lineage OS, Calyx OS, and Graphene OS that are maximized for privacy out of the box and can be customized as a user desires.
However, with increased privacy comes decreased convenience.
In any case, the most privacy-conscious individuals likely already know about these open source operating systems so we won't focus too much on them in this article.
If you are interested in limiting tracking as much as possible, I encourage you to look into these options.
---
Apple iOS
Apple has been promoting its products as privacy-centric, but how private are they really?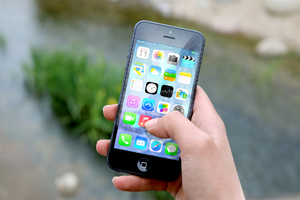 With default settings enabled, iOS reveals far more information about you and your habits than you probably realize.
Since iOS is proprietary software, we can't look at the code and determine exactly what is happening behind the scenes.
Related: A Simple Way to Block Your Cellphone from Being Spied On
In other words, people with iPhones have to trust Apple with their most intimate details and the thought of that is scary. In any case, here are 11 hacker tips to keep your iPhone from tracking you.
#1 Disable Location Data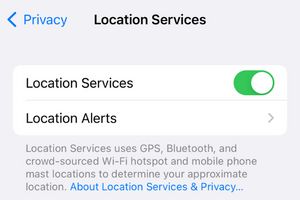 First things first, disable access to your location data so Apple doesn't share this information with apps and other third parties.
While location data may need to be turned on for some apps like Uber in order for functionality, don't allow them to remain on when not needed.
Disable location data by tapping on Settings, Privacy, Location Services, and switch all apps to Never.
#2 Disable Significant Locations
Your iPhone knows more about you than you know about yourself. Begin to change that by disabling significant locations.
First, open Settings, click on Privacy, click on Location Services, tap System Services and scroll down a bit to Significant Locations and click on it.
At this point, you will be asked to enter your password and all the significant locations you've been to will appear.
Then, you can remove whichever location you would like or all significant locations by clicking on the green toggle button.
#3 Disable Camera Access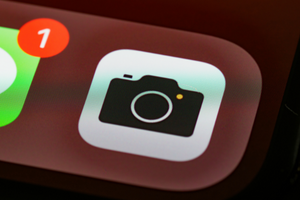 Imagine all the things that you don't want your camera to witness. Unfortunately, many of us unknowingly give apps access to our cameras.
While it's a pain to have to turn off access to the camera, it's better than revealing everything about you in a personal way 24 hours a day.
Turn off access to the camera by going into Settings, Privacy, and click on Camera. At that point, you will see all the apps that have access to your camera and ideally, switch them all to Never.
#4 Disable Microphone Access
For the same reason you don't want your camera spying on you, you also don't want your microphone listening to you and sharing your audio with the entire world.
In order to turn off microphone access to apps, go into Settings, Privacy, click on Microphone, and switch off access to all the apps that you don't want to have permission to your microphone.
#5 Limit Ad Tracking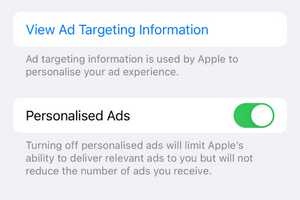 If you don't want your iPhone spying on you and sharing your information with third parties, you must limit ad tracking.
Turn off ad tracking by going into Settings, Privacy, Advertising, Limit Ad Tracking, and when you are there also reset the Advertising Identifier.
#6 Disable Cross-app Tracking
With iOS 14 and newer, apps must get your consent before they are allowed to track you.
Simply do not allow apps to track you by clicking Ask App Not To Track after you have downloaded the app.
#7 Disable iPhone Analytics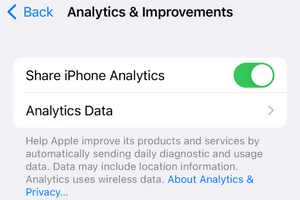 Sharing information with Apple is not necessary and iPhone analytics should be disabled to limit unnecessary tracking.
In order to disable iPhone analytics, go into Settings, Privacy, click on Analytics, and disable Share iPhone Analytics.
#8 Disable iCloud Analytics
For the same reason we disabled iPhone analytics we should also disable iCloud analytics.
In order to turn off iCloud analytics, go into Settings, Privacy, Analytics, and disable Share iCloud Analytics.
#9 Block Apps From Bluetooth Access
Apps that have access to your Bluetooth can easily track your location.
Related: How To Cover Your Tracks When SHTF
In order to block apps from accessing your Bluetooth go into Settings, Privacy, Bluetooth, and disable Bluetooth access to the apps listed.
#10 Use A VPN
If you don't want to reveal your actual location, use a dependable VPN that limits the amount of information anyone can gather about you.
#11 Use Brave Browser
Brave browser limits tracking when searching the Internet. With Brave browser, annoying advertisements don't pop up and you can watch videos that aren't interrupted with ads. Additionally, websites load faster and the overall browsing experience is simplified.
App Privacy Report
In iOS 15, Apple revealed the App Privacy Report. With this report, you can see which third parties requested access to your data, camera, and microphone.
---
Google Android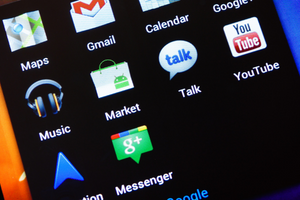 Android phones with Google services are a privacy hazard, as they track you when default settings are enabled.
Since Google makes money off the data they can gather about you, the more the better. Fortunately, Android users can tweak the settings to limit tracking and increase privacy.
Related: How to Turn Your Android or iPhone Smartphone Into A Satellite Phone 
Again, like iOS, Google's version of Android is proprietary so we can't look at the source code and determine exactly what is happening.
However, we can safely assume that Google doesn't have our privacy interests at heart. Here are 11 hacker tips to keep your Google Android phone from tracking you.
#1 Stop Most Google Tracking By Changing Your Account Settings
When you set up a new Android device you must use a Google Gmail address to do so.
This is less than ideal from an anti-tracking perspective, but this account can be tweaked to reduce the amount of data Google collects and shares with third parties.
Here is the link where you can see what information Google collects and change the settings. Here you can turn off Web and App Activity, Location History, and YouTube History.
If you want to turn off location history and change permissions on each particular app you can do that as well. One convenient option is to allow apps that require location data for functionality to only have permission while you are using the app.
#2 Turn Off The Google Ad System
Turning off the Google Ad System depersonalizes the ads Google displays.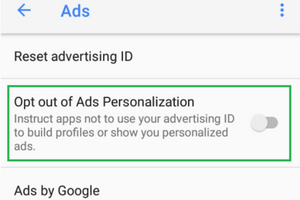 In order to turn off personalized Google Ads, go into System Settings, Manage Your Google Account, and click on Data & Personalization.
Go down to Ad Personalization and click on Go To Ad Settings. At that point, you can opt out of Ad Personalization.
#3 Turn Off Google Backup
Google backup stores loads of information that includes who you called, web history, and Wi-Fi networks that you connected to.
In order to remove this information, go into Settings, Backup And Reset, Backup and disable these backups.
#4 Use Encrypted Cloud Storage
If you want to back up your data, use an encrypted cloud storage service instead of the default option Google offers you.
There are plenty of high-quality encrypted cloud storage services to choose from that take privacy seriously and don't sell your data.
#5 Turn Off OK Google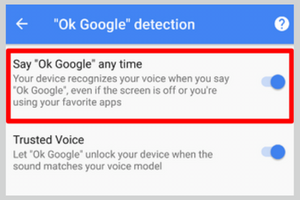 Turn off OK Google if you don't want Google to be able to hear everything you say. To turn off OK Google, go to Google Settings, Voice, Voice Match, and turn off access with the toggle button.
Related: If You Own A Mobile Phone This Is What The Government, Google & Facebook Know About You
#6 Disable Android Device Manager
The Android Device Manager (ADM) makes it easy for you and Google to find your phone.
To disable the ADM click on Settings, All, Security, Device Administrators, and disable Android Device Manager. If you don't want Google to track your location, disable the ADM.
#7 Turn Off Send Diagnostic Data
There is no reason to send diagnostic data to the phone manufacturer if you are worried about your privacy. In order to turn off send diagnostic data, go to Privacy, Send Diagnostic Data, and switch it to Off.
#8 Turn Off App Permissions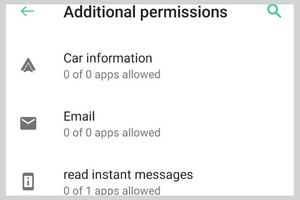 Android 6.0 and newer phones have an option to turn off app permissions. Turning off these permissions reduces the tracking apps can perform.
Go into Settings, Apps, click on the gear icon, App Permissions and you can adjust app permissions on all apps.
#9 Don't Let Samsung Sell Your Data
If you are using a Samsung phone, be aware that they are selling your data to third parties. In order to stop them from doing this, head to the Privacy Control section in the Samsung Pay App and click on the Don't Sell Data button. Also go into the Customization Service to change the data sharing settings of the Calendar, Contacts, and Internet browsing data.
#10 Use A VPN
A VPN is the best way to hide your IP and in turn, your location. Choose a reputable VPN supplier for optimal privacy.
#11 Use Brave Browser
Brave browser improves privacy and greatly limits tracking while you browse the Internet. With Brave, advertisements don't appear on websites and videos which makes websites load faster.
Final Thoughts
In the surveillance world that we live in, the only phone that definitely doesn't track you is one that doesn't have a battery in it.
However, open source operating systems allow users to customize their privacy settings and are slowly growing in popularity as many realize they are a necessity to escape the prying eyes of both Google and Apple.
The majority of people still use either iOS or Android with Google services and don't plan to switch to anything else in the near future. In this case, privacy and tracking settings can be adjusted, but not maximally, as they are designed to extract user data and profit off of it.
You may also like: 
Do You Know Why You Should Never Put A Tall Fence Around Your House? (Video)
DIY Home Remedy For Bronchitis