80% of Americans are under the thumb of some sort of debt. Saving rates are abysmal, and it seems that our society is moving closer and closer to a 'burn it all down man' type of mentality. Its hard to find an institution that doesn't fall into the cross hairs of some group or another.
What keeps us from ripping each other apart – the only thing – is the fact that we still have access to all the trinkets and distractions that keep us "happy" for the time being.
We have already watched pensions being slashed in states across the nation, and the government is supplying more than 50% of Americans with some form of aid. The financial markets are volatile, and to be honest people are strapped. Our youth come out of college with such a heavy debt burden that their chances of success are arguably the same as before they went in.
Related: 5 Things You Need to Do When There'll Be No Rule of Law
Our system needs only a breath of calamity to topple it. If one or two of the safety nets we have become accustomed to fails, the whole of our society will come tumbling down with it. We could call it the next Great Depression, but I'm telling you straight, it will be more terrible than anything that happened in the 1930s. If you want to get through it in good shape you'll need to be well prepared. Here are some of the things you should be looking at doing.
RESOURCE PREPARATIONS
1.Diversification of Income
Investors tell us to diversity our portfolios, but the reality is we should also be diversifying our incomes. I believe that the age of the single salary is coming to an end. Most Americans struggle to make a living with a single salary as is.
In a depression we will not be able to know which markets will suffer and which will flourish. The truth is you need to start considering your SHTF career as we speak. For example, you can learn how to make money off grid (making a living from your homestead). This article looks at SHTF careers and how they might be effective for you.
Related: 10 Great Depression Era Strategies For Saving Money
Here are some examples of SHTF Careers
2. Emergency Fund
As hard as it is to find something to spare, we need to start putting cash away. Even if the downturn makes that cash nearly worthless, there is something to be said about building an emergency fund. That fund can also be made up of gold and silver.
Put a little something away each week. Your long-term goals should be to be able to cover a months' worth of expenses with your emergency fund.
3. Non-Traditional Food Sources
I have been on a path to sourcing nontraditional protein and other foods for myself and my family. The time has come to:
Hunt for food
Grow food
Buy from local farmers
Frequent farmers' markets
Consider getting your own livestock
In a depression, supermarkets will be bare and those local sources will become your best option for ensuring a reliable food supply. Get used to them today. Consider your own livestock. Simple hens can provide protein for you and your family.
4. Alternative Medicines
There is a good chance that medical help will be in high demand or will be too costly to consider in a depression. Practices may close altogether, considering things like Medicare may meltdown. To combat this, start learning about alternative medicines. Study natural remedies and begin using essential oils.
Medicinal

Herb

Garden

– A large medicinal herb garden can be a wonderful way to treat things like viruses, that doctors cannot really help with anyway. Soothing herbs like lavender can help with rest, and powerful antivirals like oregano can help fight disease.
SOCIAL PREPERATIONS
5. Mental Stability
Most historians agree that suicides surged during the Great Depression to about 22 per 100,000. Since the Great Depression we have seen the same trend whenever there is a stark economic downturn. It's an ugly statistic, but in the coming depression it will be no different.
Introspection – You must take an unbiased look at yourself and see where you stand mentally. Are you going to crack under the pressure of a serious collapse? Can you stand going days without food or sleep?
Mental Resilience – The best way to build mental resilience is to do hard things. Start training for the GORUCK challenge or take on some other challenging practice. Test your might physically and mentally while you have a warm bed to go home and recover in.
6. Communities
One of the earliest and most important preps we all can make is building stronger and more interactive communities. I don't mean prepper communities, but learning about the people around us and what they are all about.
Community Power – From here we can develop things like community gardening, communications plans and a neighborhood watch. All of these can easily be evolved into a sustainable community in times of disaster and depression.
In fall of 2017 I published a book called Come Unity; Community that offers the clearest path to turning a normal community into one that thrives on interaction and purpose. Our neighbors don't have to be enemies; they can be allies when disaster strikes.
7. Personal Security
If you aren't prepared to protect yourself in today's world, you are living under a veil. It's a veil of confidence in the perceived protections of society. The truth of the matter is that you are the only person who can really keep you safe.
Concealed Carry – Right now you have the right to carry a gun on your person in most states. That gun can be in a handbag, a holster or in a backpack. This is the idea behind concealed carry. If you don't have a concealed carry permit, get one as soon as possible. Every state has different requirements but it's well worth it.
Related: How to Conceal Weapons in Your Vehicle
In a depression, desperation will run rampant. Desperate people do desperate things. You must be prepared to counteract that with the help of things like self defense training and firearms.
SHTF PREPERARTIONS
8. Intelligence Plan
If you bug-out, or if the power goes out as society falls apart, how will you know what's happening in the world around you? How will you know when the madness has begun to wane? Well, that is where a powerful intelligence plan comes into play. Here are a few items to include in your intelligence cache.
All these items can give you information on what is happening outside of your home and in the world around you.
9. BOL (Bug Out Location)
A great depression in modern times could unleash such anarchy that you only have one option: BUG OUT! If this is the case you have to be prepared to take the chance, and you also better have a place you can go ahead of time.
An actual structure that you can ride the storm out in would be best.
Communal BOL – You may also consider going in with a few friends to build that structure and buy that land. Either way, a modern Great Depression is something you need to be prepared to run from.
10. Physical Fitness
Whether we are talking about the bugout or your post-depression income, you will need to be in good physical shape. Life behind a desk is not preparing you for depression life. You may have to take jobs that involve back-breaking labor, or you may have to reinvent your entire property to support your family. This will take conditioning.
Don't wait to get in shape. Start running and doing bodyweight exercises today. Both are free and will pay dividends.
FIGHTING PERSONAL DEPRESSION WITH PREPAREDNESS
Many Americans are fighting their own personal depression today. The most interesting thing about preparing for the coming depression is that the challenge and the rewards will likely pull you out of your own personal funk! Get started today.
You may also like: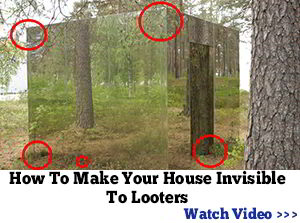 Find Out What Areas Would Be Targeted by FEMA When SHTF (they'll take your supplies)
The Ultimate Bug Out Home for just $400 (video)
23 Motives to Prep Even If Doomsday Never Arrives
12 Pioneer Skills We Can't Afford to Lose