From monkeys in the Amazon Rainforest, to dolphins in the Caribbean, to ants under your picnic table, all species rely on communication with each other for survival. Humans are no different – we rely on communication to both warn and inform us, especially in times of crisis.
In our modern times, the possibility of being unable to easily and quickly communicate with your loved ones or receive vital information from trusted sources is hard to imagine. But in SHTF scenarios, one of the first systems to fail is modern communications. Regardless of the emergency—hurricane, solar flare, nuclear attack, or EMP, to name a few—communications with others will become extremely difficult, if not impossible. Without telephone, text, email, internet, or television, many people will be completely shut off from the outside world at a time when the sharing and receiving of information has never been more important.
Related: How To Make A Tin Can Directional WiFi Antenna to Extend your Communication after an EMP
Just a few examples of the ways you rely on modern forms of communication in emergency situations include:
Receiving alerts via text of natural disasters and dangerous weather (for this particular case it is always adviced to learn the lost art of reading nature's signs);
Checking your favorite news app regularly for signs of SHTF;
Calling your family to let them know your spouse has to be taken to the emergency room;
Listening to the radio for traffic updates, including road closings and delays;
Emailing your boss to let them know that you have a flat tire and are going to be late to work.
When our communication is cut off, three things happen immediately:
We lose our ability to send information;
We lose our ability to get information; and
People get scared.
If you are concerned that a SHTF situation, whether natural or man-made, could cut you and your family off from vital information you need to survive, take heart – by using a simple communication device, your family can continue communication with each other and with important sources of help, such as the Red Cross or your local emergency shelter.
To prepare your family for communicating in an emergency, you have several options of communications devices. From devices that just transmit (such as shortwave radio) to devices that will allow full two-way communication with other parties (such as amateur ham radio), each type of device will allow you to stay as up-to-date as possible on emergency situations in your area thanks to special frequencies that broadcast vital information you can use to survive.
Related: How To Tell When People Are Lying to You (in a crisis)
Before we get started on the main types of frequencies used in SHTF communication, it is important to point out that in order to pick up any broadcast, you need a reliable device that you are able to keep charged. Devices with multiple charging options, such as solar-power and hand-crank, provide better insurance against a disaster preventing you from charging your device, while having multiple devices ensure that you will backups in case your main source of communication isn't functioning.
The main types of frequencies used in SHTF communication:
AM/FM (one-way radio)
SW (shortwave, pre-recorded broadcasts that are listen-only)
NOAA (weather broadcasts, listen-only)
VHF/UHF (amateur ham radio)
FRS (two-way radio, can be used by anyone)
GMRS (two-way radio, requires a license)
MURS (handheld radio or stationary unit)
As you can see, there are advantages and disadvantages for each. For example, NOAA frequencies are your best bet for hearing notifications of a hurricane in your area; however, should you need emergency assistance because of the hurricane, you can't use the frequency to call for help. Some devices have frequencies that are available to everyone, while others require a special license in order to broadcast. Prices of devices range widely, as does the level of expertise needed to operate each device. You can choose the device that is right for your family by considering what your communication needs are, your proficiency with each type, whether you will be able to obtain the proper license to broadcast with certain devices, and the budget you are able to spend.
Regardless of the type of device you choose, there are frequencies available for each that will help your family survive emergency situations. To find out which frequencies you should use on three of the most popular prepper communication devices, see our handy reference list below!
NOAA
The National Oceanic and Atmospheric Administration, or NOAA, is a government-operated radio system for sending out warnings in the event of a hurricane, solar flare, nuclear attack, and other emergencies. Broadcasts are local and repeated approximately every 5 minutes around-the-clock. You can purchase a special NOAA-enabled radio that is pre-set to the appropriate frequencies and will alert you of emergencies whenever the radio is turned on.
NOAA broadcasts can be heard on the following frequencies:
162.40 MHz
162.425 MHz
162.45 MHz
162.475 MHz
162.50 MHz
162.525 MHz
162.55 MHz
163.275 MHz
Emergency radio frequencies
34.90 & 163.4875: National Guard
39.46: Inter-department emergency communications by local and state police forces
47.42: Red Cross
121.50: International aeronautical emergency
138.225: FEMA Disaster Relief Operations
142
154.28: Local fire departments inter-departmental communications
155.160: Inter-departmental state and local communications during search and rescue
155.475: Inter-departmental emergency communications for state and local police
156.75: Maritime weather alerts
156.80: Maritime distress, calling, and safety
163.5125: National Disaster Preparedness (Armed Forces)
164.50: Department of Housing and Urban Development
168.55: Disaster and emergency channel for civilian agencies of the federal government
243.00: Military aviation emergency
311.00 & 319.40: U.S. Air Force
317.70 & 317.80: U.S. Coast Guard (Aviation)
340.20: U.S. Navy (Aviation)
409.625: Department of State
462.675: General Mobile Radio Service (emergency assistance and traveler assistance)

Technician Class Frequency Privileges In Ham Radio
Band
Frequencies (In MHz)
Modes You Can Use
80 meters
3.525 – 3.600
CW
40 meters
7.025 – 7.125
CW
15 meters
21.025 – 21.200
CW
10 meters
28.000 – 28.300

28.300 – 28.500

CW, RTTY/data, 200 watts PEP maximum power

CW, phone, 200 watts PEP maximum power

Above 50 MHz
All amateur privileges
CW = Morse code; PEP = peak envelope power; RTTY = radioteletype.
General Class Frequency Privileges In Ham Radio
Band
Frequencies (in MHz)
Mode
160, 60, 30 meters
All amateur privileges
80 meters
3.525 – 3.600

3.800 – 4.000

CW, RTTY, data

CW, phone, image

40 meters
7.025 – 7.125

7.175 – 7.300

CW, RTTY, data

CW, phone, image

20 meters
14.025 – 14.150

14.225 – 14.350

CW, RTTY, data

CW, phone, image

15 meters
21.025 – 21.200

21.275 – 21.450

CW, RTTY, data

CW, phone, image

17, 12, 10 meters
All amateur privileges
Above 50 MHz
All amateur privileges
CW = Morse code; RTTY = radioteletype.
Common Ham Radio Q Signals
Q Signal
Meaning
QRL
Is the frequency busy?
The frequency is busy. Please do not interfere.
QRM
Abbreviation for interference from other signals.
QRN
Abbreviation for interference from natural or human-made
static.
QRO
Shall I increase power?
Increase power.
QRP
Shall I decrease power?
Decrease power.
QRQ
Shall I send faster?
Send faster (__words per minute [wpm]).
QRS
Shall I send more slowly?
Send more slowly (__wpm).
QRT
Shall I stop sending or transmitting?
Stop sending or transmitting.
QRU
Have you anything more for me?
I have nothing more for you.
QRV
Are you ready?
I am ready.
QRX
Stand by.
QRZ
Who is calling me?
QSB
Abbreviation for signal fading.
QSL
Did you receive and understand?
Received and understood.
QSO
Abbreviation for a contact.
QST
General call preceding a message addressed to all
amateurs.
QSX
I am listening on ___ kHz.
QSY
Change to transmission on another frequency (or to ___
kHz).
QTH
What is your location?
My location is ____.
Common Ham Radio Repeater Channel Spacings And Offsets
Band
Output Frequencies of Each Group (In MHz)
Offset from Output to Input Frequency
6 meters
51.62 – 51.98

52.5 – 52.98

53.5 – 53.98

– 500 kHz
2 meters (a mix of 20 kHz and 15 kHz channel spacing)
145.2 – 145.5

146.61 – 146.97

147.00 – 147.39

– 600 kHz

– 600 kHz

+ 600 kHz

222 MHz or 1-1/4 meters
223.85 – 224.98
– 1.6 MHz
440 MHz or 70 cm (local options determine whether inputs are
above or below outputs)
442 – 445 (California repeaters start at 440 MHz)

447 – 450

+ 5 MHz

– 5 MHz

1296 MHz or 23 cm
1282 – 1288

1290 – 1294

– 12 MHz
CB frequencies
Citizen's band radio is any easy way for anyone to communicate in an emergency without a license. Standard channels range from 1 – 40, with additional channels being available with freeband operation. Some helpful frequencies to monitor include:
Channel 3: Prepper CB Network
Channel 4: The American Preppers Network
Channel 9: reserved specifically for emergency communications/ REACT channel
Channel 19: the channel most widely used by truckers across the country
Emergency communication tips
Whether you choose to monitor NOAA broadcasts or utilize CB and/or ham radio frequencies, there are a few tips that can help you communicate most effectively in an emergency:
Have an emergency communication plan in place
Don't limit yourself to only one type of communication: having multiple devices can save your life!
If speaking to emergency services, speak slowly and clearly and be able to provide details of your emergency, such as the number of people needing assistance, your location, and any life-threatening injuries
In a bug-out situation, the noise of your device may give your location away to others: make sure you are in a safe location before tuning in!
You may also like: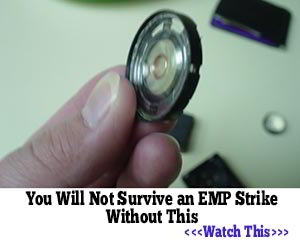 11 Survival Tricks Learned from Homeless People

How To Make Your Own Back-Up Generator (video)
The First Steps You Should Take Immediately After a CME
Emergency Bag to Keep in Your Car in Case of an EMP
---
Editor's Note:
Thank you so much your comments, the frequencies weren't wrong just incomplete. Unfortunately, our web editor had an error and displayed only the part of the frequencies after the point. I did check them before I posted the article. This is not an excuse as I should have checked them again but I promise I will be more careful next time. I've edited the article and now you have the correct frequencies.