The Great Depression was an extremely difficult period around the world  as a result of the depression that began in America. Unemployment reached to 25 percent in the United States, and most people's bank savings were wiped out. People started migrating to other areas in search of jobs, and farmers began migrating in the false hope that the situation in neighboring  areas would be better.
People who survived the Great Depression embedded habits into their lives that they found hard to change, such as refusing to part with anything that might come in handy at any future point in their life. To them, cutting off and discarding the ends of a loaf of bread is not a good idea and scraping the wrapper of a block of cheese certainly is. During this difficult time, people also learned smart budgeting by doing more with less.
Related: 50 Tips From the Great Depression
The Great Depression lasted for more than a decade, and people of that generation developed budgeting strategies that are effective even today. From a financial viewpoint, there's definitely a lot we can learn from our elders, who survived a difficult past. Here are a few tips that our grandparents and great-grandparents used to survive the Great Depression.
#1. Reuse, Reduce, Recycle and Repair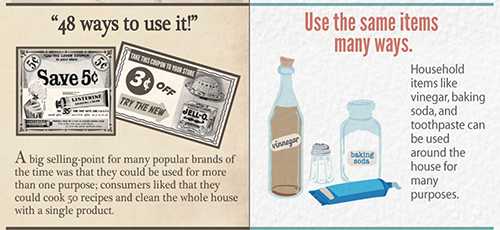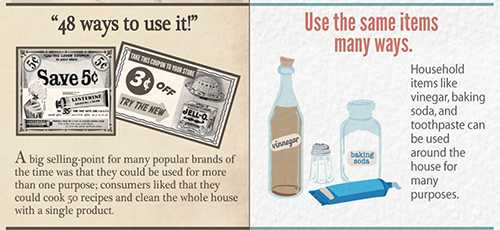 Our grandparents were experts in re-purposing things that had already been used. Recycling plastic bags by using them as trash bags and making use of old t-shirts and socks as rags are some amazing hacks we can learn from our elders. This is an excellent strategy for saving money. Instead of spending money buying new things, recycle and reuse is a technique that proves to be very beneficial for saving money.
#2. Pay With Cash More Often
During the Great Depression, people didn't have enough savings in their bank accounts, and hence they used cash for any transactions. This strategy can save us from unwanted debts. Here's why you absolutely must have food supplies, hard assets and reserve cash.
#3. Try to Be Self-Sufficient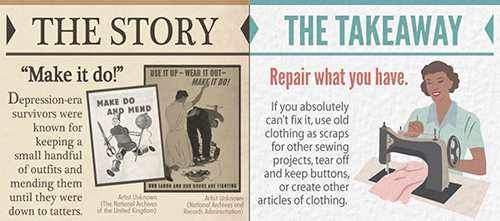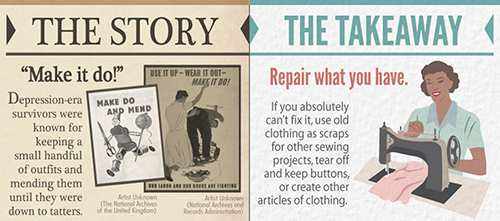 Americans adopted this strategy during the Great Depression by doing all their tasks for themselves. Sewing their own clothes, growing food on their own farms, and cooking from scratch are some strategies they adopted to save money. They mastered these skills to save money. We have to learn these skills from them.
#4. Budgeting Using a Diary or Envelopes
Our grandparents and great-grandparents did not have electronic gadgets to keep track of their budgets, so they used diaries and envelopes for budgeting their expenses. You can still use the traditional method of maintaining a diary by starting by planning how much you want to spend each month for each category, namely, housing, transportation, food, etc. You can keep several envelopes, each dedicated to a different category, and start by putting in the amount you allocate for each category. Use the money from each envelope for that purpose only. Here are 21 lost tips from 100 years ago – with illustrations.
#5. Buy Used Instead of New
If you are really serious about saving money, you will have to do so in every area. You can save a lot of money by buying used instead of new, including automobiles, toys, clothing, and so on. The barter system, which was a common practice during the Depression Era, is an excellent way to save money. You could even trade some of your skills in exchange for some fresh produce from a neighbor's garden.
#6. Weigh Your Wants and Needs
It is essential to get meet your needs, but it is not necessary to satisfy all your wants. Americans learned to differentiate between their wants and needs during the Great Depression. If they did not have something they wanted, they learned to live without it. Similarly, you can follow suit here. If you already have something that meets your basic needs but you are looking to buy something better or a newer version, continue to use what you have instead of buying something new. For instance, wear clothes you already have instead of buying new ones, and use that two-year-old cell phone if it works well instead of getting yourself the latest model. This strategy is one of the most effective strategies that is also shared by many financial and budgeting experts.  As Warren Buffet says, "If you buy things you don't need, you will soon sell things you need." This strategy holds true in the case of saving as well. Additionally, check these 11 survival tricks learned from homeless people.
#7. Try Your Hand at Freelancing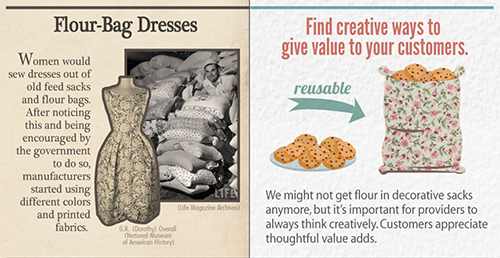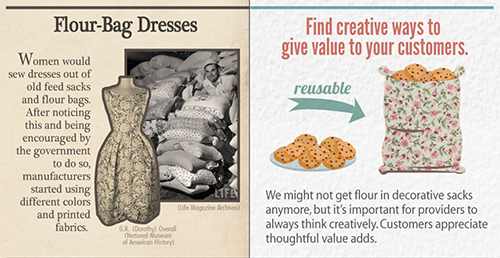 Even if you have a full-time job, earning some extra bucks is always a great idea. Many people back in the 1920s and 1930s did freelance work, such as selling photographs and home-cooked food. If you have a special skill or hobby, showcase that and earn some money as a passive income to keep the flow going. Today, there are many websites catering exclusively to freelancers, giving them the opportunity to sell their work online.
#8. Plant Those Seeds for a Lush Garden
Every time you bring vegetables or fruits home, do not forget to remove the seeds from some of them, dry them out, and then replant them in your own garden. This helps to keep your garden going all through the summer, and you won't have to spend money buying veggies or fruits elsewhere. Americans used this method of growing seeds in their own farms back in the Depression Era.
#9. Let All the Members of Your Family Contribute
That's exactly what Americans during the Great Depression Era did. Of course, if you have small children, they won't be able to contribute financially, but they can help out in other ways. You and your spouse should both do your bit when it comes to taking up the financial burden of the whole family. Additionally, here's how to get your wife and kids involved in prepping.
#10. Scrape to the Last Drop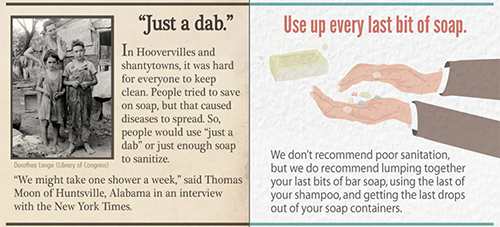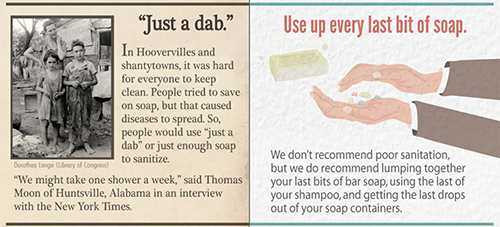 Yes, you read that right. Back in the 1930s, people never let go of even a single drop of their ketchup, toothpaste, shampoo, etc. They made sure that they scraped the bottles to the last bit. You definitely can save a lot by using everyday items to the last drop. As the saying goes, "Drop by drop forms a river."
Surviving the Great Depression was a struggle, in fact, a nightmare for millions of people. But the tips and strategies people of that generation have left behind are invaluable. They lived their lives using whatever means of survival they had, and their strategies for saving money are applicable even today. Today's economic policies  are based on the wisdom gained during the Great Depression. Will another Great Depression occur today? Probably not. But we can still follow our grandparents' lead when it comes to saving money.
You may also like:
Pioneer Recipes That Survived The California Trail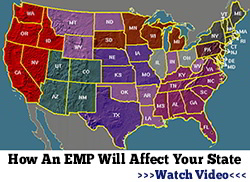 If You Are to Weak to Prep then You Need to Watch This  (watch video)
10 Long Shelf-Life Canned Foods Every Prepper Should Consider Stockpiling
How to Make Your Own Semi-Automatic Off the Grid Washing Machine (No Electricity)