This article was written by Mystic Orb.
I never ever can get shoes that fit me right, that feel good… and look cool.  Fact is, I don't think they make cool shoes for guys anymore.
We know some folks who make felt shoes,  but they are just way beyond our budget,  and who knows how well they'll fit  and how comfortable they will be. So, I decided I'd figure out how to make my own pair of shoes. So, one night I was laying there in the middle of the Night and an inspiration dawned upon me…
Related: What Really Happens to Your Guns in Winter (it could get you killed)
Hallelujah!!
It's really easy, so I wanted to share it with folks here.
First I got an old wool sweater from the Thrift store… Cut off the sleeves, and checked to see how it fit on my foot. Nice and snug. Then I had some foam I got for free at a garage sale and I cut it into two pieces with my band saw… (scissors would work.)
One piece for the foot, and one for my calf.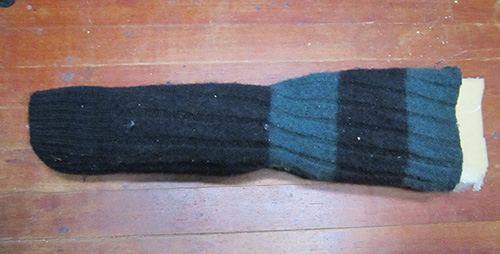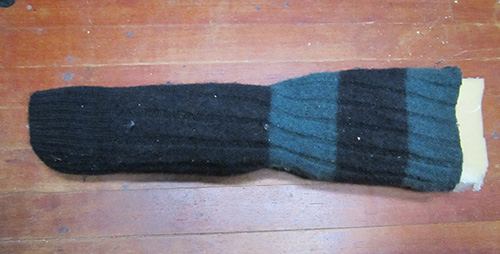 Here you see a Pic of the foam alongside one of the sleeves.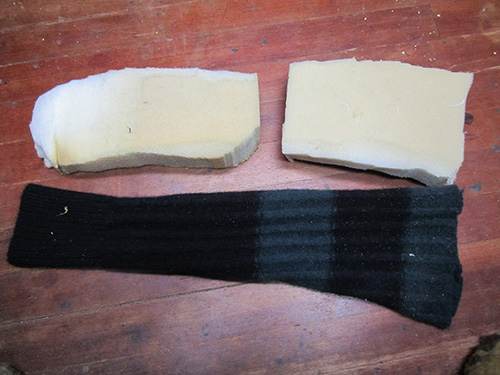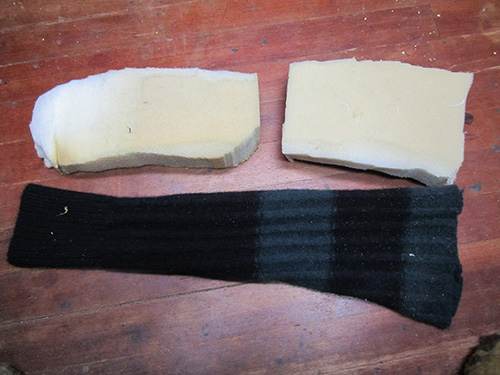 Then I cut a piece out of the top so I could fold it up without a bunch of excess…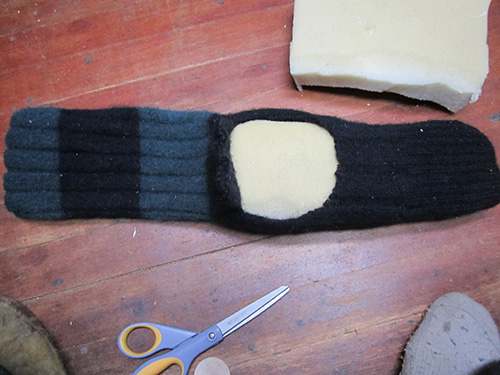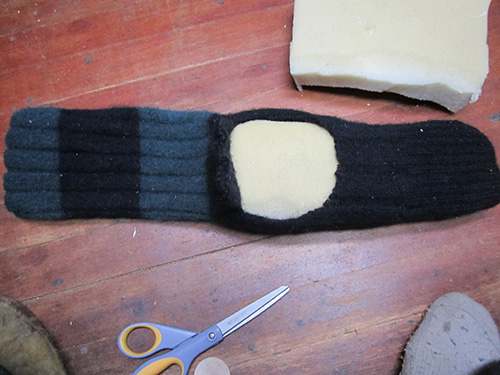 Here it is folded up: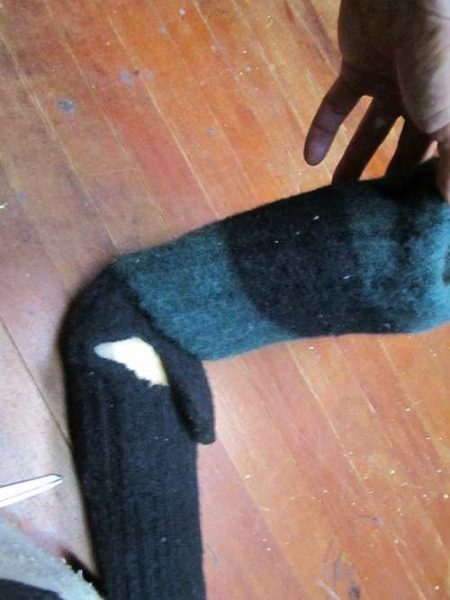 See? It already kinda looks like a boot.
Then, I needle felted it up and in place… Made them nice and thick, hen put them in a pillow case and in the washing machine with some Dr. Bronners soap.
I set the timer for 5 minutes so they wouldn't shrink into baby booties. I almost left them in too long, but I put them on my feet while still wet. With three thick pairs of socks, just to make sure they'd shrink to fit… and they formed perfectly to my feet.
I had to wear em wet for a long time, I wanted to be sure they'd mold to my feet.
They did, like a snug glove.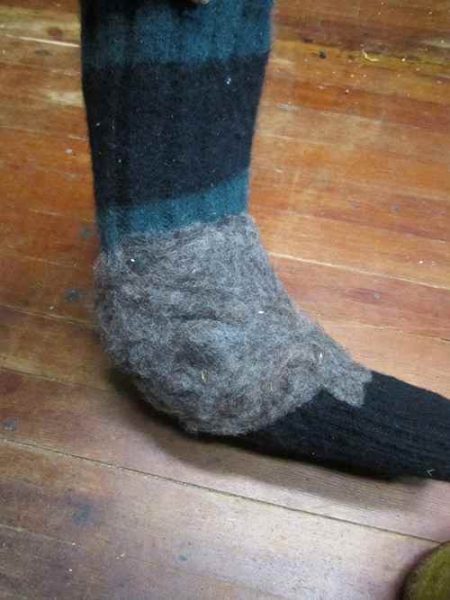 Then it was just a matter of a bunch of needle felting to thicken it up and put a design on it.
I worked a lot on the soles to make them fit my arches and feel good when walking with them.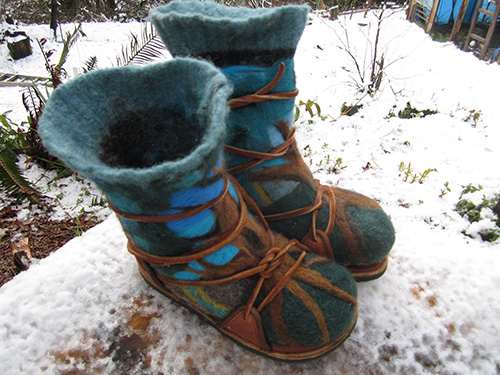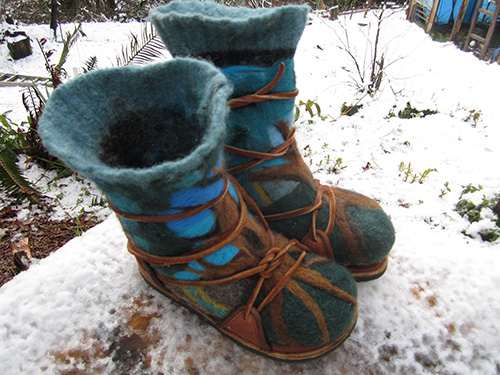 You can see them here with my sandals made by our friend Jolaine strapped on for outside wear.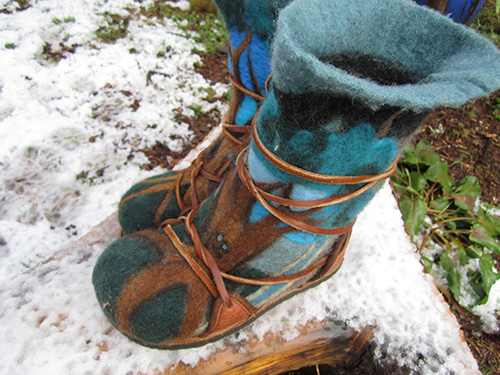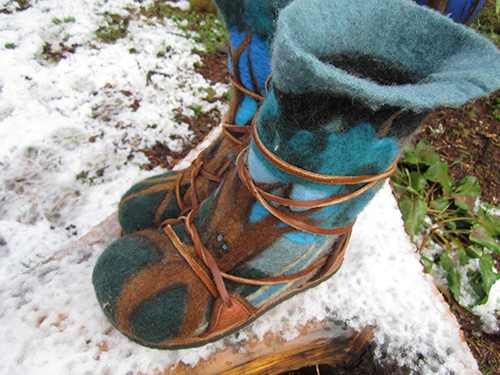 Here they are without the sandals.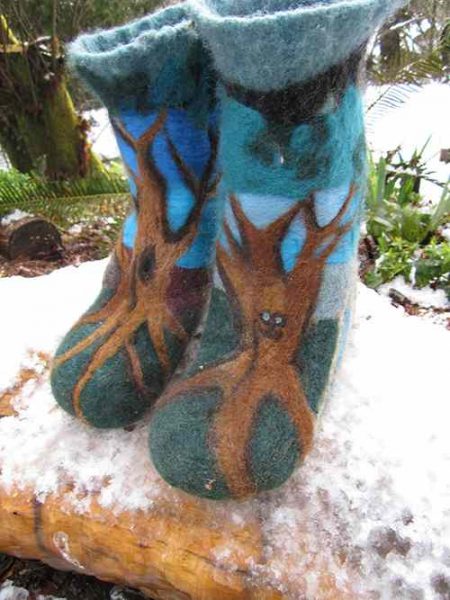 I painted the bottoms with Latex rubber. I had some laying around… I put on three thick coats and kind of pulled it up to make knobby treads.  This way I can wear them around the house without the bottoms wearing out.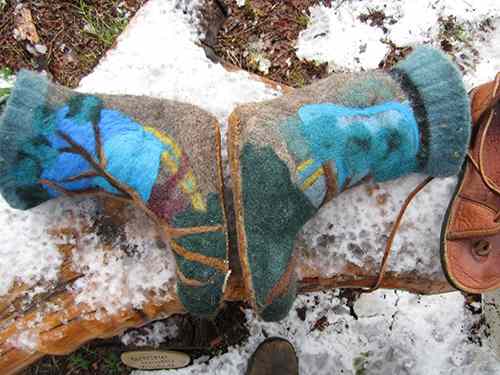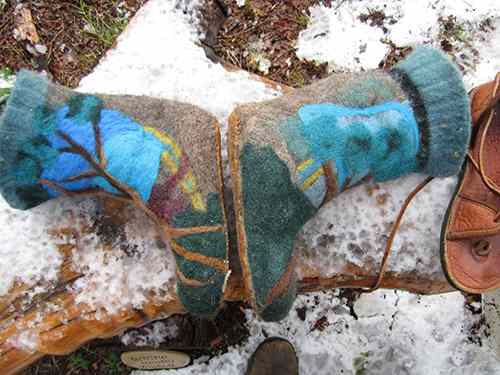 They are so comfortable and totally warm out in the snow…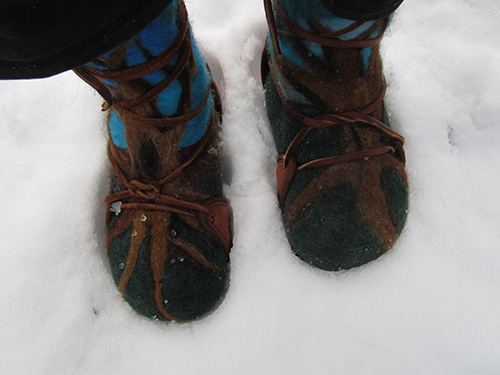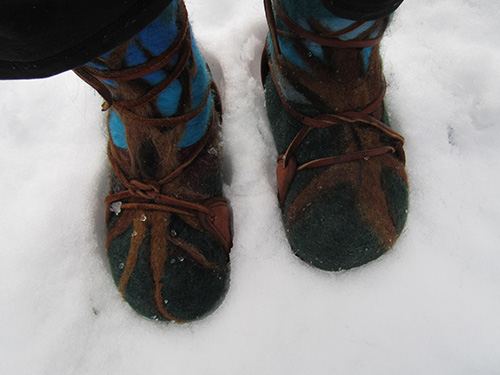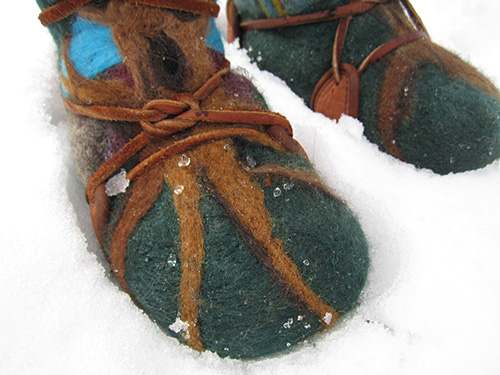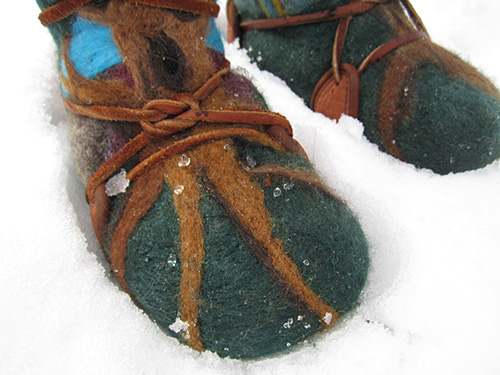 Now you can make your own…. See how easy?
This article was written by Mystic Orb If you liked it, you can visit the website at mysticorbtalismans.blogspot.ro
You may also like: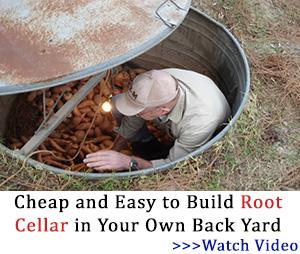 When the Snow Falls, Make Sure These Items Are in Your Trunk
9 Food Items to Hoard (video)
How to Make A Cool Rocket Stove For Free
50 Low-priced Items That Will be Invaluable when SHTF