It's one of those trends that has gained more and more popularity in recent years: burying a shipping container to create a shelter. I did my research, and I had to say it sounded like it was too good to be true.
Why? Because a shipping container costs around $2,500, and that is a pretty good price to make yourself a bunker or a root cellar.
At one point I was almost determined to do it myself. Luckily for me, I didn't have $2,500 laying around at that moment.
Can You Bury A Shipping Container?
I'm a curious guy, and I really wanted to know if it was worth saving money for it.
Was it just a useless, and possibly dangerous, trend, or was it something I should actually invest my time and money in?
Related: How to Keep Your Money Safe for When SHTF
After extensive research, I still didn't have the money, but I had an answer to this question. Keep reading to see if it's a viable option for you and if it's worth the hassle.
The Pros
If you're willing to dig and bury it yourself, you can end up with a root cellar or a storm shelter for a somewhat decent amount of money.
But that is if you do it yourself—starting from the excavation itself to the actual burying of the container, with no contractors or heavy machinery you have to pay for. If you don't have the right tools—and let's face it, most of us don't—you should prepare for an additional cost of at least $6,000.
But I did find an option that is significantly cheaper and that doesn't involve contractors and extra costs. You can check it out here.
Another thing to consider is the fact that you don't need a special permit to do this. Just make sure you do it on your property and, if possible, away from any neighbors' curious eyes.
And if you have the right tools, I'd say it's quite an easy job. Depending on how much time you have on your hands, I would venture to estimate it's probably four days of work. For what you get in the end, it could prove to be a good use of your time.
The Cons
Where should I begin?
As you've seen, there are a few benefits to moving along with such a project, but the problem with it is it's not the safest thing you can do.
In fact, it can be very dangerous and potentially life threatening. So if you decide to do it, you should prepare for some serious consequences.
Shipping containers are giant, portable metal boxes that can hold a lot and were specifically built to be stacked on top of each other.
That's also why people think they could make a great bunker. If you want to know what works as a bunker, I suggest you take a look at this.
What Really Happens When You Bury A Shipping Container?
Shipping containers are designed to hold a lot of weight, that part is true, but only on the corners, not on the sides.
They were not, by any means, designed to become survival bunkers. If you try to bury it, you will put a lot of extra pressure on the sides and ceiling.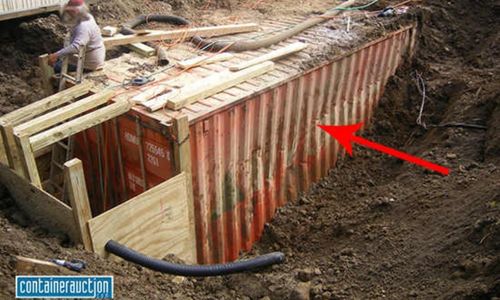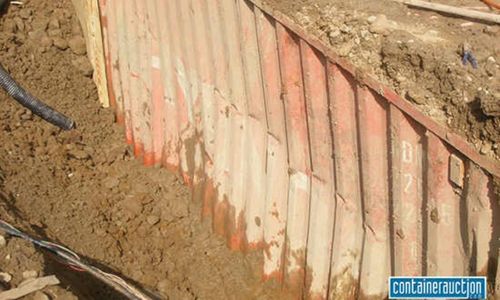 As you can see, the weight of the soil caused the walls of the container to buckle in. The corners seem to be straight, but it's hard to say if that's the case on the inside.
Another factor to consider is water. If the container is buried in an area with a high-water table, it may seep into your container and cause even more damage to the structure and its contents.
So what really happens if you bury a shipping container is, you'd put a lot of hard work and money into something that could turn into a real disaster in a survival situation.
Look at the pictures again, and imagine you and your loved ones were inside. Do you really think a thin piece of metal will hold up to the pressure? You can probably see by now that will be impossible. Your shipping container will become a death can.
What To Do If You Really Want To Go On With This
So let's say that after everything you've just read, you still want to go on with this project. The only way you can make it is to reinforce it with something called a gabion basket.
That's basically a cage made of steel. They are usually filled with stones, and they're used to support a hill alongside a major highway.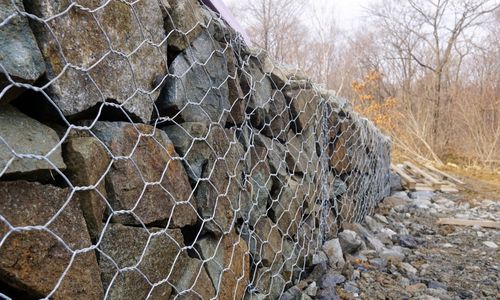 After you dig the hole, you fill it with a stone foundation and then surround your container with the gabion baskets. This lessens the chance of having your shipping container cave in from the weight of the dirt.
But I couldn't find any proof that this works other than in theory. Another thing that could work is reinforcing the sides by pouring concrete on all four sides and adding metal bars. But at this point, you might as well skip the container completely.
And while you may lessen the pressure from the soil, it will do just the opposite to your bank account.
In conclusion, it can be done. But just because something can be done doesn't mean it should be done. And when you debate something as important as keeping you and your family safe in a disaster situation, I prefer to choose the option with more pros than cons. Luckily, there are better, cheaper, and safer ways to build something to protect your life and your stockpiles in the next crisis.
You may also like: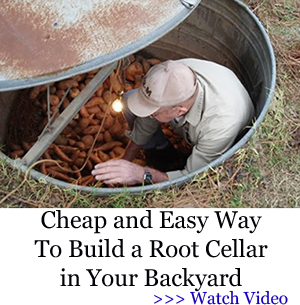 12 Potentially Life-Threatening Errors You're Making in Food Preparedness and Survival Strategies

An Insanely Effective Way to Build a 5 Year Food Stockpile (Video)
What's The Closest Natural Nuclear Bunker to Your Home?
72 Types Of Americans That Are Considered "Potential Terrorists" In Official Government Documents