Cooking indoors offers many benefits, particularly if you are in a survival situation in which you don't have electricity to power your indoor appliances and stove.
Of course, in a true survival situation, it is sometimes better to cook inside whenever you are able. You will want to store all of your foodstuffs and supplies inside and cook inside whenever possible so as not to draw attention to yourself.
After all, cooking outside can be dangerous if passersby see the smoke and come to your place. It can show others that you still have food – and you may find that people come to your door seeking food (and can become aggressive if you don't give them what they want).
Related: How To Deal With Neighbors And Friends That Come Begging For Food At Your Door In A Crisis
As a result, it's often better to cook inside in a survival situation – but not all foods are safe to cook inside since they produce too much smoke or are logistically impossible to prepare indoors.
Here are some of the best foods to cook outdoors – and why you should start.
Benefits of Outdoor Cooking
There are plenty of benefits to turning to the great outdoors when you're ready to prepare your favorite dinner or snack.
For one, it's healthier.
When you cook outside, you can utilize a grill or campfire, too. This lends itself to a much healthier way of eating, eliminating many of the fatty oils that accumulate when you cook indoors. They'll drip off when you cook them on an open fire outside.
It can also be more convenient. Many of the foods that we will list below can be cooked inside, but that doesn't mean you should cook them inside.
It is safer, too. In a survival situation, the last thing you want to do is attract unwanted visitors to your property. Although cooking outdoors sometimes produces excessive amounts of smoke that can draw the eye from far away, you may be able to conceal yourself a little bit better if you have more space to work with outdoors.
Related: 5 Ways To Cook When SHTF Without Attracting Attention
Finally, cooking outdoors is practical, offering a good alternative when the power is out or if you are trying to live off-grid. You'll be able to prepare any of these foods even if you don't have electricity.
It also can save energy, regardless of whether you have a gas- or electric-powered stove, and it will keep the heat outside if you're trying to keep things cool during the hottest days of summer.
So, what foods should you never cook inside?
1. Meat
Yes, you can always throw some burgers in a pan and fry them up on the stovetop. However, this is going to produce a lot of smoke. Cooking meat outdoors is almost always a better idea than cooking it indoors.
Burger meat, in particular, has a high fat content – the fat will simply sit in the pan if you cook high-fat meats like burgers on the stovetop. Cook your burgers and other fatty meats on the grill or even over an open fire, and that fat will drip away. You'll have a healthier burger without smoking out your kitchen, too.
Other meats you might want to consider preparing outdoors to limit the smokiness indoors include (obviously) smoked meats, steaks, and ribs. You'll reduce the amount of smoke that is produced by cooking these on a grill.
Any fatty meat is really best cooked outdoors. Fat=smoke.
That's not a bad thing – that smokiness lends itself nicely to some truly complex, tasty flavors.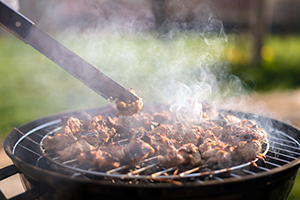 However, it's going to draw the eye, and that's something you don't want in a survival situation. To get the most out of your favorite barbeque meats while also allowing most of the fat to drip off and limit the amount of smoke that is produced, cook them outside where it will be easier to eliminate all the fat.
2. Beans
The classic camping meal, beans are easy to cook outside. You can throw them in a skillet and cook them over an open fire or you can throw the can of beans on the grill some hot dogs. Beans are economical and easy to store, too, with canned beans having a shelf life of many years.
When it comes to cooking beans, it might take a lot of time to boil them and cook them properly indoors.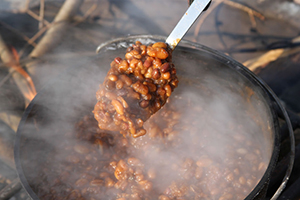 If you find yourself in a survival situation such as an EMP or a power outage and you have a small generator or a small stove you can only use inside (you don't want to waste it), it is better to go outside and cook beans over an open fire.
Related: Get An Unlimited Supply Of Beans Growing This Tree
3. Shellfish and Fish
Clams and mussels along with other kinds of shellfish are easiest cooked outdoors because they will take the least amount of time to do so when you boil water over a large turkey fryer or open fire.
Plus, you can toss the shells from things like clams into your compost pile or over to your chickens – both will benefit from the extra calcium and you'll be able to increase your self-sufficiency, too.
Lobster is another food that is best cooked outdoors. You can use an outdoor lobster cooker or pressure cooker. It will cook the meat more quickly and also stop the steam from fogging up your kitchen – no condensation to deal with!
Sure, fish can be cooked indoors; knowing how to clean, gut, and fillet a fish is an essential survival skill.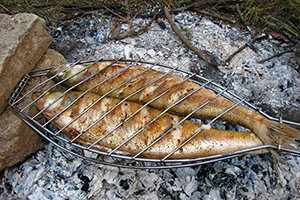 But knowing how to cook a fish outside will only add to your repertoire.
You may want to consider learning techniques like hot stone cooking in order to cook your favorite shellfish, shrimps, and fish outside (plus, this method can be used for most meats as well).
Related: How To Catch Fish With A Bottle
4. Fried Turkey and Other Fried Foods
Fried turkey is a food that absolutely has to be cooked outside – if you're using a turkey fryer, it's not really safe to operate it indoors.
Other foods that require frying or pressure cooking (and therefore, are safest to prepare outside due to the risk of pressure build up and explosion) might include fried seafood or other meats.
5. Roasted Vegetables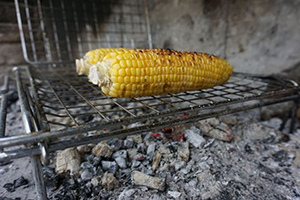 Roasted vegetables can easily be cooked outside. Although there aren't many vegetables that can't also be cooked inside, it might take a long time to boil them (corn on the cob being an example).
You can easily roast corn and other vegetables on an open fire or a grill, a technique that will also limit the amount of time required to cook them as well as unlocking some delicious, caramelized flavors.
Roasted vegetables, as compared to boiled ones, also tend to be more nutritious – something that's integral in a survival situation where you really want to get the most out of your food.
Related: 10 Vegetables That You Can Stockpile Without Refrigeration For A Full Year
6. Dehydrated Foods
If you're using a solar dehydrator, you obviously can't use this technique to cook your food indoors.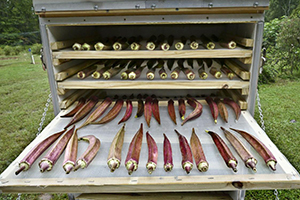 You'll need to stay outside for this one.
Dehydrating food is a great way to keep a steady supply of food on hand for a survival situation and just about anything can be dried in a solar dehydrator, including fruits, vegetables, mushrooms, herbs, and even meats.
7. Ash Cakes
An ash cake is a bread that is baked over a layer of hot stones or sand and then covered in hot ashes.
As you might expect, this is a food that can really only be prepared outdoors over an open fire.
8. Pemmican
Pemmican is another dehydrated food that you should only cook outside.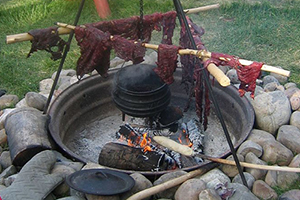 You'll dry a combination of berries, fat, and meat for at least 15 hours until it takes on a jerky-like consistency. There are numerous recipes for pemmican that you can follow, but all of them are easiest to follow outside where you can slowly dry the pemmican over a slow fire or in the hot sun until it is hard and brittle.
Related: Cracking Open My Stockpile Of Pemmican After 1 Year
9. Jerky
Although many people use commercial dehydrators to make jerky indoors, it's much easier to make it outside with a solar dehydrator.
This will not only allow you to work with a larger quantity of meat at once but to create a high-protein pantry staple that will last for many months without going bad.
10. Bannocks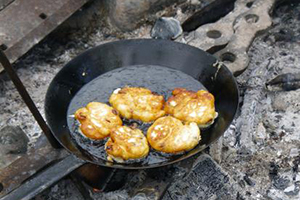 Bannocks, sometimes referred to as backcountry bannocks, is a type of flatbread that is meant to be cooked outdoors.
To make it, you just need to combine a cup of flour, a teaspoon of baking powder and half a teaspoon of salt, and two to three tablespoons of powdered milk.
Heat up a bit of oil in a skillet over the campfire, then spoon your mixed dough into the hot pan. Cook for a minute or two, then flip.
Learn How to Cook Outdoors – and You'll Be Prepared for Anything
There are all kinds of outdoor cooking techniques that you simply can't use indoors, such as spit cooking, hot stone cooking, smoking meat, and drying foods with a solar dehydrator.
Consider mastering these techniques so you'll always have ways to cook your food – even if disaster strikes.
By tucking a few favorite outdoor-only recipes under your cap, you'll be prepared for power outages and other survival situations that require a bit of creativity – you'll be able to enjoy tasty meals no matter what life throws your way.
You may also like: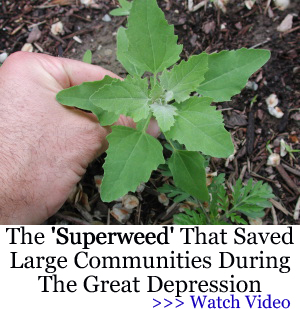 7 Shocking Foods Made to Survive Wild Frontier
How To Use The Bark Of This Common Tree To Keep Your Meat From Spoiling (Video)
6 Easy Ways to Siphon Gas in A Survival Situation
How To Make Gun Powder The Old Fashioned Way in Less Than 30 Minutes