What is a Mesquite Tree?
Mesquite Trees, sometimes referred to as 'Devil Trees,' are native to Southwestern America, and can be a great resource if you know how to use them. Mesquite trees cover over 100 million acres of land in the United States, with over 50% of that in Western Texas.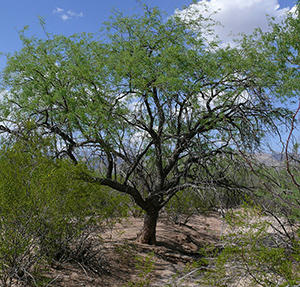 These trees range in size from small shrubs to as much as fifty feet tall, depending on their location and conditions. Their spread is usually directly correlated to their height, so that a four-foot tree will have a four-foot spread, and a fifty-foot tree will have a fifty-foot spread.
The mesquite tree's bark varies from a yellowish color to a reddish-brown hue, and is quite rough and hardy in texture. The leaves are delicate and fern-like, but the base of the leaf stems is covered in long, sharp thorns.
During the spring fluffy, frothy clusters of flowers bloom. These are usually a pale yellow or green shade.
During the fall, mesquite trees grow long, tubular pods that contain beans. These beans are edible, and that's the real point of today's article.
The History of The Mesquite Tree and Its Beans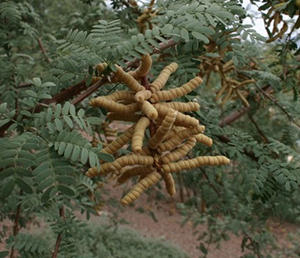 Mesquite pods and beans are some of the oldest known foods of prehistoric North American people.
Native Americans used the entire tree, crafting sewing needles from the thorns, bows and arrows from the wood, baskets from the bark, black dye from the sap, healing tea from the pods, and food from the beans.
That herbal tea was said to remedy colds, diarrhea, dysentery, the flu, measles, pink-eye, stomach-ache, sore throats, and various wounds.
Pioneers later used the wood to build wagon wheels, furniture, fence posts, wooden walkways, and campfires. The beans were referred to as "manna from heaven" and men would often roast or boil them to eat. During the Civil War, soldiers used roasted and ground mesquite beans as a coffee substitute.
Related: How To Make Your Own Herbal Tincture
How to Grow Mesquite Trees
Mesquite trees can often be harvested from the desert, requiring no real work on your behalf, or they can be grown on your land as a domesticated tree.
You can grow these plants from seeds or sprouts, or you may purchase young trees from a reputable nursery. Mesquite trees fix nitrogen in the soil, as legumes do, and will not need supplemental nitrogen or minerals provided.
For Seeds
Germination occurs when the temperature is between 80 and 85 degrees Fahrenheit, in soil that is not overly sandy or moist.
Place the seeds in your desired location, and dust them with topsoil. Consistently water the seeds until they sprout, either via rainstorms or with a watering bucket.
After the seed sprouts they'll do better in drier and slightly hotter conditions, preferably around 90 degrees Fahrenheit.
For Saplings
Dig a hole that is twice as wide, and as deep, as the roots. Fill the hole to the top with water, then leave it for about thirty minutes and check how it's draining. If some water remains, you need to add about three to five inches of sand or small rocks to the bottom of the hole to assist with drainage.
Place the sapling in the hole, and fill it back in with soil. Keep the soil around the tree moist for the first sixty days, to help it better establish itself.
After this 60 day period your mesquite tree will not require you to water it anymore, unless you undergo a severe drought. This tree is a desert native and will drink up any and all water available to it. If you continue to overwater your tree, it will grow quickly but have weak wood.
Surviving Winter
If you live in zones 6 through 9, you won't need to do any additional work to keep your mesquite tree alive during the winter months. If you live in zone 5 or below, you will have more work to do.
To overwinter a mesquite tree, it's best to mulch your tree heavily, wrap it up in burlap, and do what you can to protect it from harsh winds.
Mesquite trees do not do well in planters or pots, as they require a long taproot and root system. Because of this, they aren't capable of being brought indoors, unless you wish to keep them as a small shrub-sized tree.
Related: Top 10 Foods to Grow for Survival
How to Harvest and Store Mesquite Beans
Seed pods are ripe when they are dry and brittle during June, July, August, and September.
Pick the pods directly from the branches, rather than the ground, to avoid contamination by bacteria and insects.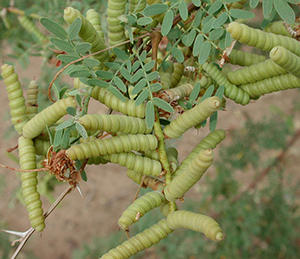 If you're picking from wild mesquite trees (rather than a tree you raised), it's advised that you taste the beans of each tree, to avoid the bitter beans. Even though the trees look alike and grow together, their flavorings can wildly differ. A good mesquite bean is sweet and resembles a candy in its taste.
To store your mesquite pods and beans, you must first dehydrate them. To dehydrate mesquite beans, you can lay them out in the sun for a day or two, or stick them in the oven at 150-175 degrees Fahrenheit, until they are dry and brittle.
Once dehydrated, store in a cool, dry place. Freezers are an excellent storage solution. It's best if your storage container is 'breathable'.
How to Fix and Serve Mesquite Beans
Mesquite beans have a sweet (like a combination of malt, mocha, cinnamon, and vanilla), nutty-like flavor, contain significant amounts of fiber, minerals, and protein, and are gluten-free.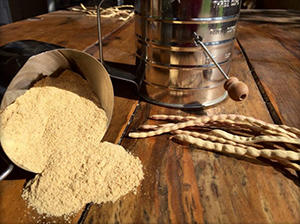 Syrup
Use the syrup to sweeten anything you would typically put syrup on, such as pancakes, waffles, ice cream, or as a glaze on chicken or pork.
Syrup can also be used to brew a unique craft beer.
Related: Trees That Can Be Tapped For Sap And Syrup
Jelly
Treat the jelly as you would any other, spreading it on biscuits, crackers, toast, and more.
Flour
Mesquite flour can be used to make tortillas, waffles, pancakes, cornbread, cookies, bread, banana bread, zucchini bread, muffins, fruit cakes, and more. Native Americans mixed the ground meal with a little water to form small, round cakes. They would eat them raw, fry them like mush or used them to thicken stews.
Mesquite flour is used to make a refreshing drink. If allowed to ferment, a mixture of water and mesquite flour produces a fizzy alcoholic drink.
You can also add a tablespoon or two of mesquite flour to your coffee or tea for a shot of flavor.
Mesquite trees are unique, handy sources of food and flavor. Harvest them from a nearby desert, or grow your own to have your own unlimited supply of sweet mesquite beans!
You may also like: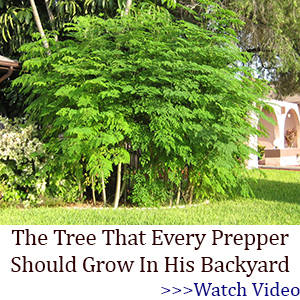 The Only 6 Seeds You Need to Stockpile for a Crisis
How to Build a 44-Day Stockpile for Only $2.40 a Day (Video)
DIY Mini Greenhouse For Year-Round Vegetables
30 Most Popular Herbs for Natural Medicine