Cooking is a survival skill. Its one of the most overlooked but for the longest time it was prioritized. That is because starvation was always looming. For most of human history starvation sat quietly in the corner ready to reach out and take another.
For the pioneers it was no different. In fact, it was even worse. Well, no one had it worse than the children of the pioneers. They had about a 20% chance of not making it to 1 year old! It was just as hard to make it to 15 years old. Once you established yourself you had a much better chance of a long life.
We could go down the litany of threats like disease, injury, native Americans and so on. Most of the trouble came from malnutrition and the inability to develop a powerful immune system. We know this now because of advances in nutrition and a better understanding of epidemiology.
You can't raise kids on cabbage water in the wild west. Creativity in cooking was a hallmark of the pioneers, for this reason. They took often overlooked or discarded ingredients and turned them into food. Some of these weird foods are still eaten and enjoyed today!
Calf Foot Jelly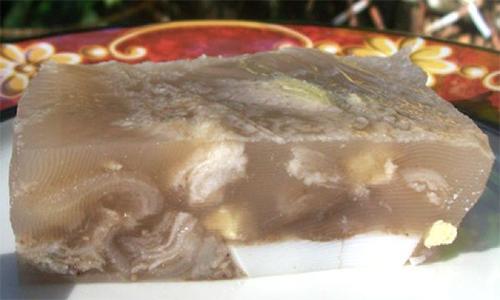 Do you know where that yummy strawberry gelatin comes from? Many vegetarians and vegans have given up jelly because it comes from animals.
Calves foot jelly is no different. It is something of a casserole served cold. Really, it would be categorized as a terrine in French cooking.
You need 2 calves feet cut in cross wise sections (find a butcher)
2 Carrots
1 Onion
4 Cloves of Garlic, minced
3 Hard Boiled Eggs
Start buy bringing your calves feet to a boil. Skim the scum that rises to the top. Remove the calves feet and start them in another pot of cold water. To this pot add your carrots and onions diced. Bring to a simmer and cook on the lowest setting for 6 hours.
Next, remove the calf's feet. Remove the meat from the bones and discard them. Chop the meat, tendon and cartilage up in small pieces. Then mix with your 4 cloves of garlic minced fine.
In a terrine or clear glass dish slice your hard-boiled eggs and lay them on the bottom of the dish or terrine. Next spread your meat and garlic mixture over the eggs.
Finally, pour the remaining liquid over the mix, slowly. Try not to disturb your eggs.
Let this mix cool and harden. Then cut into squares to serve, chilled.
Related: The Ultimate Chicken Meat Processing Guide for Preppers
Sweet Potato Coffee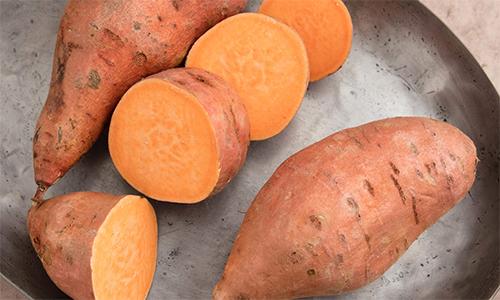 The sweet potato was undoubtedly used here as a sugar substitute and as a means of stretching that coffee supply. Remember, coffee was coming from a long way away, as it does today.
To recreate it you can take thin sliced sweet potatoes and dehydrate them in the sun or in an oven till they are dry. This will take about 8 hours in a conventional oven on its lowest setting. Outdoors it will likely take days in the sun.
Grind the sweet potato in a mill or coffee grinder. Add two tablespoons of coffee grounds to three tablespoons of your sweet potato grounds and brew as usual.
Related: 8 Old West Cowboy Recipes
Acorn Bread
You didn't cross through many wheat fields on your trek west and most people didn't have the time sit down and separate the chaff out anyway.
That meant you used the acorns around you to create flour. Making acorn bread from acorn flour is a similar process to making bread with regular flour. You could add yeast, salt, sugar, fat of some kind to make the bread more palatable.
The process that deserves your attention is the making of the flour itself!
You start by removing the cap from the acorns and roasting them.
Next your remove the meat from the center of the roasted acorns.
After this you are going to bring the meat to a boil several times, starting with cold water. This removes the tannins.
At this point you should have acorn meat that is not as bitter as it was.
From this point you are going to roast the meat until it is dry. Slow and low heat.
Once dried the meat can be run through a food processor and you will have a nice acorn flour.
Related: How to Make Amish Sweet Bread
Mud Apples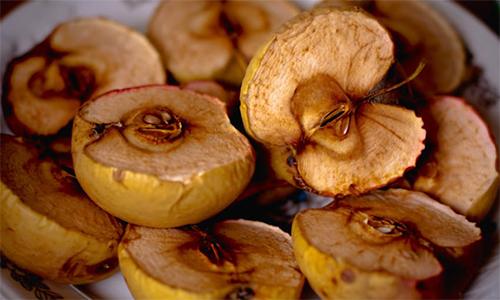 The pioneers stole this little recipe from the native Americans. It is a method of cooking apples in coals without burning them. Don't forget, they couldn't just wrap them up in aluminum foil.
If I were going to reproduce this one, I would slice the apples in half, scoop out the center and pack it with some brown sugar and oats. That would be a serious campfire meal.
Coat your apples in a thick layer of mud. Don't worry you aren't eating the skin. Make sure the apples are covered completely
Bury your mud covered apples in coals for about 45 minutes. The mud will harden and can be peeled off. Remove the skin and spoon out that delicious roasted pulp.
Related: How to Make Your Own Apple Sugar
1876 Cottage Cheese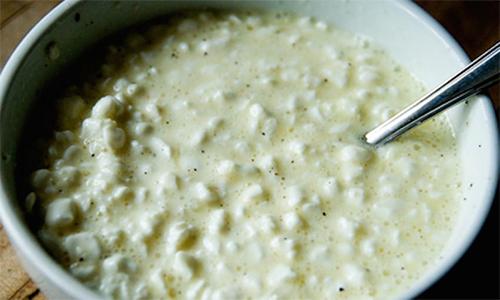 The milk of the pioneer age was not pasteurized. The cream was not removed. This meant that milk did very interesting things over time. You could also make several different things using that milk.
The milk could be used to make fine cheese
The cream could be skimmed to make butter or whipped cream
The milk could be separated using vinegar or lemon juice to make buttermilk
In this case the milk would be allowed to go sour and form what is called clabber. This is when sour milk globs together and looks more like sour cream.
At this point you would skim the cream off as it would not sour as fast as the milk below it. Set the clabbered milk on very low heat and when it congeals cut it into 1 inch squares.
Next you would place a colander into the clabber and dip off any of the whey that rises through the colander. You are doing this to remove everything but the curds. After a while the clabber will become firm. Rinse it lightly with cold water.
Next you are going to place the clabber into the colander or into some cheese cloth and ring out any excess water. To make the cottage cheese, crumble your curds into a bowl and mix with thick cream.
You can add fruit puree to your cottage cheese, or you can add fresh black pepper. That's my favorite.
Related: How to Make Cheese from Powdered Milk
Kid Pie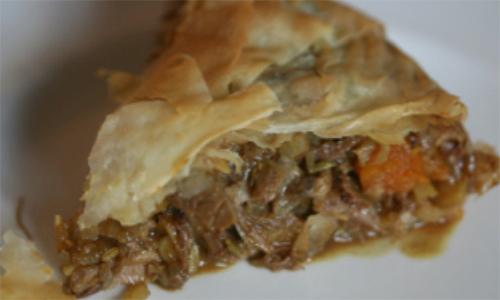 This is not something from a spooky children's story. However, this is a recipe that the pioneers would have created once they settled and started raising goats. Don't forget a kid is also a baby goat.
This pie would have been made using a young fatty kid. Apparently fatty goats were not favorable to roasting in the pioneer days.
It was essentially a covered pie with tons of chopped parsley and chopped bits of young goat meat. The pie would have been cooked for about an hour until the meat was cooked through and the crust starting to brown.
A mixture of eggs and vinegar would then be whisked together and poured into the steam holes in your layer of pie crust.
How long would it take for the eggs to firm up? Well, the pioneers would use an interesting "TIMER" for things like this. In this case you would "Say the lord's prayer three times…" and the pies would be finished.
Related: How To Pickle Meat
Vinegar Lemonade
We have a stranglehold on imports and exports. Our international trade and rapid shipping methods mean that things like bananas, coffee, lemons and avocadoes are just a quick drive away. None of these items would have been naturally occurring on the trek west.
Still, people liked them. When it came to lemonade it was not just about that sweet and sour contrast in a refreshing drink but also about Vitamin C deficiency. As we mentioned malnutrition was a big problem, even if your tummy was full on breads and potatoes.
In a glass mix 2 tablespoons of apple cider vinegar with 2 tablespoons of sugar. Fill with water. Done
You know, on the surface these recipes sound like something you would run from. However, when executed well, I have to imagine these things were pretty delicious. You can sign me up for a kid pie or a loaf of acorn bread any day.
The ultimate lesson is that we, as preppers, are headed for lean times. Its best to know how to make the most of what is available to you.
If nothing else, start learning the basic cooking methods and employ them on a nightly basis at home. It's like Miyamoto Musashi said, "If you know the way broadly you will see it in everything."
You may also like: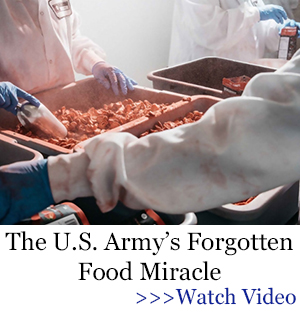 11 Frontier Survival Hacks Worthy of Daniel Boone
10 Things Cowboys Carried With Them in the Wild West to Survive (Video)
Pioneer Recipes That Survived The California Trail
11 Things The Pioneers Carried With Them On The Oregon Trail