A lot of preppers don't see the point in archery. We have guns, after all; why bother with a weapon we all associate with the Wild West, the 7th Cavalry and Indian warbands circling a wagon train? Archery is old-fashioned, it takes some skill and guns are more accurate, more powerful and easy to use. Why bother with archery?
Well, archery is definitely old. In fact, archaeologists think bows were the first machines ever invented by humans. Until the bow was invented, the only way to launch a missile was to throw it. A bow let a hunter or warrior store energy, then release it rapidly; an arrow could travel much further, and hit much harder, than a thrown rock or spear.
A bow is a simple machine – it's basically just a spring – but a powerful and effective one, and technology has made it even better. A modern compound hunting bow can bring down any wild animal in North America. It's more accurate than most handguns and quieter than a suppressed one.
You don't need the technology, though. A traditional longbow with a 40lb draw weight is a bit less accurate than a compound, but it will take a deer – and, beyond 20 yards or so, its accuracy edges ahead of handguns too. It's also light, and needs almost no maintenance. Best of all, you can make one yourself.
Are Bows Practical For Preppers?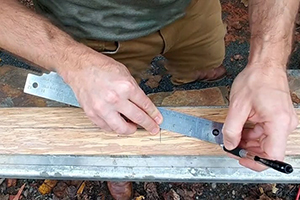 Yes, guns are great if you have them, but if you don't – or you're out of ammo – you're basically stuck. Archery is different. Anyone with some basic woodworking skills can make a bow, and ammunition for it is even easier to produce. If you find yourself in a survival situation without a gun, you can arm yourself with a bow.
Even when guns are available, bows have a lot to recommend them. There are a few laws restricting what kind of bow you can own. US laws on bows mainly regulate where you can use them and what kind of equipment can be used for hunting; in general, bows aren't considered offensive weapons unless they're used to commit a crime.
Even in anti-gun states like California, all bows are usually legal to own. If you have one and practice with it regularly, you won't just get a great upper body workout; you'll have a valuable survival skill.
Related: Self-Defense Weapons That Are Illegal In Your State. Do You Have One Of Them?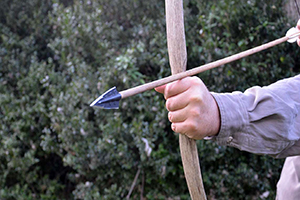 Archery is also quiet. Even the noisiest compound bow is much quieter than a suppressed firearm.
This means you can practice or hunt without disturbing your neighbors, and when you're hunting the sound of a shot won't scare off all the game within a few hundred yards.
Ammunition is reusable. Unless an arrow hits something hard or gets lost, you can keep using it. Every time you fire a gun you're expending a limited resource, but aim your arrows carefully and they'll each serve you for hundreds of shots.
Bows aren't as accurate as a rifle, but at intermediate ranges, they beat handguns. If you have a pistol or even a shotgun, and you get into a fight with an archer a hundred yards away, you're probably going to lose.
So there are a lot of reasons to consider archery. Let's have a look at the options:
Compound Bows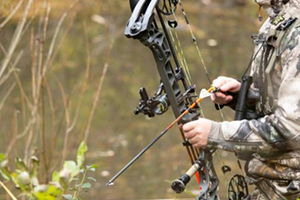 The most modern type of bow, compound bows use eccentric cam wheels and a figure-8 cable to adjust the draw stroke. When a compound is almost fully drawn the cams at the end of each limb roll over and the force required drops off sharply. This is called "let-off" and it can make a huge difference.
A 60lb bow with 50% let-off only needs 30lb of effort to hold it at full draw; this makes it much easier to aim. In some modern bows let-off can be over 80%. Compounds are also compact and can be left permanently strung. On the downside, they're more expensive, heavier and need special tools to change the string.
Recurve Bows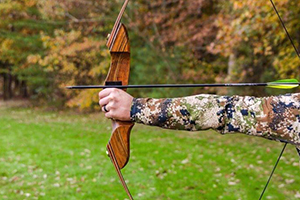 There's a huge range of recurve bows available, from traditional Asian horse bows – compact, powerful and lightweight – to modern takedown models that can be fitted with advanced sights and broken down to fit into a small bag.
Recurves can be very accurate – that's what Olympic archers use – and some are very powerful. More modern designs can be heavy, though, unless you're willing to pay for exotic lightweight materials.
Flatbows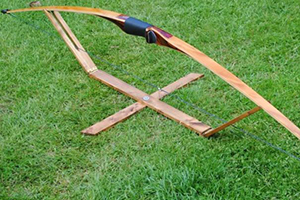 Sometimes called American longbows, these are semi-traditional bows that can either be three-piece takedowns or, more often, "self-bows" made from a single billet of natural or laminated wood.
They're light but quite long – often more than five feet.
On the other hand, they're relatively light and easy to maintain, and very high draw weights are available.
English Longbows
English longbows are extremely long – it's rare to find one under six feet, and many are over six and a half.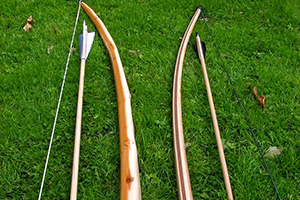 They're difficult to learn to shoot accurately, their deep D-shaped cross-section means the effort needed to draw one rises alarmingly after the first few inches, and their enormous length can be a nightmare in the woods. They're not for the faint-hearted.
On the other hand, they can be made in truly awesome draw weights – well over 150lb – and they're the easiest to make yourself. English longbows are great at throwing very heavy arrows that can punch through thick hide, bones and even soft body armor.
For most preppers, a takedown recurve is the best balance between simplicity, power and accuracy, but if you don't mind learning how to maintain one a compound is an excellent weapon, and longbows have their uses too.
Making A Bow
Anyone can make a simple bow. Just cut a straightish branch with a lot of spring in it, carve a notch at each end and fit a string. A bow like that won't have much power, but with some practice and stalking skills it will knock down birds and small game.
Related: The Easy and Practical DIY Snares to Catch Small Wild Game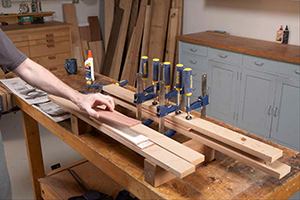 With some basic woodworking skills you can do a lot better. Split a larger branch into quarters, and carve a bow from it with the sapwood forming the "back" of the bow (the side that faces away from you) and the denser heartwood forming the "belly".
Tillering is the process of shaping a bow so it bends in an even curve, with no stiff or weak spots; you can make a tiller from a piece of timber with some notches cut into it.
A big notch at the end holds the bow; a series of smaller ones down the side lets you draw the string back and hook it into one, so you can step back and check the shape the bow is bending into.
Suggested image – Tiller
If you can't find proper bowstring material you can make a string from any strong, hard-wearing cord. Fishing line, parachute cord or even woven sinews all make workable bowstrings. Cut angled grooves near the end of each limb to hold the string.
Arrow shafts can be made from straight-grained dowel, or lengths of split board planed down to a roughly circular cross-section. Young, straight branches also make good shafts if you season them. Cut a nock in one end and reinforce it with a tightly bound cord, then add three fletches made from split-wing feathers or heavy plastic sheet.
Sharpen the other end to a point and harden it in a fire, or cut triangles from an old can, hammer them flat, split the tip of the shaft and glue or bind the metal in place.
Whether you buy or make a bow, practice with it to build strength, speed and accuracy. If you're camping in the woods try making a bow as you sit by your fire at night. Your first couple will probably be terrible, but you'll soon learn how to choose the right wood and carve it to release the weapon hidden inside.
A good bow is still a very useful survival tool, and the ability to make one gives you a huge advantage when you're alone and unarmed. Humans have been using bows and practicing archery for at least 18,000 years, and there's a reason for that; they work. Yes, a gun is usually better than a bow, but a bow is a lot better than nothing – and most of the time it's good enough.
You may also like: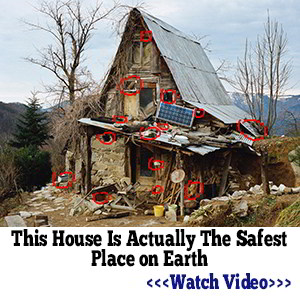 Stop Pulling Out This Weed, And Do This Instead
What Really Happens When You Bury A Shipping Container (Video)
How To Preserve Your Whole Harvest For Winter Without Refrigeration
DIY Stove Made From Used Tire Rims
How to Store and Stack Firewood The Right Way