In elementary school, we were taught how Native Americans use all the animal parts without wasting even a single piece. There are lessons to be learned here, and not just about our wasteful nature.
Animal bones can be used in a variety of ways, especially when it comes to survival. Why waste something if you can use it?
Look at the bones of a deer. A lower leg bone can be turned into a gun rack or used to create a weapon like a sword or a spear.
While these are simple and straightforward suggestions, there are many other uses for animal bones that you may not know, and these ideas could help you avoid potential disaster.
Let's take a look at the survival benefits of animal bones and how you can use them to survive all kinds of situations and limit waste.
Survival Foods
1. Bone Broth:
It is no secret that bones are ideal for soup stocks, and the marrow is excellent for cooking. (Try roasted seasoned marrow on toast, delicious).
Related: How To Can Bone Broth At Home With 2 Years Shelf Life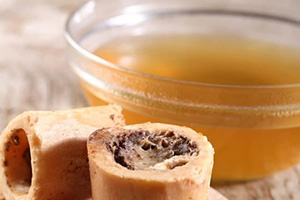 Full of essential nutrients, animal bones are great in a survival situation. Throw leftover bones into a pot with water, veggies, and herbs and let them simmer for several hours to create a delicious bone broth that you can use or freeze for later. Bone broth is a quick and easy way to get nutrients when supplies are low.
Bone broth is rich in collagen and minerals. It is fantastic for digestive health, relieves joint pain, helps detoxify, and aids in healing wounds.
• Sip bone stock in the morning to start the day off right and get much-needed nutrients.
• Bone broth is often used in soup and can also be added to stuffing, gravy, or mashed potatoes to take your turkey dinner to the next level. Pretty much anywhere you add liquid, you can substitute for bone broth and reap the benefits.
• Heavy bones (such as leg bones) are full of nutritious marrow. This marrow can be scraped out, cooked, and consumed to sustain life when nothing else is available.
2. Bone Meal:
You can also grind up bones to create bone meal easily at home.
Bone meal makes an excellent fertilizer for your garden and guarantees that fresh produce is created right outside your backdoor.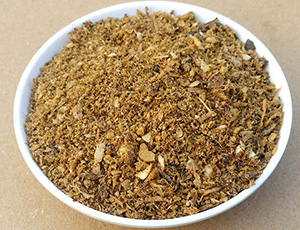 Bone meal consists of a mixture of finely and coarsely ground animal bones and other parts that are often discarded after a successful hunt.
Organic gardeners often use bone meal to add phosphorus to their garden soil.
It is entirely natural, making it a safe alternative to commercial fertilizers.
Bone meal can be made using any animal's bones, although beef bones are most commonly used for creating this product commercially.
The key to creating a safe and effective bone meal is to boil the bones for an extended period before grinding them up to make the fertilizer. Boiling the bones will kill any bacteria and help you avoid any potential risk of illness.
Bone meal increases the phosphorus in your garden soil, a compound essential to plant growth. The phosphorus created by bone meal is easy for plants to consume and will help your plant grow bigger and stronger.
3. Bone Paste:
You can grind bones up to create a bone paste.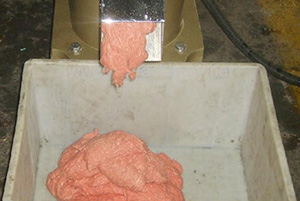 Bone paste is easy to make and is super delicious for both animals and humans. Full of nutrients, this paste is great to have on hand in case of an emergency.
Watch this quick video on making bone paste at home – it is super easy to do and can be stored for long periods.
Bone paste is a fantastic food that is rich in nutrients.
It can also be used for many other survival tasks:
• To heal wounds.
• Prevent infection.
• Stop itching.
• To treat tooth pain.
Survival Weapons
Bones are super strong and can easily be sharpened or shaped. Thus, bones make excellent weapons.
Turn animal bones into knives, clubs, or other weapons to keep on hand as tools or personal protection.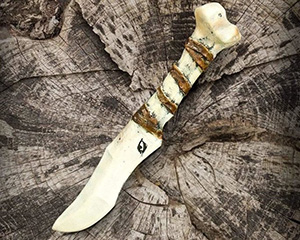 • Create a knife: Create a knife out of fallow bones by finding a good-sized bone to work with (e.g., a leg bone) and break it in half with a rock. Then, pick out the sharpest piece that most resembles a knife and sharpen it with a stone, as you would a regular knife. Create a handle by wedging the bone into a smoothed piece of wood or wrapping a strong cloth around its base.
• Construct a spear: Much like a bone knife, you can easily create a spear by sharpening a bone and affixing it to a large stick or pole. Use the spear for hunting, fishing, or personal protection.
• Craft a sword: You can easily create a sword from animal bones by sharpening the edges using a large rock and wrapping the bottom in a heavy cloth to form a handle. To make a sword, you would follow the same steps as making a knife but on a larger scale.
Tools
Animal bones can be used to create a variety of different tools and are often just as strong as their metal counterparts.
You can even use bones to make sewing needles so you can repair torn clothing (or create new clothing) on the fly.
• You can use animal bones to create sewing needles, handy if you find yourself lost or trapped in the wilderness without access to a store.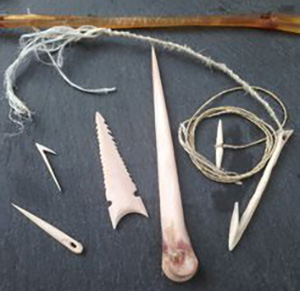 • Animal bones can be used to craft a shovel. Throughout history, animal bones, particularly the shoulder blade, have been used as shovels. Animal bone shovels were a commonly used tool among Cherokee tribes and during the time of early man. Shovels would be created using large bones such as the shoulder or antlers of large game. These handmade shovels would then be used to dig out large terrain areas.
• Animal bones make excellent garden tools and can easily be turned into garden hoes and small garden spades.
• The use of animal bones as tools and weapons is found throughout history. Items such as harpoons, daggers, smoothers, knives, dishes, cutlery, needles, axes, hide grainers, etc.
Medicinal Uses
Bones may also be useful as medicine.
Researchers have found that bones were once ground up and consumed to treat various conditions, including dizziness, leg cramps, swelling, and even malaria in prehistoric times.
• Bones are used as medicine to treat many conditions worldwide, from digestive issues to joint pain as well as osteoporosis and cancer.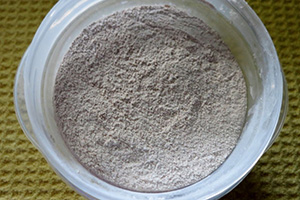 • Bone broth is thought to be a healing agent and was commonly used throughout history to heal wounds and promote health.
So, next time you come home from a successful hunt, consider utilizing the goldmine of marrow that lives within the bones of the animal you have hunted.
• You can extract calcium from animal bones and use it to create supplements if you cannot obtain these from a store or pharmacy.
• Use bones to create a stable splint and heal a broken bone when you cannot seek medical care.
• You can find many DIY recipes and treatments online that will allow you to harvest bones for medical uses.
• Animal bones have many other uses. They have been used medically as a substitute for human bone in more than 5,000 surgical cases in the United States.
*Remember, you must thoroughly clean all animal bones before using them to prevent the spread of bacteria.
Cleaning
To clean animal bones: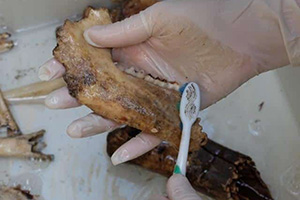 1. Remove soft tissue: Soaking the bones in water for a few weeks to a few months is one way of removing soft tissue from animal bones.
The amount of time that bones need to soak in the water will depend on the amount of soft tissue that is present.
2. Degrease the bones: A mixture of dish soap and ammonia works to degrease bones. There are a variety of options for degreasing animal bones, and tutorials can be found easily online.
3. Bleach or whiten: Finally, with the bones cleaned and degreased, you will want to whiten them if you plan to display or use them. Whiten animal bones by soaking them in a strong peroxide solution.
You can buy this at any beauty supply store. The stronger the solution, the faster the bleaching process.
Watch this helpful video on "How to Clean Animal Bones."
Final Words
The survival uses for animal bones can be extremely beneficial, and bones should never be overlooked, wasted, or tossed out with the trash.
Utilizing as much of the animal as possible is not only good practice for the environment; it can also quickly provide you with access to tools, weapons, medicine, etc., that you may not be able to get in the event of an emergency.
So next time you come home from a successful hunt, consider saving some of the bones for use later. You never know when you might need them, and it is always best to be prepared!
You may also like: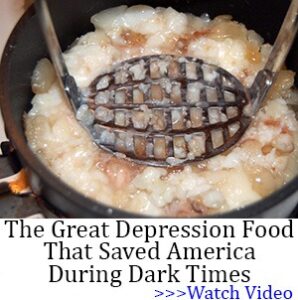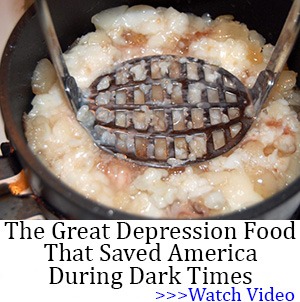 25 Little Known Survival Uses For Tree Bark
An Insanely Effective Way to Build a 5 Year Food Stockpile  (Video)
DIY Home Remedy For Bronchitis
No Power? No Problem! Methods for Home Security When the Grid is Gone
9 Mind Bending Effects of a Grid Collapsing EMP