In the Old West, it was said that a single .45 cartridge and 1.5 fluid ounces of whiskey each cost .12 cents. The whiskey was poured into a tiny glass that would become known as the "shot" glass because of its equivalent value to the .45 caliber cartridge.
Now, I have a read just as much about that story not being true as to the contrary. If someone asks me about the shot glass, they are getting the above explanation. Its just a great tale and a reminder of the value in ammunition.
No matter what situation brings us to the brink it is likely that we will need protection and barter. While silver, seeds and gold are great options, ammunition may be equal or even rival the value of those items. As preppers we must consider bulk ammo as part of our preps.
As Americans buy guns and ammo at a feverish pace the demand is causing prices to spike. Even .22LR ammunition has gone up 2, sometimes, 3-fold in price!
Where do you find cheap and reliable ammo for a SHTF scenario?
Why You Want Cheap and Reliable Ammo
I have three proven methods for finding cheap ammo but first I want to talk about how you can use your bulk ammo once you purchase it
Target Shooting and Practice
If you are a responsible gun owner, I am sure you want to be proficient with your weapon. What good is having a collection of guns if you cannot use them without losing an appendage? In a SHTF scenario you will want to have a solid base of training.
You will be tired, hungry, scared and it will all affect your shooting. Use that ammo to practice today so you are prepared for tomorrow.
Protection
While we are not in a full fledged SHTF scenario, yet, there are still very real threats. We have seen people mowed down and shot in our own nation. We have seen the evil delivered into our houses of worship.
There is but one way to be sure you are protected and that is to carry a weapon.
Related: What Should You Do in Case of a Terrorist Attack?
Barter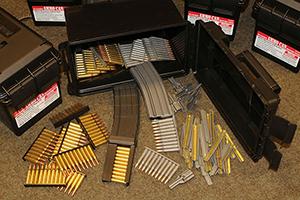 If for nothing else, you can use ammo as one of the best items to barter in a collapsed world. While gold and silver hold weight in today's markets, ammo will become incredibly valuable when you become the sole protector of your family.
When the rule of the gun becomes law, ammo will be precious. If you are buying and storing extra, it is just like stacking silver!  Right now .22lr is going for about .04 cents a round if you buy in bulk. Silver coins are going for about $17 each right now. You do the math!
Gun Forums
Quality gun forums and bidding sites can be highly effective for getting your hands on cheap ammo. These sights most often have a bidding setup with a time limit. Ammo may be out for bid over a 3-day span and you will bid against others to get the best price for the ammo.
When dealing with sites like these you want to make sure you have some reputable sources. Some sites have a better community of buyers and sellers while others can just be out to make the most money on their sale. My favorite location for this type of sale right now is www.ammoseek.com.
Buying in Bulk
Another great way to get cheap and reliable ammo is to buy in bulk. This is the most effective way to assure your price. There is no bidding in the world of bulk purchase, but you must have the money to make it happen.
If you are short on cash an effective way to take advantage of bulk pricing is through group purchasing. I am sure you know a handful of people who shoot, hunt, prep or own guns. Let them know about the cost savings and buy bulk ammo to redistribute. While you may not wind up with 1000 rounds of your own, you will still have saved money.
Ammo Grab and Freedom Munitions are two great sites for getting your hands on bulk ammunition.
Related: How And Where To Store Ammo
Trade
Another wonderful way to get cheap and reliable ammo for when the SHTF is to trade. We mentioned the importance of having ammo to barter with and its value. Well, right now that value is not as high as it will be. You can trade gear, junk guns and other items for ammunition.
Seek out traders in online classifieds like craigslist. You can also meet traders at gun ranges, gun shows, or you might even inquire with friends about an ammo trade.
Trading calibers is a great way to go as well. If you already have a decent stockpile of 9mm you may be able to trade that with someone who has .223 that you are looking for.
Be careful of brand and quality when you are dealing with strangers. Make a small trade first.
Don't Forget Shipping
While you are seeking out the best price for your cheap and reliable ammunition you must also keep in mind the cost of shipping. While some sites may offer you a great price you may be getting raked over the coals when it comes to shipping.
Some sites will offer you free shipping after spending a certain amount of money on ammo. Others will offer up free shipping for a sign up. Pay attention to your shipping options so you don't wind up losing your deal to shipping.
Quick Ammo Storing Tips
Avoid extreme heat
Keep our powder dry in a low humidity environment
Keep your ammo safe, under lock and key
Label and rotate your ammo for use
You may also like:
This House Is Actually The Safest Place on Earth (Video)
10 Deadly Mistakes That New Gun Owners Make
This Survival Shotgun Can Fire 8 Different Calibers and It Fits in Your B.O.B.