My husband and I have been living semi off the grid in Alabama for some time now. However, certain state laws have prevented us from going totally off.
Between the two of us, we have a combination of 6 children. We used to joke about this, saying we were a "Brady Bunch" family!  As one might expect, the decision to live 'off the grid' would not be easy to uphold. It resulted in our having to do a fair amount of explaining in defense of this chosen new lifestyle.
My husband, Stan, is still working full time at a local business. This has allowed me to become a full-time freelance writer. The income I make from writing earns a little income to pay for extras.
Together, we raised our 6 kids. Our family has now more than doubled in size with the addition of 15 grandchildren. We moved out of the large old farmhouse and into a smaller trailer house on the property. We began making preparations for building a little cabin for the two of us.
Related: Mini-Farming on a Quarter of an Acre
 The Daily Grind
The Fike's day starts off very early – around 4 a.m. The average morning begins with me making coffee. Stan wakes up, drinks his cup of coffee, and gets ready for work. Just as anyone else does, he takes out the morning trash and feeds the dogs on his way out the door for work. But today is Stan's day off – instead of him going into the office he changed up his schedule and is going to help me with the farming chores.
The daily chores begin with feeding the horses, chickens, ducks, rabbits, and turkeys – this is our first priority. After I gathered the morning eggs, I discussed our plan for the day with Stan. We will forage for food and medicines.
As Stan and I are feeding the animals, I recognize a patch of wild Sheep Sorrel that has sprouted within an area known for excessive dampness. Do you know how to tell what Sheep Sorrel is? It is distinguishable by its slightly sour taste – similar to that of spinach or mustard greens.
Sheep Sorrel is an excellent food to combine with eggs and bacon – smothered with cheese it makes a delicious breakfast. Although this is a healthy plant; do not think it is healthy enough to consume on a daily basis. If you eat too much, it can result in the body being unable to process calcium properly due to the amount of oxalic acid.
Here are some step by step instructions for making Sheep Sorrel:
You first must identify the plant as being a green from the spring-time. It prefers wet fields, ditches, and pastures. It is a green plant that has a reddish tint to the stems and leaves. Once it develops the seeds these also turn to a reddish color.
Related: The 5 Most Common Edible Weeds In Your State
Smaller leaves are the most tender, with the best taste. The older leaves have a red tint to them; which indicates a higher acidic concentration, making them very sour.
Here you can see the difference in the color of the leaves.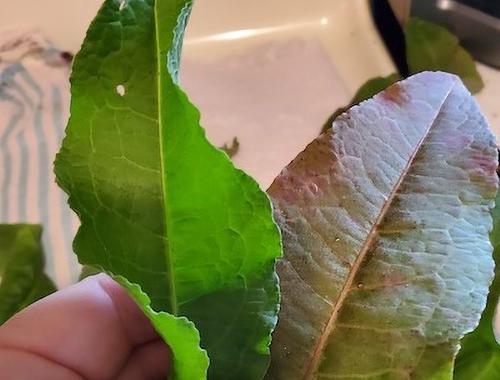 Make sure to check every leaf for bugs and wash them thoroughly in several sinks or pans of clean water.
Then remove the stem. I normally just slide my hand down the woody stem to remove the tender leafy parts.
I add some bacon grease to my iron frying pan or better yet just fry some smoked bacon until crispy.
Remove the bacon and drain it on a plate to the side, crumble it up to later add to the cooked leaves. Now place the chopped/shredded Sorrel leaves to the bacon grease and let them cook until tender.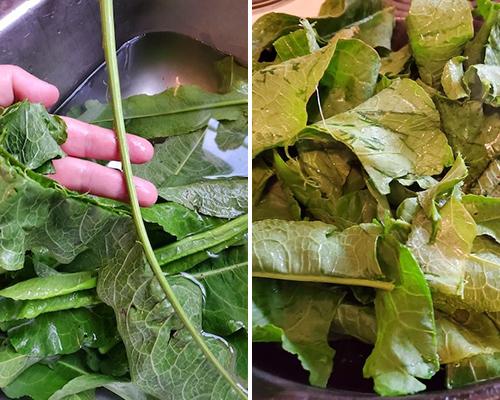 Add the bacon pieces, salt, and pepper to flavor.
Notice, in the below picture how much the sorrel shrinks?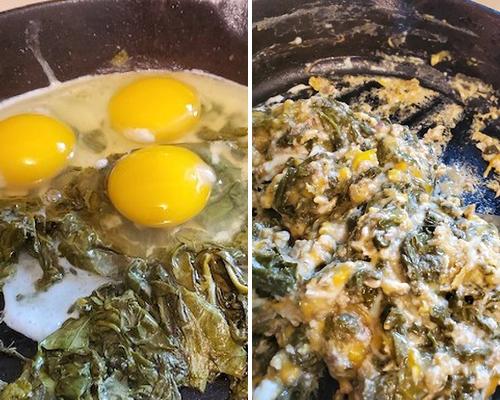 Once it is less than 1/2 the amount in the pan, I add in some eggs.
Next, break some eggs into the cooked sorrel mixture, cook until eggs are almost done. Now, you are going to want to add about a cup of shredded cheese.
Serve this all up with sweet pepper and some Blackberry tea.
The Blackberry leaves for my tea were foraged the previous day and I hung them in the kitchen window.
Once they are completely dry, I place them in a quart-sized mason jar. I crush all the leaves into the jar until it is filled, when it is I will dry can it in the oven to preserve for later.
Related: How To Cook Burdock
More Foraging for Medicinal Teas
Since the dew has dried up a little, we will go out in the woods next to our home to gather some other wild herbs and edibles. Along the way, we have red and white clovers in full bloom. What a treat! This will add to my collection of medicinal teas.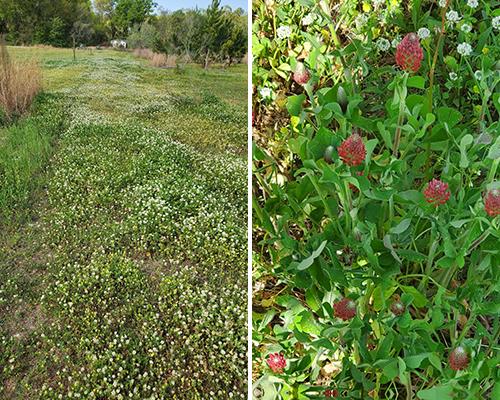 After we have gathered a bowl full of the clover, we head into the woods to see what treasures are there.
Awesome! I notice it is also mushroom season! Tonight we will have some Lion's Mane Mushrooms. Here is a picture of one of the old logs I discovered with these mushrooms growing on.

Related: Edible and Non-edible Mushrooms you Find in Forests
Gathering Magnolia Bark
Spring is the best time of year for gathering the bark off our Magnolia trees. This is because it is still tender due to the tree's are coming out of its dormant season.
Stan will use the hatchet and a large knife to remove the bark from the tree and cut it into strips. See how he does in the below photo?  He is careful not to strip away too much bark; as this will kill the tree. We do not want to harm any trees!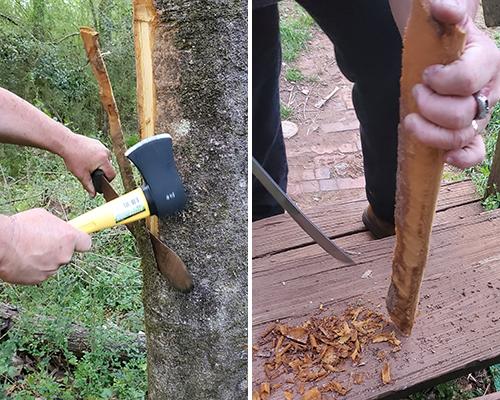 I then take the bark and place it on an old wire screen to dry. This usually takes about 3-5 days depending on the thickness and length of the bark. (You can also dry the bark inside the oven set at 150 degrees Fahrenheit).
I then grind up the dried bark into powder than can later be used as a tea. If you don't have time to grind the bark into powder, you can break it up into small pieces. This bark mixture can be used to make tea or a tincture.
Breaking tree bark into smaller pieces to form medicinal tea which treats many ailments.
This tree bark medicinal tea relieves anxiety, aids in digestion, and even helps with Stan's asthma. It is also good to use as an antiseptic for cuts, scrapes, and other wounds. The tea can also be used to gargle with and helps ease the pain of a sore throat.
Whenever I see these flowers, I gather as many as I can. They make an excellent addition to the bathwater, with a lovely scent that is very relaxing. This makes a great way to end the day; an added bonus is how soft it makes my skin feel.
Canning Broths & Soup from Yucca Roots
Today I am canning some broths, soups, and Yucca roots. I am also reorganizing the new pantry. I plan to get as many broths and stocks canned in case the Zombies from the city come looking for food and supplies.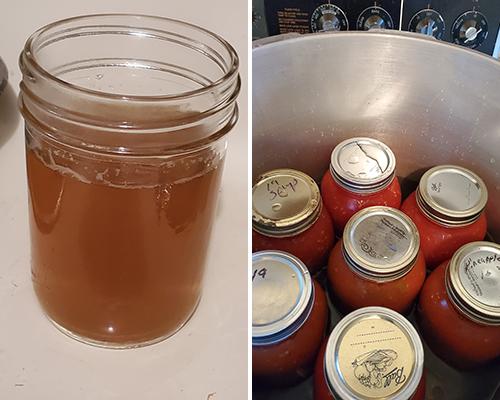 I also dried and jarred up the clover I gathered earlier in the day. We are constantly rotating, dusting, and adding new items to our stockpile.
Our plans are to do some added work on our chicken pen too. Stan will be working on that while I am working inside with the canning, drying, and cooking our meal.
We went to a local live animal auction last week and we purchased several chickens, ducks, and turkeys.
Related: The Ultimate Chicken Meat Processing Guide for Preppers
We have been keeping them in their cages until we can get the pens ready. We might have gone a little overboard and overloaded us this time around. We just got a little excited!
However, we are assured to have eggs and meat in the future. We both love the idea of having all the new animals in our little piece of paradise.
Our son and two of our grandkids came over to help with the chicken pen. This is a great help since this means more will get done by the end of the day. I will just add to the meal tonight to feed everyone.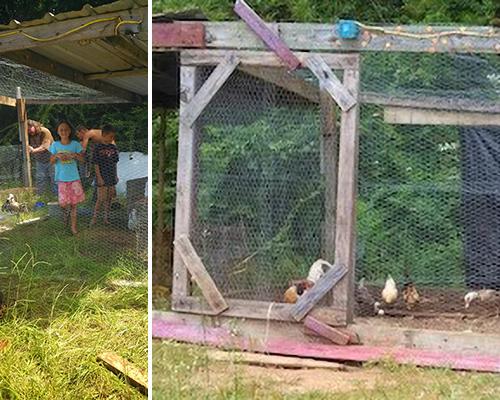 Not bad for just using old pieces of lumber, tin and other items that were thrown out by other people. Like they say – "one man's trash is another man's treasure".
Winding Down, Reflecting, and Planning for Tomorrow
We can now sit down to our evening meal and begin to relax and unwind for the day. A nice hot bath is going to feel so good after a full day of hard, yet rewarding work. We will all sleep well tonight; but, tomorrow is the start of a new day.
Stan is talking about going fishing. I think we deserve a quiet day of fishing. But you know I will be canning anything extra we catch.
You may also like: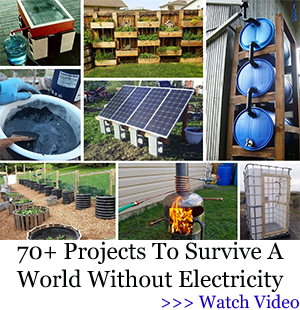 Confessions Of A Man Who Lived 37 Years Off Grid (AMA)
5 Ingenious Ways To Refrigerate Your Food Without Electricity (Video)
5 Unforeseen Problems I Encountered When I Went Off The Grid
Powering an Off the Grid House (Cost-Effective)