When I first moved onto our current property four years ago, I tilled and planted a large garden to help us become more self-sufficient.  At about the same time, I started studying wild edibles.  There was a large plant growing near our barn that I did not recognize.  The leaves were about a foot long and spade shaped.  The stalks vaguely resembled rhubarb.  I did some research and found out that this large plant was called wild burdock.
Of course, my first instinct was to find out if the plant was edible.  It could be a huge sustainable food source for my family if it was.  As is with most wild plants, there were mixed answers regarding its toxicity.  Some people said to stay away completely, while others said that most of the plant is edible if prepared properly.  I found out for myself during a springtime, knife-only survival challenge.  Because the only tool I brought with me was a knife and it rained the whole time, I could not start a fire to cook fish or other animals.  The risk of getting sick was too great for me to eat the meat raw.  I was forced to rely on wild edibles to survive.
Related: Burdock: The Annoying Weed That Can Save Your Life
After constructing my lean-to shelter and gathering some rain water, I decided to head out for food.  I found lots of dandelion, clover, wood sorrel, plantain, chickweed, and violets.  There were a few wild carrots, but I needed something more substantial.  Burdock was my solution.  I used my knife to dig up the large root and shave off the skin.  In this case, I ate the root raw for some needed calories and carbohydrates. It tasted like a cross between a carrot and a potato, and it was just what I needed to make it through my survival challenge.  However, in this article I am going to cover ways to harvest and cook burdock so you can more easily incorporate this plant into your weekly diet.
Harvesting
First, you want to try and target young burdock plants.  While you will not get as much food out of the plant, it will be a softer plant.  Find a large patch of burdock and only harvest the amount you currently need.  If you do not wipe out the patch, it can continue to thrive and provide food for your family.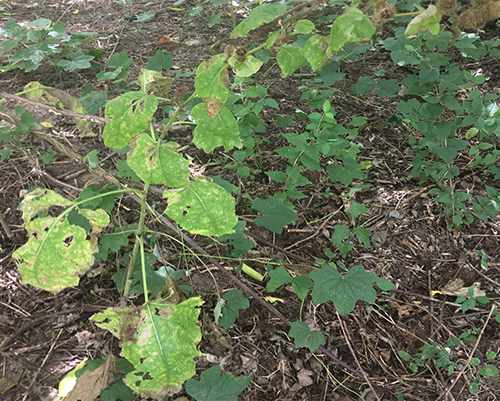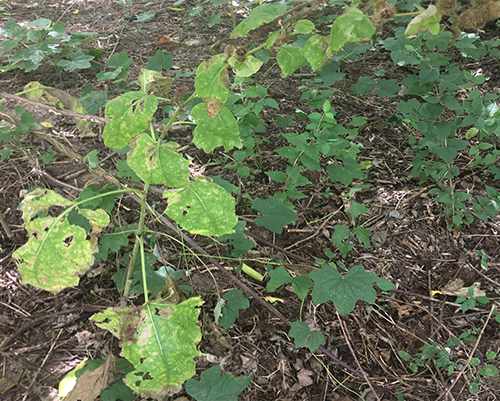 Push aside the leaves and follow the stem down to the ground.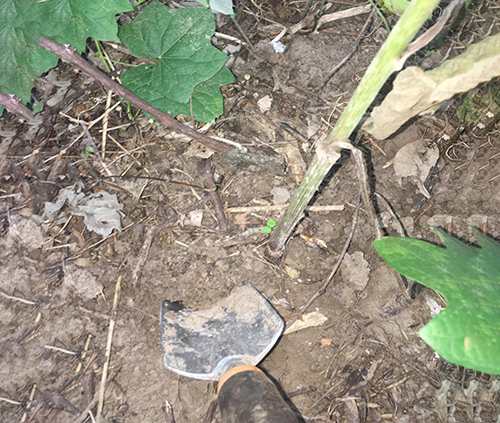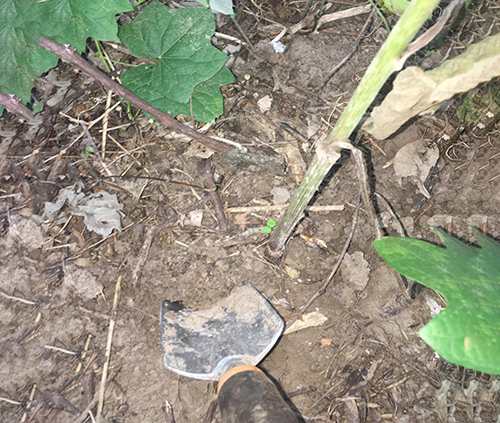 Carefully dig the dirt away from around the root.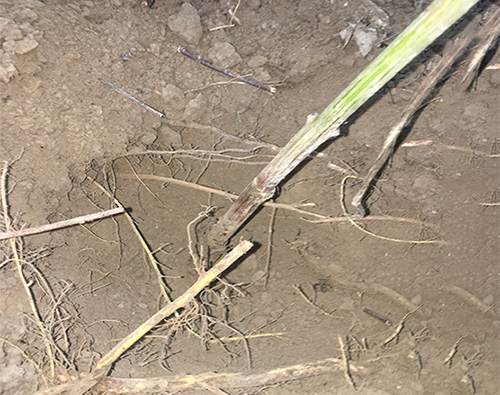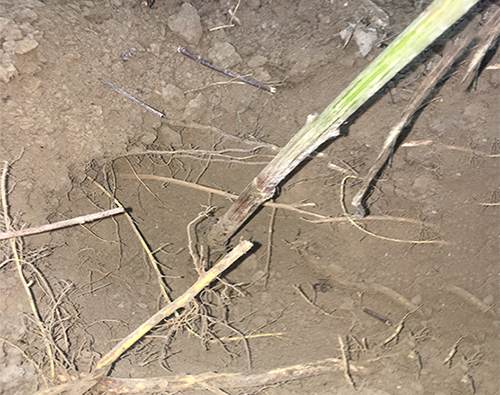 It is common for the root to be over a foot long, so be sure not to accidentally cut through it with your digging tool.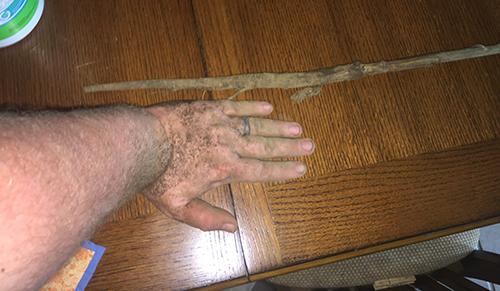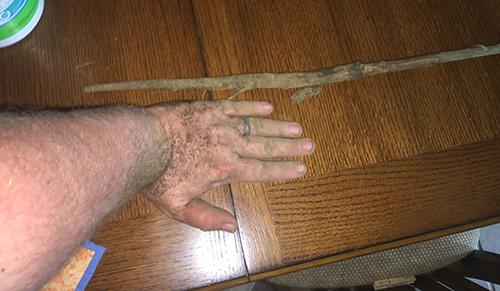 Save the whole plant as most of it can be cooked and eaten.
Preparing the Root
First you will need to separate the root from the rest of the plant.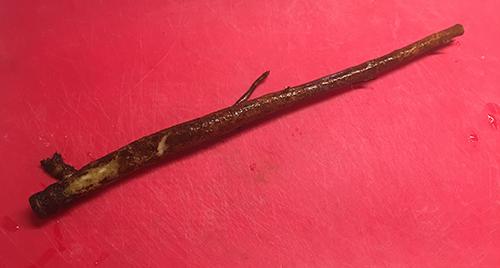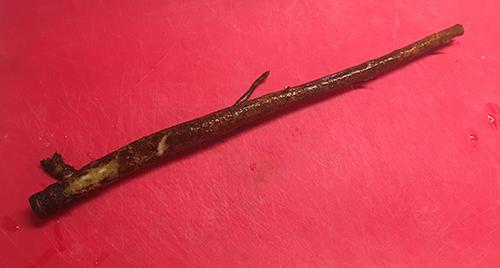 Wash off all of the dirt and then peel the root like a carrot.  At this point you can slice it, salt it, and eat it raw if you like.  However, cooked burdock root is more common.  It can be used in a stir fry, and is popular in Asian cuisine. As you peel the roots, you should place them in a bowl of water with a teaspoon of vinegar to keep them from browning.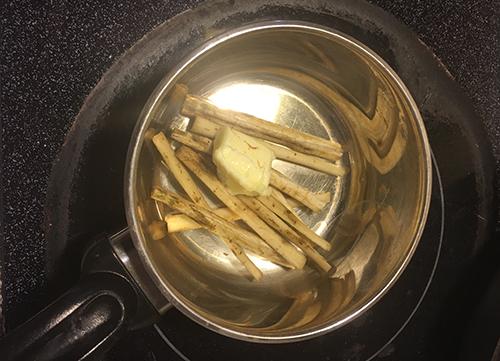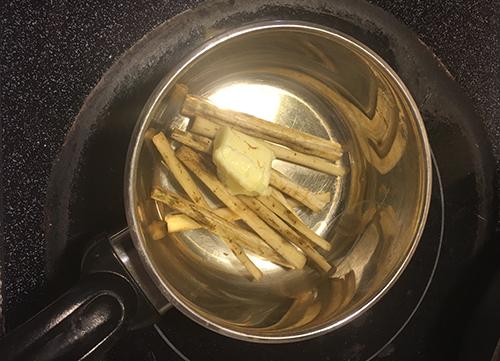 When you are ready to cook the root, julienne it into matchstick pieces and mix with carrots having a similar cut.  Heat oil in a frying pan or wok on medium-high heat.  Add your root mixture.  It takes about five to seven minutes for them to cook.  I like to add in a few tablespoons of lemon juice, soy sauce, fish sauce, and honey to give it a sweet and sour flavor.  Of course you can also add meat, snap peas, water chestnuts, and other stir fry ingredients.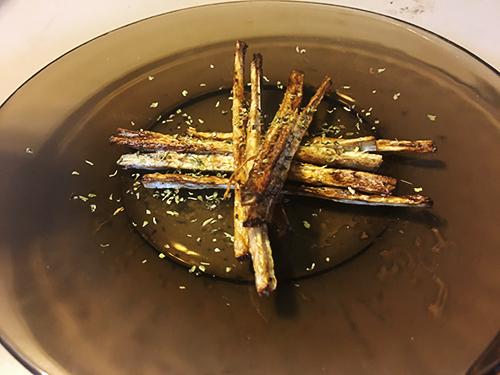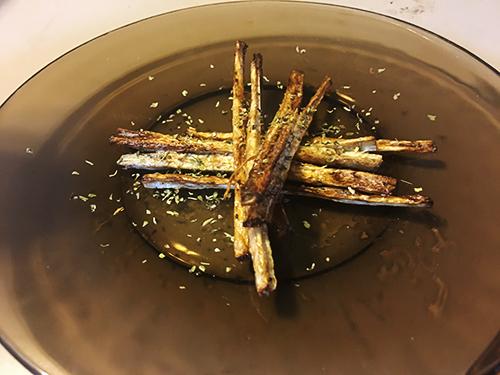 You can also pickle them or make chips.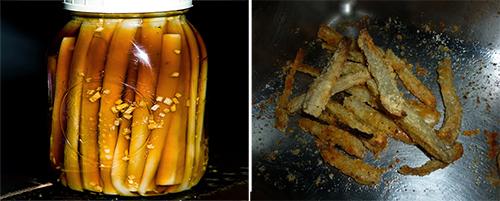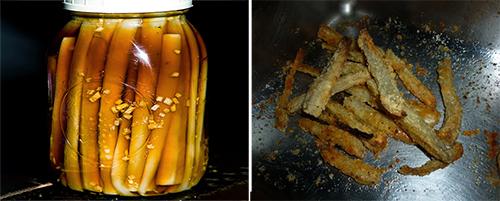 Related: Delicious Recipes Using Cattails;The Supermarket of the Swamp
Preparing the Stems
The primary reason that there have been so many misconceptions regarding the stems of burdock plants is because of the bitter outer skin.  It is absolutely nasty and can upset the stomach as well.  However, if all of this skin is removed you are left with a very pleasant food source.  Once you have removed the root and leaves from the primary stem, you must peel every inch of it.  Some people will remove the skinny spines from the actually leaves, peel them, and eat them raw or steam them like asparagus.  I typically go after the main stems.  Once they are peeled, the raw stem is juicy and crisp like celery.
To cook the stems, I start some butter in a frying pan on medium heat.  You want the burdock to caramelize like onions.  Cut the stem into one inch pieces, and toss them in the pan.  Add some white wine, fennel, and coriander seeds.  Salt and pepper to taste.  Add a splash of olive oil just as they are browning to give them a nice glaze.  As with the roots, you can add carrots and garlic to the mix.  Also, soy sauce and miso go very well with the stems.  In addition, you can cut them lengthwise and blanch them before sautéing with pasta.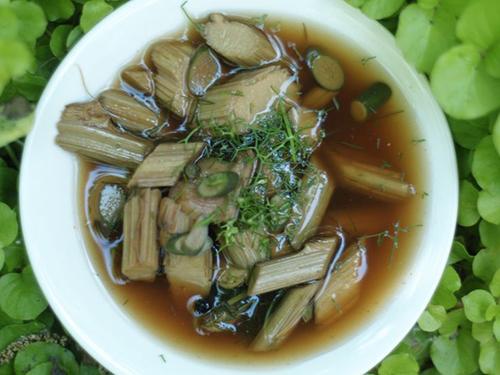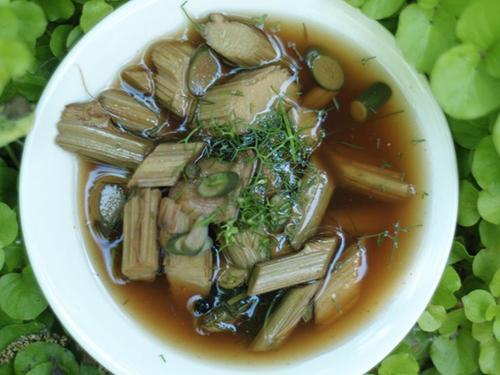 With a little additional knowledge, plants like wild burdock can become an ideal sustainable food source.  Even if you live in an urban area, burdock often grows in areas where people do not want it.  It is often easy to knock on somebody's door and ask to harvest some burdock as this disrupts the reproductive cycle to help control the plant.  Just use as much of the plant as you can, and be sure not to wipe out a given patch unless the owner of the property insists. While burdock can be incorporated into your normal recipes, I can assure you that knowing how to cook and eat burdock can give you some badly needed nutrients in a survival scenario as well.
You may also like: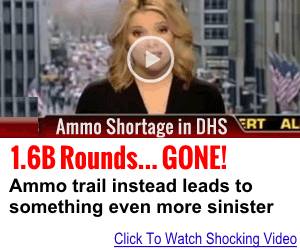 16 Wild Edibles You Didn't Know You Could Forage For
This Bug Will Kill Most Americans During The Next Crisis (Video)
How to Make Dandelion Bread (With Pictures)
Do You Recognize this Tree? [All Parts are Edible]
10 Edible Roots That Kept This Hermit Monk Alive