This article has first appeared on Smoking Meat Forums.
No weighing,no calculator, just a simple recipe that works quite well, from a man I have known all my life. Pops owned a store and was very highly regarded for his smoked and cured products. There are lots of ways to make bacon. This is what I use.
Real Simple Curing Brine.
 For every 1 gallon of water, add:
1/3 – 1 cup sea salt (depending if you're on a lo-salt diet)
1 cup granulated sugar or Splenda®
1 cup brown sugar or Splenda® brown sugar mix
1 tbsp cure no. 1 pink salt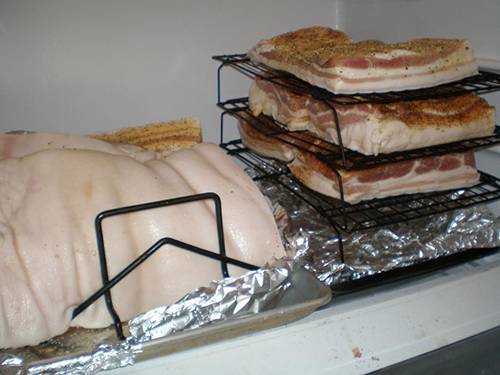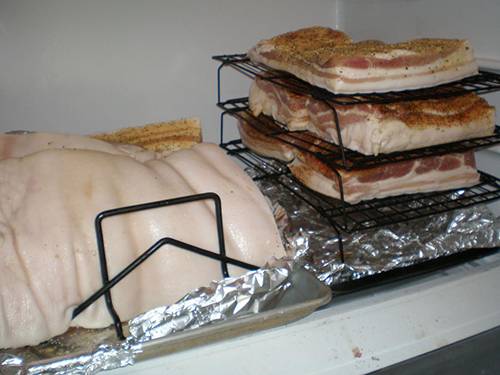 Stir thoroughly until clear amber color, pour over meat, inject if necessary to cure from inside-out as well as outside-in.
Weight down with a partially filled 1 qt or 1 gal. Ziploc bag or bags to keep meat immersed.
Curing times vary with meat, but generally overnight to 2-3 days for chickens and turkeys, 8-10 days buckboard bacon, 10-14 days belly bacon, pork shoulder, whole butts, 3-4 weeks whole hams, 10-20 days corned beef (fresh beef roasts, briskets, rolled rib roasts, etc.)   If whole muscle is more than 2″ thick, then inject so it can cure i/o as well as o/i, and/or in and around bone structures, etc.
Related: How to Build a Smokehouse In Your Backyard (with Pictures)
You can add any other flavorings you'd like, this is just the basic curing brine. 1 heaping tablespoon of cure is about 1 ounce.  The maximum concentration allowed safely is 3.84 ounces per 1 gallon of brine (24 lbs.per 100 gallons: 16 oz. x 24 = 384 ounces, 1/100th is 3.84 ounces).  You can experiment with different concentrations as long as you keep it between those parameters.
I add pepper,onion, garlic, old bay.
My buddy and I split a 4 bellie case a few weeks ago. Cut them up and put them in a bucket with the cure mix…then into the spare fridge for 15 days. No specific reason for 15 days..it just worked out that way.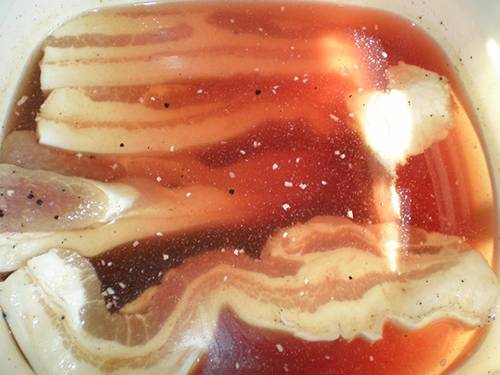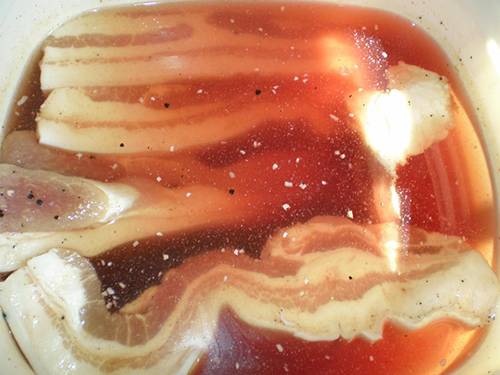 Rinsed and put back in the fridge with a generous coating of pepper onion and garlic on half. Added a thick coat of Slap Ya Mama on the other half.
Two days later they got 34 hours of pecan dust smoke using 2 amazens. Sliced off the skins with ease using my Granpas steel filet knife.. Skin side down cutting like skinning fish.
Back into the fridge for a couple days. Used my awesome Berkel commercial slicer and had 22 pounds sliced and 2 pounds of ends in no time.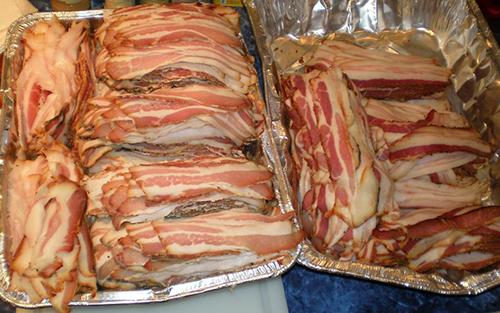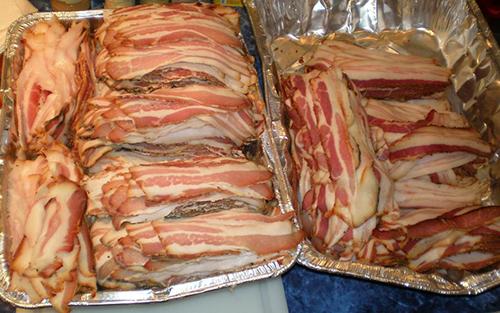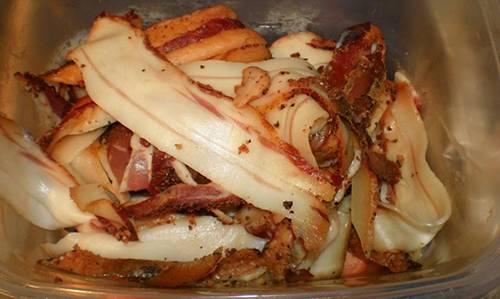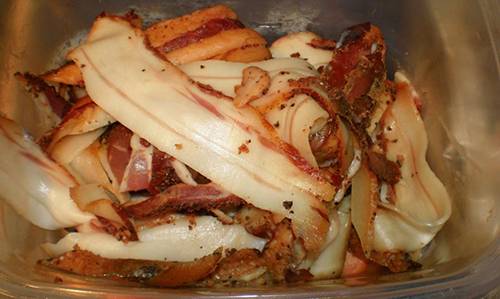 Vacuum packed using Lisa Bs superb bags.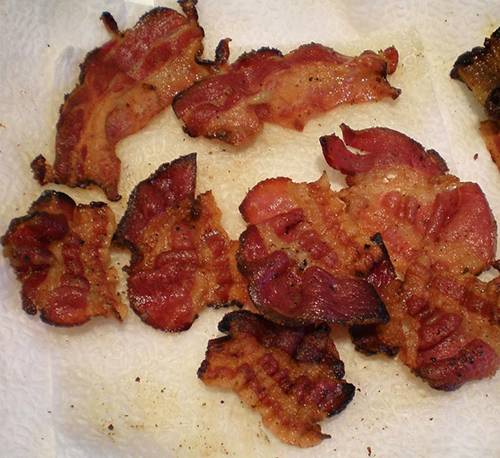 Try it you will like it.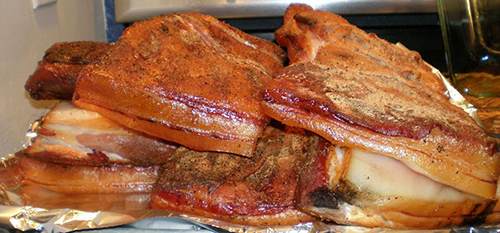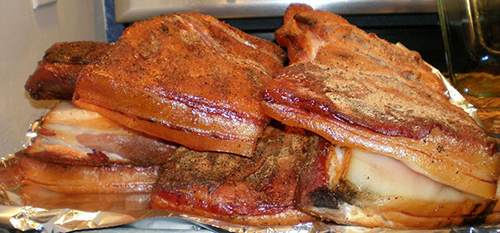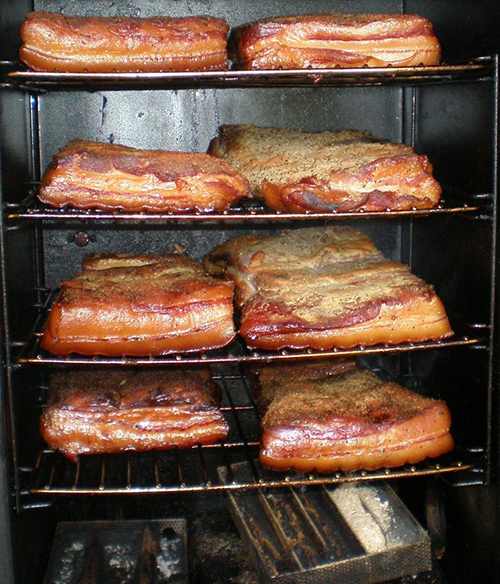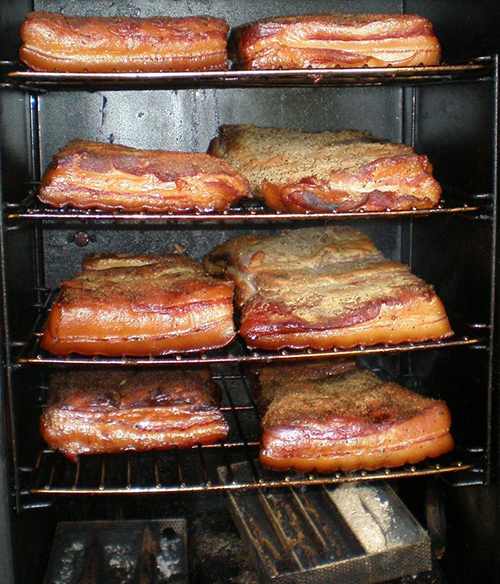 This article has first appeared on Smoking Meat Forums.
You may also like: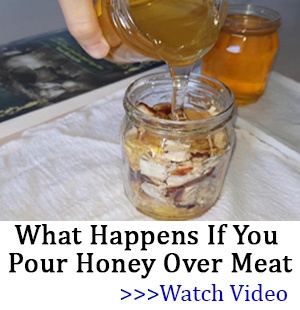 How To Make Ash Cakes; The Ultimate Pioneer Food
10 Things Cowboys Carried With Them in the Wild West to Survive (Video)
No Gas, No Electricity… How To Cook Indoors Without Smoke