Home defense is something everyone should think of, and if you're a prepper you have more reasons to plan for it than the average person does. In normal times there's always a risk of criminals targeting your home because they want nice things, but are too lazy and stupid to work for them – but what's it going to be like when the SHTF?
Imagine the scenario: A crisis has hit, but you were prepared for it and you're doing OK. You have food and water. You've either adapted your home so you can get by without electricity, or you have your own power source. Things are difficult, but you have the resources to get you through.
The problem is, all around you people are struggling, starving and desperate. Now you're not a target because some scumbag is too much of a parasite to buy his own laptop; you're a target because most of the population see your stuff as the key to staying alive.
How you deal with desperate neighbors or refugees is a whole different issue, but whether you help them or not, what you can't allow is for them to break into your property and take your supplies. You need to be able to defend your home and its contents. Here's how I go about that.
Marking a Perimeter
A fence makes it clear that there's a difference between inside and outside, and encourages uninvited guests to stay outside.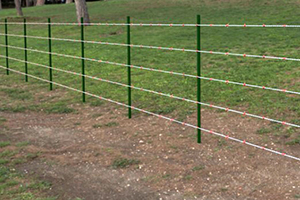 It's possible to make a fence that will physically keep them outside, but security fences are expensive and ugly; unless you're a multi-millionaire they're not really an option.
An ordinary barbed wire fence can be climbed or cut, but it does mark the perimeter and can put off casual intruders.
Even if someone isn't deterred they will be slowed down, and anything that delays an attack – even by a little – is worth doing.
Clearing Sightlines
It's much harder for an intruder to get close if they don't have anything to hide behind. I've cleared my property as much as possible, from the house right out to the perimeter fence.
Related: How to Harden Your Home Against Intruders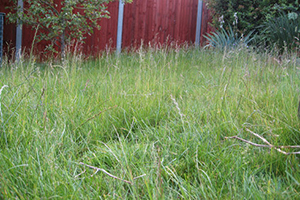 Almost every part of it is visible from the house. There's one area where a dip in the ground creates a hiding place, and it looks even more tempting because the grass in there never gets cut.
What intruders can't tell is that the reason that grass never gets cut is the dip is filled with a low wire entanglement.
These are simple to create; just bang a load of stakes into the ground in an irregular pattern, then string barbed wire between them. Vary the height of the wire from six to 18 inches off the ground, and don't pull it tight enough that someone can stand on the strands.
That way you have a very nasty obstacle that just disappears into long grass.
Protect Entry Points
There are a lot of ways you can make your home harder for intruders to enter.
I didn't want bars on the windows or anything else that's too obvious, so I went with low, thorny bushes under all the ground floor windows. Kept trimmed to about two feet high, these don't interfere with sightlines – but they're wide and tall enough to make reaching the windows a real struggle.
On the other hand, there are no bushes around the front and back doors. In fact, there's nothing an intruder could use for concealment.
I can easily check there's nobody lurking near the doors, and I can do that from inside or outside the house.
Use Technology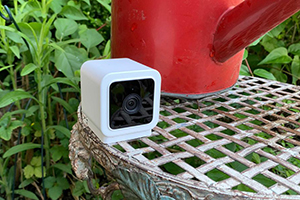 One reason it's so easy to check for intruders near the doors is that I have half a dozen cameras set up. Motion-sensing cameras with night vision capability aren't expensive now, and in anything short of a full-scale crisis they can even send an alert to my phone if they pick up any movement.
Armed and Ready
I generally say that the best home defense weapon is a pump-action 12-gauge shotgun, but that's based on the assumption that I'll be dealing with intruders inside my home. In a SHTF scenario you need to push your security bubble out a bit further, so a semi-automatic carbine comes into its own.
My personal favorite here is a DSA58 FN FAL with 16" barrel and folding stock; it's a solid and reliable rifle, and its .308 round turns anything on or around my property from cover into concealment, but an AR15 will do just as well.
Of course, if anyone makes it through the front door the shotgun – a Remington 870 with eight-round mag and another 15 shells stowed in loops on the sling – is easily available. I don't really bother with handguns for home defense. A handgun is just what you use until you can get to a proper weapon.
Have a Redoubt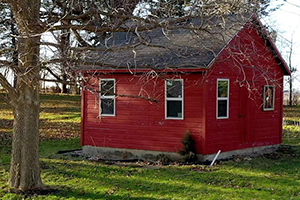 If intruders have the firepower and numbers, you might not be able to keep them off your property – or even out of your home. If that happens you need a fallback position inside the house, a place where you and your family can make a last stand. In my case that's an old stone shed at the back of the house.
The outside door was bricked up years ago, and from inside the house the only access to it is through the kitchen. With the kitchen door open you can shoot from the shed, all the way down the hall to the front door, so this redoubt commands most of the ground floor.
The shed itself has a decent store of food, water and ammunition, plus my everyday toolbox; even if I lose everything else, I won't go hungry for a while.
Related: How to Get a Cheap Survival Shelter and Bug Out Location
Obviously what I've done suits my own property, but the basic principles can be adapted to almost anywhere. The main points are to establish a boundary, make sure you can see – and shoot – out to that boundary, and build in layers of defense that intruders have to penetrate one after the other.
You'll never make yourself totally invulnerable to attack, but you don't have to. The sort of attackers you'll face when the SHTF aren't fanatical soldiers prepared to take you down or die trying; they just want food, fuel and safety. If your home looks well defended, they'll look for an easier target.
Did you ever hear the joke about the two tourists in Africa who saw a lion? One of them takes out his running shoes and starts putting them on. His friend says "What are you doing? You'll never outrun a lion." He replies, "I don't have to outrun the lion. I just have to outrun you."
Home defense is your running shoes.
You may also like: 
Do You Know Why You Should Never Put A Tall Fence Around Your House? (Video)
CDC: The Post-Antibiotic Era Is Already Heretara
16 Survival Uses For Crisco That You Never Thought Of