The CDC says we should all stop pondering the possibility of entering a post-antibiotic era. The Centers for Disease Control and Prevention staunchly maintain it's already here. The miracles of modern medicine appear to have met their match – "superbugs."
These deadly microscopic enemies – bacteria and fungi now cause more than 35,000 deaths annually, according to the CDC. The closely related antibiotic resistance medical threat, Clostridioides difficile, causes approximately 12,000 deaths each year.
Clostridioides difficile, also known as C. difficile, is a bacteria that may prompt deadly diarrhea. Infections of this type typically present in people who are taking antibiotics for unrelated conditions. C. difficile is the most common hospital- or healthcare-associated infection.
Even if you do not overuse antibiotics, you will not be immune to the threat posed by antibiotic resistance. These superbugs, that afflict humans, animals, and agricultural crops alike, are learning how to fend off even potent antibiotics they have never been exposed to.
On an annual basis, roughly 2.8 million people around the globe become infected with drug resistant superbugs. According to Centers for Disease Control and Prevention statistics, approximately every 11 seconds someone becomes infected with a potentially lethal superbug. It gets worse from here folks. On average, every 15 minutes a person dies from an infection that would have been cured by an antibiotic.
Health officials from around the world have been attempting to warn the public about antibiotic-resistant superbugs for nearly a decade. The recently released 2019 report is a follow up to a jaw-dropping report about superbugs from 2013. The first antibiotic-resistant germs report indicated superbugs were killing twice as many Americans as previously thought. Didn't know anything about the initial report? You are not alone.
One would think a topic this important would be covered widely on the news, but that just is not going to happen in this hyper-divided political climate. The talking heads on television are more interested in sharing their own opinions, and having a member of their respective choir on to "react" in a kindly fashion to what they just claimed, than covering a world health issue.
Related: How To Make Sauerkraut – The Most Effective Probiotic
What Are Superbugs?
Superbugs are microscopic germs and microbes that include fungi, bacteria, viruses, and parasites. While many microbes are harmless, some cause severe infections. These infections, most commonly referred to as "pathogens," can become deadly if left untreated – or become drug resistant as they are now in post-antibiotic era.
What Exactly Does Antibiotic Resistance Mean?
When a pathogen becomes antibiotic-resistant the antimicrobial and antibiotics medications designed to fight them no longer work. The harmful microbes do not respond to the medication as they're supposed to, and continue to grow.
Superbugs deemed "multi-drug resistant" cannot be killed by multiple different types of antimicrobials or antibiotics. If a germ is classified as "pan resistant" it will not respond to any available antibiotic.
The Difference Between Antimicrobials, Antibiotics and Antifungals?
An antimicrobial medication is designed to treat a pathogen infection by either decreasing the growth of microbes or killing them altogether.
Antibiotics are used to treat bacterial infections. Bacteria causes infections such a E. coli and foodborne illnesses and strep throat.
Fungal infections such as yeast infections and athlete's foot are treated by a class of drugs classified as antifungals.
Folks outside of the medical profession often lump all prescription medications designed to treat an illness into one large pot and refer to them as antibiotics.
Weapons Used By Germs
Resistance Mechanisms – These are the defense mechanisms of germs that are developing to help them thwart antibiotics prescribed to kill them.
Colonization – This is the manner in which people carry germs – but are not infected by them. When a person is a "carrier" they spread the germs to other people but do not get sick or require medication.
Isolates – This is the purest stage of any germ.
Gram Negatives – These microbes are becoming resistant to antibiotics but cannot necessary fend off the prescription medication entirely. They share the new ways they learn to resist drugs with other types of bacteria, effectively spreading the ability to resist efforts towards killing them.
Related: New Deadly Mosquito Borne Virus Claims US Lives – What You Need to Know About EEE
Germs The CDC Has Deemed Threatening 
Urgent Threats
Carbapenem-resistant Acinetobacter
Candida auris – C. auris
Clostridioides difficile – C. difficile
Carbapenem-resistant Enterobacteriaceae – CRE
Drug-resistant Neisseria gonorrhoeae – N. gonorrhoeae
Serious Threats
Drug-resistant Campylobacter
Drug-resistant Candida
Extended-spectrum beta-lactamase – ESBL producing Enterobacteriaceae
Vancomycin-resistant Enterococci – VRE
Multidrug-resistant Pseudomonas aeruginosa – P. aeruginosa
Drug-resistant nontyphoidal Salmonella
Drug-resistant Salmonella serotype Typhi
Drug-resistant Shigella
Methicillin-resistant Staphylococcus aureus – MRSA
Drug-resistant Streptococcus pneumoniae – S. pneumoniae
Drug-resistant Tuberculosis – TB
Concerning Threats
Erythromycin-resistant group A Streptococcus
Clindamycin-resistant group B Streptococcus
Watch List
Azole-resistant Aspergillus fumigatus – A. fumigatus
Drug-resistant Mycoplasma genitalium – M. genitalium
Drug-resistant Bordetella pertussis – B. pertussis
Antibiotics save lives, but any time antibiotics are used — by people, animals, or crops — they can cause side effects and contribute to the development of antibiotic resistance.
Related: What Really Happens When You Take Antibiotics After Their Expiration Date
Where Are These Germ Threats Found? 
These germs are basically, well, everywhere. The health of human beings is interconnected with the health of the environment that surrounds us, the crops we grow to feed us, the water we drink, the animals we keep – and the animals we eat.
Antibiotic-resistant germs can quickly spread across the soil, water, food supply, neighborhoods, entire communities and especially hospitals.
In one case study featured in the same recent Centers for Disease Control and Prevention report, a healthy man named Mike was one of 114 people across 17 states who became ill and was hospitalized after his new puppy transmitted the multidrug-resistant Campylobacter germ to him. This massive and severe outbreak was linked to a multitude of pet store puppies.
Spread of antibiotic resistant bacteria and fungi in hospitals from patient to patient, patient to staff, patient and staff to their families and friends, and to other healthcare facilities where the cycle starts all over again when the patient is transferred – including to the first responders who aided in the initial and subsequent transports and their families. It is not difficult to see just how easily and quickly a single infected person can infect many others with antibiotic-resistant germs.
Once a drug-resistant germ is passed from one person to another, or from an animal or environmental contact to a person, it is effectively set loose on society and becomes increasingly more difficult for the CDC, and other health professionals, to contain.
Drug resistant germs impact the most vulnerable members of society – babies, young children, the infirm, and senior citizens – to a vastly disproportionate percentage.
How Are Antibiotic Superbugs Spread?
These deadly superbugs spread in a variety of ways. Unless you keep yourself in a bubble 24/7 it would be virtually impossible to avoid potentially coming into contact with them – and you won't even realize it.
Physical Contact
One of the ways the CDC is working to prevent the spread of antibiotic resistant bacteria and fungi is by urging safer practices in hospitals and medical care facilities. When a staffer rotates from working with or transporting one patient to another without washing their hands that's almost certain to spread any infections.
Surface Contamination 
Again, the efforts of the CDC are focused keenly on hospital environments as well as surfaces we encounter during our daily lives. Patient bed rails, medical equipment, counter tops and personal care items, like towels.
One would think that hospital staff would be hyper-conscious about germs, but apparently that is not always so. I distinctly recall being shocked six years ago when my husband wound up in an isolation unit in an intensive care ward at our local hospital – and the CDC being alerted about his meningitis emergency.
The staff at the hospital required visitors sign in before going into his isolated room and had to wear booties over shoes, a paper hospital gown over clothes, a medical mask, but no one had to wear gloves. Not only that, there were no restrictions about carrying in a purse or sacks. Sure, visitors were supposed to use the antibacterial dispenser on the wall outside of the room upon exiting, but at that point any germs were already attached to their hands, the doorknob, and on a purse that could be sat down anywhere outside of the room – germs still intact.
When the doctor came in to give updates on his condition, his gloveless hands were placed on the doorknob and bed rails. Nurses too touched common areas in the room without gloves.
Thankfully for our family, my husband's cultures came back and showed he had contracted viral instead of bacterial meningitis. He survived – without spreading potentially lethal germs. But, during the four days he spent in the isolation unit, no fewer than twelve people had been in and out with exposed hands, making them potential carriers or infected future patients.
Animals
There are two ways you can contract antibiotic resistant germs from animals. You can contract deadly germs from an animal by touching one that has drug resistant germs on its body or in its saliva. Typically, coming into contact with contaminated animal feces is how these germs are spread.
We can also contract the same type of potentially lethal germs by eating contaminated food that comes from animals.
Sexual Contact
Having unprotected sex with a person who is carrying an antibiotic-resistant N. gonorrhoeae or Shigella bacteria can mean you end up becoming infected.
Sharing Air
The TB bacteria is one of the types of drug resistant germs that can move from person to person. It isn't just transmitted via a cough, but can be passed on when the infected person or carrier merely breathes or speaks near another.
Contaminated Water
Water, not only from sewage systems but plumbing – especially in hospitals or from recreational swimming areas – can also spread superbugs.
What Is The CDC Doing To Combat Antibiotic Resistance?
Since the 2013 CDC report was shared with governmental entities, a little progress has been made. The Centers for Disease Control and Prevention launched a plan-based series of coordinated actions that can help control and prevent the spread of antibiotic resistant germs in the United States and around the globe.
Infection prevention and control is at the heart of the plan. Tracking infections, sharing data across agencies and reducing the unnecessary use of antibiotics are key components of CDC's plan. Investing in improved diagnostics, vaccines, and therapeutics are also part of the agency's plan to slow down the spread and tragedy caused by superbugs.
Even if you only use antibiotics as directed and not for viral infections, take sanitary precautions at all times. Avoid lotions and other consumer products that contain antimicrobial agents that could also teach germs to become more resistant to antibiotics. You could still become unintentionally infected patient zero – with few or no responsive treatments to prevent you from contracting sepsis and dying.
A SHTF level pandemic could be lurking just over the horizon – or perhaps on an ATM machine or gas pump only a few miles from your home. It seems there is little that we can do than cross our fingers and hope neither we or no one we love becomes one of the unlucky millions who have come into contact with a strain of antibiotic resistant bacteria.
You may also like: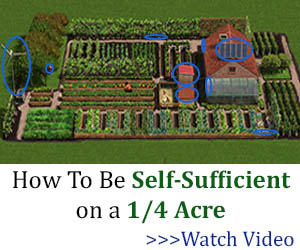 The Antibiotic Honey That Shouldn't Be Missing From Your Stockpile
Woman With MS Survives in the Wild With Just a Knife and the Plants She Found (Video)
Just Like Doxycycline: The Antibiotic That Grows in Your Backyard