The flooding facing the Midwest this year is the worst we've seen in years and it's not over yet. Meteorologists are saying that the flooding will continue until the end of May and will probably spread far beyond its current boundaries. A large part of the nation's "bread basket" will be untellable this year, causing food prices to rise and many farmers to go bankrupt.
This flooding, like most flooding, came about due to an aberration in the weather. Heavy spring rainfall, falling on a heavy winter snow accumulation, has caused rivers to overflow their banks. Levees, which had been built as protection from such an event, turned out to be inadequate to the task, as the rivers rose more than 10 feet in some places. These high waters overflowed the levees, causing them to rupture.
Many farmers were faced with the equivalent to a flash flood, as walls of water swept across their lands, making it impossible to do anything to protect their crops, stored harvests and livestock. In some cases, grain silos were ruptured and in many others animals were drowned.
But that's not all. Unlike other floods, this one is staying around. Countless farmers are sitting on their laurels, waiting for the floodwaters to abate. They can't even begin to evaluate the damage and restore their farms until the flood waters abate. By that time, chances are they won't be able to plant in time to have a harvest this year.
Related: 8 Items That Disappeared Immediately after Hurricane Harvey
FEMA's Sad History
FEMA, the federal government's emergency management agency, has anything but a sterling reputation. Created in 1979, under an executive order by then-president Jimmy Carter, this showcase agency is supposed to be the gateway to all sorts of government assistance, in the case of any emergency, such as natural disasters.
Sadly, especially for those who have had to rely on their services, FEMA has shown themselves to be more of a gateway to government red tape, than to government aid. While there have been people who have been helped by the agency, it hasn't been without a lot of work and a lot of frustration. For the farmers caught in the flooding happening in the Midwest, it's more of the frustration than anything else.
FEMA's first major debut upon the national stage was Hurricane Katrina, even though the agency had been in existence for more than two decades by then. While they passed out millions of federal tax dollars to those who had lost their home and spent millions more on temporary shelter and other disaster relief, they were late arriving and slow setting up.
Seven years later, Superstorm Sandy hit the New Jersey coast. Many of us erroneously thought that FEMA would have used the years to improve their procedures and training, preparing to better manage a disaster the size of Katrina. But we were sadly mistaken, as FEMA didn't do any better in helping the people hurt by Hurricane Sandy, than they did with Hurricane Katrina.
One clear example I personally saw about this was that FEMA didn't even put out requests for quote (known as RFQs) on basic items like bottled water for Superstorm Sandy relief efforts until the day after the storm wiped out the New Jersey shoreline. I have no idea how quickly that water arrived, but I'm sure a number of non-profit agencies beat them to the punch, getting food and water to that area before the people died of dehydration.
A few months later, there was an earthquake somewhere in Kansas, devastating a small town. By the time FEMA arrived, non-profit organizations were already on hand, providing food and water to the townspeople. Their response to FEMA's offer of help… "Thanks, but no thanks."
To be fair to FEMA, they have become the public's scapegoat agency for anything and everything that has to do with a disaster. They can't even begin to react until the president declares a state of emergency. Not only that, but we seem to forget that there's nothing in the Constitution that says that the federal government has to rush in and provide aid after a disaster strikes. For most of our country's history; they didn't. Any disaster relief that existed was either on a local level or came from non-profit organizations.
Related: Find Out What Areas Would Be Targeted by FEMA When SHTF (they'll take your supplies)
In the Current Situation
In many ways, the current situation caused by flooding in the Midwest is unique. While it is not the first time that our country has had to deal with flooding, nor is it the first time there was flooding in the Midwest; but the flooding that is currently occurring is much more widespread, hurting many more farmers, than anything our country has faced before.
Many farms are underwater, totally flooded, with only the roofs of the farm buildings peeking above the waters. Extensive damage to everything involved in the farmers' lives and the workings of their farms has already happened, and it's not over yet. Farmers in the affected areas can expect the flooding to continue for about two more months, as snows continue to melt.
What this means in practical terms is that hundreds of millions of dollars in stored grain and livestock have already been lost, with more to come. On some farms, hundreds, if not thousands of hogs or cattle were abandoned to their own fate, when the flood waters rushed in. Unprepared farmers could do nothing to save their livestock, as they struggled to save their own lives. Considering that flooding is expected to continue until sometime in May, chances are that most of these farmers won't be able to plant at all this year, adding to their financial loss.
These farmers were already struggling and have been since facing the last round of flooding in 2011. In addition, market conditions have made things rough for farmers the last several years, as proven out by Midwestern farm bankruptcies being up by 19 percent in 2018, compared to the previous year.
Once the waters subside, massive cleanup and repair efforts will need to be undertaken, before farmers can even think about getting back to normal operations. Some estimates say that as many as half of them will be forced to declare bankruptcy and shut down their farms.
Related: 16 Items FEMA Tells You to Stockpile and Why
Can FEMA Help?
The only way many of these farms will be able to stay in operation, is through a major infusion of cash. Whether that comes from insurance, through FEMA or from the US Farm Service Agency, chances are that it won't be enough. While financial assistance does exist, it is never a 100 percent reimbursement for losses. Yet to these already struggling farmers, anything less will make it financially impossible for them to rebuild their farms and restart operations.
Making matters worse, FEMA has already gone through their allotted budget for disaster relief efforts. It is quite possible that they don't even have the money needed to help these farmers. If the Farm Services Agency is in the same boat, the options for these farmers are disappearing quickly. Mops and buckets to help with the cleanup isn't going to do much good in overcoming the loses these farmers face.
To make matters even worse than that, many people in this area, including some farmers, already have a bad taste in their mount from FEMA. The federal agency is already seeking recovery of money paid out to 5,500 people who were supposedly paid too much since 2005, during previous disasters.
For many of these people, aid from FEMA was the only thing that managed to keep them going, after flooding destroyed their homes. Now, while they are still struggling to get back on their feet, FEMA is sending them a bill and they don't have the money to pay FEMA back.
Granted, our government needs to be accountable with our tax dollars. There have been too many cases where one department of the federal government or another has misused our tax dollars. From that point of view, it's nice to see that FEMA is at least trying to be responsible. But this is the wrong way to do it. Going after people, telling them to pay money back that they've already spent, because government bureaucrats made mistakes is just plain wrong. It's no wonder that people in the Midwest are saying, "FEMA is worthless."
You may also like: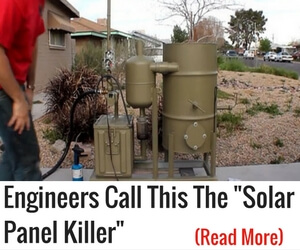 5 Maps You Should Have At Home

What Really Happens When You Bury A Shipping Container (Video)
9 Places to Scavenge After SHTF
When Did Independence Become Illegal?
Emergency Shelters When You Are On The Move