There is a parallel between the core basics of survival and those things that nature takes from us in one of these powerful hurricanes. When I think of survival and the very basics, there is shelter, water, food and fire. As the powerful winds and punishing rains of Hurricane Harvey approached Texas people were most concerned with these survival basics.
It was immediately apparent that there were many people unprepared to deal with the aftermath of this storm. Most resources were gobbled up in storm prep and no one really knew when trucks would return to Houston to restock shelves.
The struggle to find resources immediately after Harvey was no surprise to many. Al Green, a Texas congressman, made these comments about the state of Houston from information he gleaned from constituents.
The thing that people most need is security. And when people are not being rescued — people are still waiting to be rescued — that is an immediate need. Just having security. We also have people who have been out in the weather for some time and they need to get themselves properly warmed in a place so that they can have food and proper clothing. So, when people go to shelters, we're trying to make sure that they get the food and the clothing that they need. People also need to know that at some point we'll start a recovery, and when that recovery starts, that there will be resources available to help them get housed immediately. I remember going through this with other storms, and sometimes the housing can become difficult to acquire. But housing is important, short-term and long-term housing. Those who have had their property damaged, they need to know that there will be the resources available to them to get repairs. (Source)
Food
Whether people were evacuated from their homes and forced to leave their pantry's behind or if they were hoping to fill their pantry after the storm, the hurricane cleared shelves of most basic food staples. Many supermarkets were left bare by those preparing for the storm.
The trucks could not traverse the flooded streets of Houston and some stores were suffering from flood water damage. This meant the shelves would not fill anytime soon.
Related: When Grocery Stores Go Empty; A Back Door Shopping Strategy
Water
There is no greater challenge when it comes to hurricane relief than clean water and sanitation. The back-flow of black water as well as the toxic mixture of waters flowing into homes as well as up and down streets. Without proper water storage survivors were left to that which could be found, scavenged or brought by those providing aid.
Many stores were out of water before they were out of food. I talked to one man in Texas who told me that people were buying water before the hurricane and they had no idea why! It was this lack of understanding that just blows me away.
With water you have but three days. Drinking the toxic sludge in the streets could be more of a death sentence than waiting out the dehydration. If your tap is producing water after a powerful hurricane there is no guarantee that it is safe.
Shelter
Following the evacuations, many people were immediately without shelter. Their privacy was taken from them and they were left in a high school gym to contemplate their future. Shelter is always the first thing to go for those who must be evacuated.
For those who dared not evacuate, many ended up alongside those who had following rescue. You cannot will your home to stay on its foundation or not to succumb to the rising flood waters.
Nearly 80,000 homes were affected by Harvey. Along with the damage that was done on the wood and nails of these structures, the Houston area has also taken a severe blow when it comes to real estate prices.
Fuel
The nation took a deep breath when we realized that oil production was impacted by Harvey. There were incredible pictures of gas lines. Cars in four lanes that spanned 20-30 car lengths. This was a gamble in itself because there could be the instance of these pumps running out of fuel before you were taken care of.
Fuel for cars was not the only casualty. Stores that sold 2 cycle oil for things like chainsaws were also swallowed up in flood waters. This meant access to lubricants and mixed fuels was also jeopardized.
Trash Bags
You can never have enough trash bags or ziplock bags" said a survivor of Harvey. (Source)

Local stores of trash bags came under serious stress as evacuation sites were set up all over the region. I know many people who keep a roll of trash bags in their car as well as in their bugout bag. These multiuse bags disappeared fast following Harvey.
Bleach
The people of Houston like many others who have survived the flooding waters of a powerful hurricane are at risk. There are waterborne illnesses all around them, air borne threats from molds and even the mosquito borne risk goes up when due to all the standing water.
When the supermarkets shut down so did the access to bleach. Without bleach your ability to sanitize your living environment and drinking water goes out the window. A good way to get rid of those pesky buzzing blood suckers is to add bleach to those stagnant water pools. This kills the larvae before they can become airborne mosquitoes.
Related: Disinfect Huge Amounts Of Water With Bleach
Tarps, Rope and Plywood
Tarps, rope and plywood were all in short supply even before the hurricane made landfall. This collection of items is example of things you should have on hand long before the hordes head out to buy them.
Following the hurricane these items were unable to be restocked because of the serious flooding. That meant leaky roofs or other damage to homes was postponed until more stock came in.
Enmity
I have never seen racial and social enmity in this nation at such a level as I in 2017. When the storm hit, the water rose and something else seemed to disappear in the wake of hurricane Harvey. I watched people of all races lifting and sharing, helping and giving.
Enmity in the nation also disappeared as desperate neighbors cried out for help. Sloshing through those rising waters we saw the true face of America. We saw the idea of what America should be. People were making sacrifices for those around them. The hurricane forced us out of isolation and I was glad to see we hadn't lost our ability to be good neighbors.
If you are still expecting the government to bail you out in a natural disaster you must be a blind man. It comes down to learning, practicing and executing a preparedness plan. You must have the tools you need to survive. You need the resources to survive as well.
Don't wait until the hurricane is blowing by the Bahamas to head out and get the items you need. 2017 has pried open the third eye of the common man. For those still asleep at the wheel I fear they will never be prepared. I feel they will never wake up.
As of October 18th, the Houston reservoirs had discharged all the water from Harvey. This is great news for the people of Houston but we all know those reservoirs will fill again someday. Be prepared.
You may also like: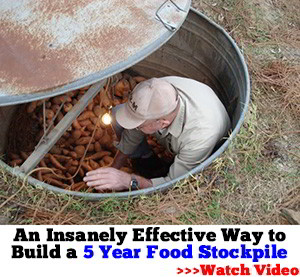 The Only 15 Rules for Your Prepper Pantry
The 8 Most Dangerous Medicines on Earth… Are You Taking Any of These? (Video)
Vacuum Sealing Could Be Hazardous to Your Health
Canning Amish Poor Man's Steak
How To Buy and Store 260 Pounds of Food for just $83