by James Walton
Millions of Americans are concerned about the overbearing power of the government. They are preparing for a time when the bolts come loose on civilization. Whether this be from the seemingly limitless racial tensions in our nation, government dependency or a cataclysmic mega disaster.
In an event like those mentioned above there could be a rash of civil disobedience and violence that would overwhelm law enforcement. At this point the U.S government or (as you will find out more about in this article) a foreign governing body could enact martial law.
Surviving

Martial Law in America
What could happen?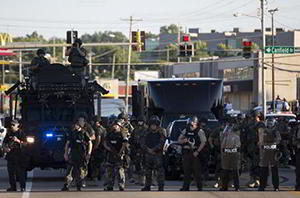 The vision of gates and soldiers, razor wire and imposing military vehicles in your neighborhood is something out of a nightmare for most Americans. Just the idea that some authority could move into your personal space and begin imposing their rules is terrifying. Even worse is the fear that this imposing force could become cruel and authoritarian.
When you hear whispers about martial law this is what people are afraid of. In most cases it's depicted as the United States Military filling the streets of the nation and suspending our government as we know it. Essentially taking executive orders only and ruling from ground up. This would turn the American people into prisoners on their own soil. Just the idea of a single MRAP or Humvee at the end of your street and a handful of soldiers is enough to make you uneasy. Couple that with highly regulated curfew and suddenly the house you own and the street you live on feels a lot less like America.
UNITED NATIONS — The United States has announced its support for a set of principles that give a green light for U.N. peacekeeping troops and police to use force to protect civilians in armed conflicts.

U.S. Ambassador Samantha Power told a high-level U.N. meeting Wednesday focusing on the responsibility to protect civilians that the United States was "proud" and "humbled" to join 28 other countries that have pledged to abide by the 18 pledges.

U.N. peacekeepers from these 29 countries are now required to act in cases where civilians are in danger.

`Military Times May 11 2016
Related: How to Build Your Own Ghost Gun That Will Never Be Confiscated
Recognizing the Signs
Defining a breakdown and the onset of martial law early.
Over the years we have seen situations where the national guard has intervened and imposed their will on American citizens. I can think of two very different scenarios in which American freedoms were quickly dissolved by catastrophe. Though they may not have been as clearly defined as martial law most of the definition still held true.
Did you know that Martial Law has already happened in the US?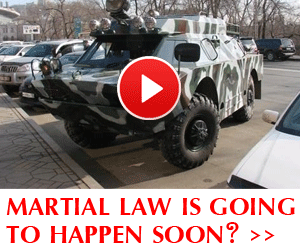 Hurricane Katrina – Overwhelmingly powerful natural disaster
Resulted in occupying force
Confiscation of firearms
Boston Marathon Bombing – Terrorist Attack
Resulted in Americans being relegated to their homes by force
Unwarranted search and seizure of homes
It's very clear that in these types situations panic ensues and Americans become very comfortable handing over their freedoms for an ounce of perceived safety. This is something those who built this nation warned us about.
Be prepared to make decisions in the trying times following a disaster. Use these past examples as study guides to gauge when your town or city is going to face some type of occupation. The earlier you can catch a scenario like this building up the better chance you have to either hunker down or get out of dodge!
Related: What Should You Do in Case of a Terrorist Attack?
HOME: Your Sanctuary
The benefits of staying put!
Though it may seem like an exciting idea to strap on that bugout bag and hit the road you must understand the risk. Upon leaving the comforts of your home you will quickly find out that everything is a threat. The very wind and cool air can induce life threatening hypothermia if you aren't careful. Your bugout bag may be stocked up and ready for a hike but please be sure you haven't a single other option. Try to utilize the safety of your home for as long as safely possible.
The comfort and familiarity of being home is unmatched. Hopefully you have stocked up on food and other resources so you can make your stay at home a long and comfortable one, if need be. If you aren't stocked up on the bare essentials than I suggest you make this a high priority. Consider some of these items that don't often make popular lists but sure do make life better.
During times of severe natural disaster it is not uncommon for outside forces to infiltrate your neighborhood and though it may not read like an occupation it could certainly feel that way. Avoid altercations with these outside agencies by avoiding contact with them. Be prepared to be self-sustaining for as long as they are in your area. This same idea should apply to an occupation of military force. The more you can avoid and stay in the comforts of your home the better you will be.
Related: 10 Reasons Why You Do Not Want to Bug Out
Escape and Evasion
When you feel it's time to go here is how to escape.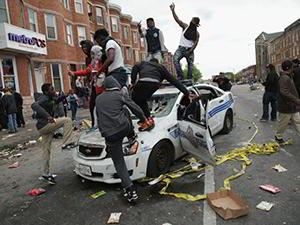 Of course the worst case scenario is always a possibility and what would we be if not prepared for that? There is a chance that this new occupying force turns cruel and forceful to those it was sent to "protect" leaving you little or no choice. Rather than face the wrath of this new version of despotic rule in your town or city you leave and wait for it to blow over.
Much of what it takes to remove yourself and your family from a situation like this requires up front planning.
TRIGGERS – What are the reasons/scenarios that will push you to leave
TRAVEL ROUTES – Have a few well planned and practiced travel routes by foot
RALLY POINTS – If your party gets split up ID clearly defined locations/times to meet backup
NIGHT TRAVEL – Practice night travel and light discipline now and be prepared to move in the shadows later.
BAGS/CACHES – Have a few methods of fueling your traveling group along their way out of danger. Bugout bags and survival caches can be stocked with various resources.
Though many would like to explain away martial law as some high level right wing conspiracy we have seen glimpses of it at work in recent times. Though it may not come dressed in camo and it may not come direct from the U.S Military swollen governmental agencies could impose themselves no a town or city near you. Would you be prepared?
You may also like: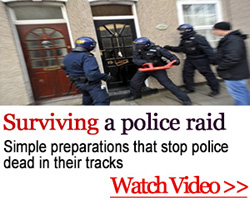 How to Survive the First 24 Hours after the SHTF
The #1 Complete Medical Survival Guide For The Laymen (Video)
Lost Remedies from Our Forefathers
Awesome Places to Hide Your Guns
Living without a Refrigerator – It Can Be Done!