Back in the old days, before all our modern detergents and soaps and powders, housewives and their children battled the wash with two things: Soda crystals and bluing.
Soda crystals, also called washing-soda or Sodium Carbonate, are white crystals used as a washing-detergent on clothes. Bluing is a dye that is added to the wash-water. What it does is tints the whites a very light blue to counteract any greying that appears in bedsheets and linen due to extended use, cleaning them and returning them to their original bright, white condition. You can still buy bluing today, but it's kind of obsolete.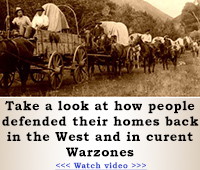 Of course, we don't want to make an obsolete detergent, so we are going to use the best antibacterial, antimicrobial cleaning agents, but still do it in the old fashion way.
This will save you money, will improve your detergent (you can actually choose the fragrances) and will make you the coolest person!
You'll need:
1 bar of shaved bar soap (a homemade laundry bar like I used or an antibacterial soap)
1 cup of borax
1 cup of washing soda
7 drops of natural tea tree oil (for disinfecting – optional)
¼ cup Oxi Clean (optional)


1. Shave 1 bar of Natural Homemade Soap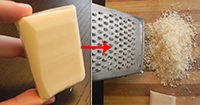 The beauty of making your own soap is that you can make it with the ingredients that you choose and the fragrances that you like. Adjustments aren't hard, but take some practice. Soap making can be very simple. I'll probably post another article about it. (this is where you can adjust the fragrances)
If you don't have time for that, you can buy a natural antibacterial soap.

Finally (if you want)… You can blend the mixture in a blender or food processor to get a fine powder that will dissolve easily.
2. Add 1 cup of Borax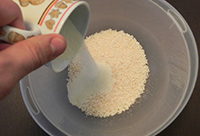 Borax has a wide variety of uses. It is a component of many detergents, cosmetics, and enamel glazes.
Borax is also anti-fungal!
3. Add 1 cup of Washing Soda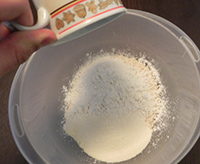 Washing soda (also named Sodium carbonate) is a water softener in laundering. It competes with the magnesium and calcium ions in hard water and prevents them from bonding with the detergent being used. Sodium carbonate can be used to remove grease, oil and wine stains.
It is also used to neutralize the corrosive effects of chlorine and raise the pH.
4. Add 8 drops of Tea Tree Oil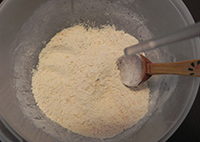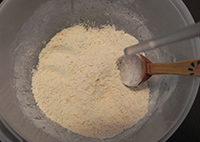 Tea Tree Oil is a natural disinfectant and is becoming very popular for uses around the house. This amazing natural oil has incredible disinfectant properties.
Tea Tree Oil can be used to make household cleaners that remove mold and mildew, as well as for various health purposes.
Use 1-3 Tbsp per load (3 for large or heavily soiled loads) and store the detergent in an airtight container.

I used 2 Tbsp for this test (click to enlarge picture – above)
You may also like:
What's the #1 Killer In Any Crisis?
Do You Make These Fatal Mistakes In A Crisis?
Ingenious Foods People Made During Famines
30 Lost Ways of Survival from 1880 We Should all Learn