There are a lot of rumors floating around about EMP and the devastating effects it will have on society, if one of our nation's enemies manages to attack us in this way. While it can be hard to dig through the various ideas that people have, there is one definitive source that we can rely on; that's the report of the EMP commission. They have done the research necessary to come to some realistic conclusions.
Even so, the reality of how bad an EMP will affect our country won't really hit us, until such an event happens; assuming it does. So our safest bet is to assume that it will and that the worst of the rumors that we hear will be true. If anything less happens, it's to our advantage to over-prepare.
One of the key rumors out there is that all cars will instantly stop running. This comes from the fact that cars and trucks today all have computer controlled engines. There is no way that those computers can survive an EMP, if they are subject to it. The only cars and trucks which won't be affected like this are those that were built before computers took over engine management in the 1970s.
So, if you happen to have an old pickup sitting around, that you've kept limping along all these years, I'd highly recommend fixing it up and making sure the engine is sound. When some enemy attacks us by EMP, that pickup truck will be worth its weight in gold.
But what about the rest of us? Is there anything that we can do, short of buying a vintage car or truck and fixing it up for use in a post-EMP world? Yes, there are actually several EMP survival strategies that we can use to ensure that we'll still have wheels after an EMP.
A Word about EMP Itself
Studying EMP is highly technical, and I don't even want to try to get into a technical description of it here. But there are a few things that it is useful to understand. First of all, EMP actually consists of three pulses, known as E1, E2 and E3. For automobiles, E1 and E2 are the ones we are concerned about. These two provide a huge electrical spike, much like a static shock, which burn high fidelity electronics.
E1 and E2 need to be absorbed into the electronic device to do their work. But, like radio waves, they can't travel though a sheet of metal. This is good for cars, as most cars have metal bodies. But cars also have windshields, with a mass of electrical wiring under the dashboard. That wiring can act as an antenna, channeling the E1 and E2 pulses into the car's computer.
If we can protect the car's electronics from those pulses, it should survive the EMP with no damage whatsoever.
Related: What To Store In A Faraday Cage For EMP Protection?
Option 1 – Be Prepared to Replace the Electronics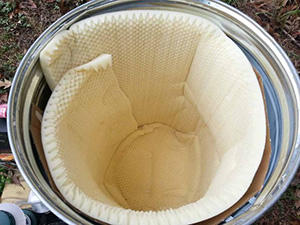 Our first option may actually be the simplest to implement. That is to buy a spare computer for the car, as well as all of the car's other electronics (sensors, modules, etc.). These parts would then need to be stored in a Faraday Cage, to protect them from the EMP. Once the EMP attack is over, it would be fairly simple to replace the car's electronics with those that were stored away. Voila! Working car.
Option 2 – Store the Car in an EMP-Proof Shelter
It is a well established fact that a Faraday Cage can protect electronics from EMP. This is nothing more than an enclosed metal container. For any Faraday Cage to work, it must fully surround the electronics being protected or at least surround all sides but the bottom, if the bottom is the ground. Electronic devices stored in the Faraday Cage must be insulated from it. Finally, the electronics must be insulated from the cage, so that they do not have any contact with the metal.
You can accomplish this fairly easily by building a metal building to use as a garage. As long as the car is inside the garage and not touching the walls, it is protected. The rubber tires serve to insulate the car form the ground or concrete slab, so there is no problem from that side either. Of course, if you happen to be taking the car for a drive when the EMP hits, your Faraday Cage won't do you any good.
Option 3 – Turn the Car into a Faraday Cage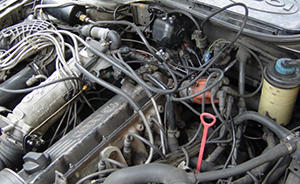 Most cars are made of metal, making them almost into Faraday Cages. However, there are some places where EMP could still get into the car; mostly through the windshield and other glass. But unless your car has a plastic body or a plastic roof, those should be the only places that need protection.
Non-preppers joke about preppers wearing aluminum foil hats. Well, here's the place for it. If you made a metal "hat" akin to an aluminum foil hat and put it on your car, covering the glass it would function to complete the Faraday Cage. The only other thing that to make the system complete is a wire, electrically connecting the "hat" to the body of the car.
Of course, you couldn't drive your car with that in place, so that solution only has limited value. But we can do a modification of that, to turn your car into a Faraday Cage, while still making it drivable.
I said that EMP is something like a spark. It's also something like radio waves. As I mentioned, radio waves can't pass through sheet metal. But what most people don't realizes is that those radio waves see perforated metal or wire fence as a solid sheet of metal. Any radio waves trying to pass through chicken wire, remesh (used in concrete slabs), or welded wire cloth (used for fencing in animals), will be attracted to the wire and captured by it, not passing through.
So, you could make a cover for your vehicle's windows out of one of these materials and attach it in place, electrically grounding it to the vehicle's metal body. This would totally enclose the vehicle, while the rubber tires would insulate it from the ground. That should protect your car's electronics from the EMP.
But What about Gasoline?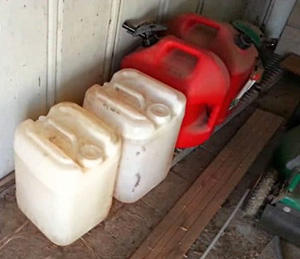 There is one other problem that has to be considered in this, that of gasoline. Even if you are able to salvage your car, through one of the methods I mentioned above, you're going to have a hard time finding gas for it. If everyone else's car is sitting on the side of the road, not running, then you should be able to siphon gas out of those cars, at least for a while. But gasoline doesn't keep well.
It would be a good idea to stock a fuel stabilizer, to use as an additive for any gas that you manage to siphon out of cars along the road. This adds some of the more volatile chemicals back into the gasoline, making it usable. But even then, after about a year, it probably won't be usable at all.
During World War II, they "canned" gasoline in sealed five gallon metal cans, with a metal seal. This would theoretically keep for much longer than storing gasoline in plastic gas cans or depending on gasoline held in gas tanks. You can still find five gallon metal cans, such as Jerry cans and Kerosene cans, but you may have to do a little looking.
Even then, your fuel supply will be limited. While I am sure that restoring fuel production will be a high priority for whoever is in charge, pumping raw petroleum out of the ground and distilling it down to usable products requires massive amounts of electricity. So, chances are your fuel supplies will run out, long before they have the gas pumps running again. Even so, you'll be better off than anyone else if you make your car EMP proof.
You may also like: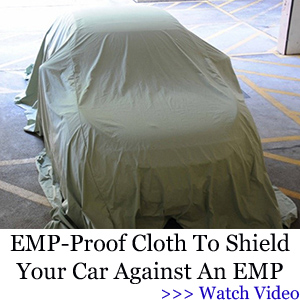 Top 5 Awesome Bug Out Vehicles You Can Actually Afford
How An EMP Will Affect Your State (Video)
Best Fuels For Off-Grid Survival
When It Comes To EMP Preparedness You Only Have Two Choices
The Bug-Out Vehicle That Can Literally Take You Anywhere You Want