Practically any item you use on a regular basis today will become highly sought after in a survival situation. Petroleum-based fuels to power vehicles, machines and tools will be one of the most prized resources. Because of this, stockpiling for any long-term disaster or survival situation will necessarily include fuel. But what type of fuel is best for long-term storage? We discuss some of the options in the following article.
Fuel Storage Option #1: Gasoline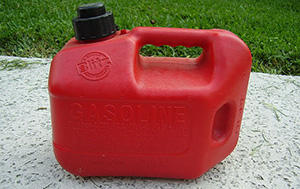 For most people and in most situations, gasoline should be the perfect fuel to stockpile. This is because the single biggest use for fuel will be to power vehicles and generators, with the vast majority of vehicles and generators taking gasoline. But the problem with gasoline is that it doesn't do well in long-term storage. This is because gasoline starts to break down after it's refined, especially in the presence of oxygen. The speed at which gasoline becomes unusable is sped up when ethanol is mixed in, as is the case at most gas pumps across the nation.
You can lengthen the amount of time gasoline will stay usable by using airtight containers, only storing ethanol-free gasoline (you can find a database of where you can find ethanol-free gasoline at https://www.pure-gas.org/) and using fuel stabilizing additives, like Sta-Bil or PRI-G. These additives can help gasoline stay fresh for several years or much longer (in the case of PRI-G).
Another option is to purchase specially packaged and treated gasoline, like TruFuel 4-Cycle. If left unopened, this fuel is advertised as being good for five years. And if opened, it'll stay fresh for two years.  A big disadvantage of specially packaged fuel is the price. It's really expensive (you're looking at about $25 per gallon) compared to buying fuel from the pump yourself and then adding a stabilizer to it. Another potential disadvantage is that depending on the type of packaged fuel, it may not be ideal for running in your automobile.
Related: Affordable Vehicles That Can Survive an EMP
Fuel Storage Option #2: Diesel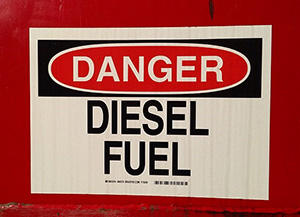 After gasoline, diesel will probably be a popular choice for stockpiling due to the number of heavy vehicles, machines and a few consumer vehicles that run on diesel fuel. Another big advantage of storing a lot of diesel fuels is that it generally stores for a longer period of time than gasoline. Today's ultra-low sulfur diesel fuel doesn't last as long as the older mixtures used to, but untreated diesel fuel should last at least several months longer than untreated gasoline. And like with gasoline, there are a number of diesel fuel additives that can dramatically prolong how long diesel will stay fresh in storage.
Finally, another benefit of storing diesel over gasoline is that it's safer, at least from a fire or explosion risk perspective. This is due to the fact that it's usually harder to ignite diesel fuel than gasoline under typical atmospheric conditions.
Related: Best Fuels For Off-Grid Survival
Fuel Storage Option #3: Kerosene
Kerosene is a good fuel option for storage due to its many uses, such as cooking and heating. But unlike diesel fuel and gasoline, kerosene powered vehicles or generators will be very rare, if they are available at all in a survival situation.
Despite its limitations, kerosene has several advantages when it comes to stockpiling. First, like diesel, it's less volatile and dangerous than gasoline. Second, it stores for a relatively long period of time without the use of additives or special storage procedures, although additives can further extend its storage life. Third, kerosene is very energy dense and will provide a lot of heat per gallon, compared to other heating fuels. Fourth, kerosene is pretty easy and affordable to find and stockpile, like gasoline and diesel.
When choosing to store kerosene, one thing to be aware of the fact that it's usually available in two grades: K-1 and K-2. K-1 is a more highly refined version of kerosene with less sulfur than K-2 kerosene. This means it burns much cleaner. But it's also more expensive than K-2 kerosene, which has a much higher sulfur content. This higher sulfur content has the benefit of making the K-2 kerosene store longer, as the sulfur helps inhibit the growth of microbes.
Depending on what you will use the kerosene for, you may need the cleaner K-1 kerosene. But if you can get away with K-2, it's better to stockpile because it's usually cheaper than K-1 kerosene (although it may be harder to find) and it should store for longer periods of time without additives or special storage steps.
Fuel Storage Option #4: Lamp Oil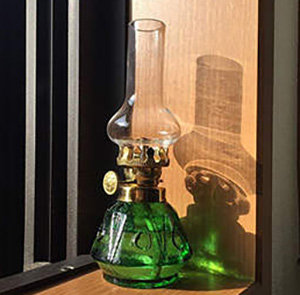 Lamp oil is a good fuel to stockpile for your lighting needs because it can store for many years without special additives or storage techniques. However, it's very expensive and it's primary application is for lighting. Therefore, if you choose to stockpile it, make sure you have other fuels to use for your other needs. However, it's nice to have a small amount along with an oil lamp to provide an alternative form of lighting that also produces a little heat, which is nice in the winter time.
Related: How To Make Survival Lamps With Used Cooking Oil and Mason Jars
Fuel Storage Option #5: Ethanol-Based Fuels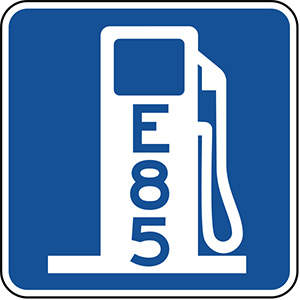 Some vehicles are designed to run on fuel with very high ethanol concentrations, such as E85. This might lead you to believe that storing fuels high in ethanol is a good idea. It's not. Ethanol is horrible for most internal combustion engines. It's a powerful solvent that can damage plastic and rubber components. So even if you have an engine or other device that can handle this ethanol fuel, you can't reliably use it for anything else.
Also, for internal combustion engines, ethanol-based fuels are bad for long-term storage because ethanol attracts water. In fact, it bonds with water like a magnet. Then there's the fact that ethanol has about 1/3 less energy than gasoline. So even if you can store an ethanol fuel perfectly, you're getting less energy per gallon than gasoline.
Fuel Storage Option #6: Propane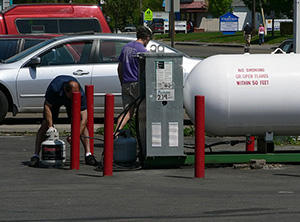 Propane is an interesting fuel to stockpile. It's comparable in price to diesel or gasoline and it has many potential uses, including use in internal combustion engines, like some vehicles and powered tools. Another great thing about propane is that with a storage tank in good condition, it can be stored practically indefinitely. Then there are the many grills, appliances and generators that run off propane. So for those who have a propane generator or appliance, stockpiling propane is something to strongly consider.
The biggest disadvantage of propane in a survival situation is that it probably won't have as many uses as gasoline. Very fuel vehicles run off of propane and there aren't many powered tools that run off of propane either. But if you do have something that needs propane, especially a generator, propane is great for stockpiling, as long as you can do it safely.
Another disadvantage of propane is that because it's a gas at room temperature and normal atmospheric pressure, a leak within an enclosed area can be very dangerous due to an explosion risk.
The best fuel to stockpile will depend on what you need the fuel for, as well as your willingness and ability to take the steps to properly store it. The one universal piece of advice is to avoid stockpiling fuel that contains ethanol.
You may also like: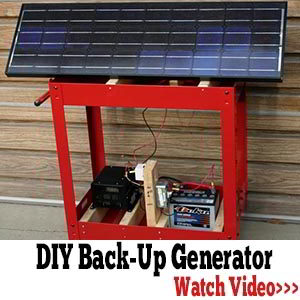 Top 5 Awesome Bug Out Vehicles You Can Actually Afford
10 EMP Proof Items to Hoard (Video)
Turn a Car Battery Into an Emergency Power Source For the Home
Emergency Bag to Keep in Your Car in Case of an EMP