Reasons to vanish
Maybe it's the fact the we are inherently a corrupt race. Mankind in and of itself is questionable. It's now clearer than ever that this big wheel is running on greased palms and padded pockets. There is very little regard for human life at this level. Those at the highest levels of government, those supposed to protect us, are involved as well. What happens if they decide to come after you?
Why would they? Well who knows really? What's much more important is the fact that they can and without impunity. We all remember waking up hung over to find out that on new year's eve Barack Obama had brought back into existence the most terrifying bill ever propose, NDAA. In case you forgot about NDAA this excerpt from info wars should freshen you up a bit
Section 1031 of the NDAA bill, which itself defines the entirety of the United States as a "battlefield," allows American citizens to be snatched from the streets, carted off to a foreign detention camp and held indefinitely without trial. The bill states that "any person who has committed a belligerent act" faces indefinite detention, but no trial or evidence has to be presented, the White House merely needs to make the accusation.
Of course as this country evolves we just can't be sure who will become the next most wanted. It's clear that those who hold a strong belief in the second amendment and those with a conservative voice are often targeted by the government and the media. If the time comes when you decided being you is far too dangerous this article will teach you how to vanish!
The Law
Whether you are a victim, taking precautions or running from something whatever your choice to disappear is it comes with some legal ramifications that you should consider.
Chances are you are in some sort of debt and that will be left behind when you jump ship as well. This will not sit well with collectors they will be allocating resources to find you as well. This is just another set of eyes out there looking for you. Of course we'd all pay off our debts if possible but just a connection to consider when severing ties.
Remember this debt could become the burden of your loved ones if you choose to leave it behind. If someone decides to report you missing you could also be held liable for the resources used to come find you. If you happen to disappear from a wilderness area or in the ocean you have to understand you will be using up precious resources that could come back to haunt you if you make the terrible decision to resurface one day. All this equals out to some serious penalties, fines or worse if you are found.
Scrubbing yourself from society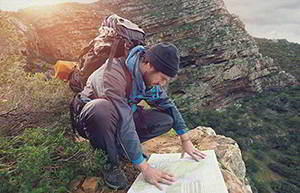 Are you in love? Do you have a family that can't live without you? Stop reading now if you answered yes to any of these questions. If you want to be effective at disappearing you must go it alone. Imagine for a second that there are tiny filaments of threat tied to you and every person you ever interacted with, with every transaction you ever made and every camera you ever walked by. This is a serious web that you have to avoid in your new world. Now imagine that web times two. If you bring someone else along you are vastly increasing the risk for exposure.
To do this right you will have to create a new you. Having someone who expects the old you makes this very hard. It could lead to other issues down the line that could increase the risk of exposure as well. If you are seriously looking to start fresh or hide away do it alone.
The internet is obviously your largest fingerprint. You will have some work to do to eliminate pictures of you and videos. That one is a no brainer. What about prior jobs, IDs, school pictures, other people's photos of you all of these must be considered. You may not be able to get rid of everything but the more you can eliminate the better.
Cash only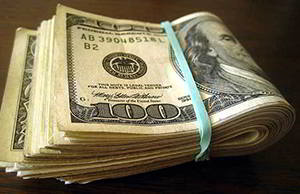 Not only should you plan for a life of cash only but you should probably spend at least 3 months in that world prior to disappearing. Any clothes or tools you plan on buying to reach your goals should be purchased in cash. Also, consider thrift stores, flea markets and yard sales. There is virtually zero traceability involved with these locations.
Saying goodbye to bank accounts and plastic will not be easy but it will certainly be necessary to your success. The other important thing is to consider how you will be getting paid for those three months prior. If you are getting direct deposit and pulling it all out of your bank in cash red flags could go up for those investigating your disappearance.
Until you establish a new identity and procure the proper documentation you will also have to have cash to get around in your new world. The new you will still be subject to the pangs and thousand shocks that flesh is heir to. In other words you will have to eat and sleep and what not. These things will cost money.
You will have to also consider where your new setting will be. Naturally if you move one town away your little run will come to an end pretty soon. That may be common sense but perhaps the next thought won't be.
Did you love where you went to college? How about your favorite vacation spot? It may sound great to live in one of these locations but you have to be aware of not just the people you know but those who know you. You may not remember the girl at the coffee house but she might never have forgotten your face.
To do this right move far away. Go far and move into a highly populated area. Utilize the old adage of a needle in a haystack. You probably couldn't find your own mother in downtown Philadelphia. How would anyone know you in a town like LA where everyone's looking to be seen?
Creating the New You
This is a little bit morbid but let's not forget that you are attempting to disappear yourself so let's be honest about what's going on here. You will begin by searching the death notices at your local library. Do not do this on the internet and especially not on your home computer. If you decide to be Harry Callaghan and the FBI finds a search of that name that can be linked to you I am pretty sure your efforts will be in vain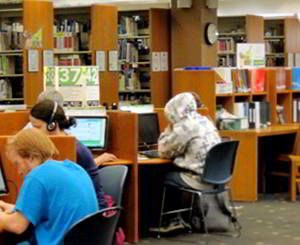 You should seek out ID's from the small towns of America. If you find someone in your age bracket call the county and tell them you left town years ago and need a copy of your birth certificate. Use a prepaid cell phone for this call and every call going forward. If you hook them they will send you a copy. From there you can get official ID. You could get a driver's license under that name. After that it's all in the bag
Do you feel a little nasty doing a thing like that. Well, there are other options. Pretend to be an illegal alien from an area through which you have roots. Somewhere you can fake an accent. Take on that persona and seek out ID through state or local organizations. You will either procure an ID legally or be approached by someone who can get you one illegally.
This process happens here in America all day every day. It is important to note that it's not just our friends coming from the southern borders that are getting over on the system. There is no reason why you should use similar tactics if you are looking to make your own great escape.
Opposites
What would you never do? List about 5 things you would never do as the person you are today. Next become an expert at all of them. Well, at least look into them and take them on as either a habit or a hobby. You see your old habits and your old hobbies are what will trip you up. That means if you smoke you better quit now! This little links are easy to make with someone especially if you are dealing with people who are trainer.
Work these opposites into your new lifestyle and the path back to the old you will get washed over by this new person. This is a quick technique for severing the old ties of who you were. It will be hard to do but this one step will pay dividends. You like country music? Listen to gangster rap. You like steak and potatoes? Well now you are a mouthy vegan. Bible toting Christian? When you are in public you are an atheist who wears witty tee shirts that mock religion. It sounds horrendous but this is what it takes.
Making a massive choice like this will not come without sacrifice and work. It's not going to be comfortable and it's not going to be easy. Just remember that if you put the effort and pre planning in this can be a reality. It is possible to start over or disappear altogether
Become a liar
Lie about everything. Lie for the fun of it. Make up stories of your origin as often as possible. Remember the scenes in the Dark Knight when the Joker was explaining how he got the scarred up markings on his face that looked like some twisted smile? He gave two very different stories about how these scars came to be. Both were terrifying but neither was probably true. Become an expert at this.
It's almost just as important to never hammer down specific history of yourself. With the advent of technology it wouldn't take much for someone to go home and Google you. They could find out a lot about who you are or who you are not based on that. So try not to form many connections.
Afterwards
In closing I would hope this article, for most of you, was for educational and entertainment purposes. If this is something you are considering just know that there are many other resources available on this topic and God bless you. If life has pushed you in the direction of disappearance I have to believe that you are suffering in some way. You are not trapped and this article could be your first steps towards freedom.
You may also like: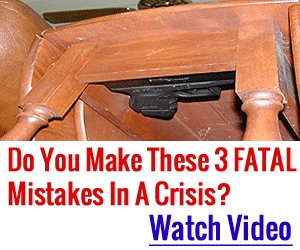 15 Things You'll Regret Not Having Enough of When SHTF

This NEW WEAPON Could Kick-Start WW3 (video)
Awesome Places to Hide Your Guns
TEOTWAWKI The End Of The World As We Know It
The Best 5 States for Living Off-Grid