Learning how to use mother nature's resources is a necessary skill during survival situations. Centuries before us, our ancestors scaled the forests and woodlands, learning the ins and outs of the wilderness, most of which can be easily overlooked by the modern-day outdoor enthusiast.
However, if ever found in a fight or flight circumstance, we are surrounded by life-saving earthly materials, one of which is the mighty pine tree.
Where To Find Pine Trees
Native to the Northern Hemisphere, pines prefer cooler climates and are popularly found among forests in Northern America, China, South-East Asia, Russia, and Europe. Although they prefer cooler climates, pines are a sun-loving tree that grows best in sandy, well-draining soil that is on the more acidic and calcareous side.
With nearly 100 different species inhabiting the earth, you are likely to come across pine-ridden woodlands during your wilderness adventures.
Survival Pine Trees
Pine trees are a rather bountiful source of sustenance and essential nutrients. Containing rich amounts of fiber and vitamin C, most parts of the tree can bring your body nourishment and fend off the aches of impending starvation. Using pine trees as a major food source began with the native tribes in the Great Basin Area of the United States and parts of Mexico.
Pine trees, specifically the pine nut, was used as sustenance during long tredges of travel and animal hunting expeditions that could carry on for several weeks at a time.
Most parts of the pine tree are edible, except for the outer bark. The pine needles can be dried and used in boiling water as a pine needle tea to help warm up the body and boost your immune system on a cold night. The pinecones are a source of seeds (if female), and a source of pollen (if male), and are quite tasty when boiled.
One of the most popular ways to eat pine is by harvesting the inner bark, which can be eaten raw, dried, or muddled into flour.
How To Harves Pine Bark
Many people are not aware that while walking through the forest they are surrounded by an astonishing survival edible, the pine tree! When harvested, prepared, and stored properly, it is a rather flavorful food source, and harvesting the bark is a fairly simple process.
Related: 25 Little Known Survival Uses For Tree Bark
1. First, identify a pine tree. With pines being the most common coniferous tree worldwide, it is likely you will encounter a pine tree while trekking through the forest. Different species of pines will give you slightly different tastes in the bark. It is said white pine is widely considered the best tasting pine species, but other species come in close comparison, including Red Spruce, Black Spruce, Balsam Fir, Tamarack, Yellow Birch, Black Birch, Slippery Elm, and more.
Sidenote: Although most pines are perfectly edible, be weary of the poisonous species. These include the Norfolk Island pine, the Yew pine, and the Ponderosa pine. While Norfolk Island pines are typically localized near the South Pacific Ocean from New Caledonia to New Zealand, and Yew pines grow in China and Japan, Ponderosa pines are more widespread, growing anywhere between southern Canada to New Mexico, and from Nebraska and Oklahoma spanning all the way to the Pacific Coast.
2. Choose a pine tree that is more mature, pines can live up to 100-200 years! Find one with a larger trunk, or at least larger than the width of your wrist.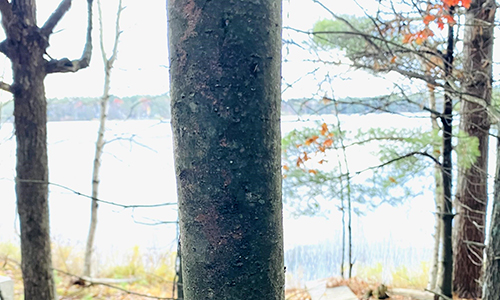 3. Take a large knife and begin scraping off the outer bark. The outer bark is NOT edible and therefore is not useful for food preparation purposes.
Related: How To Use The Bark Of This Common Tree To Keep Your Meat From Spoiling
Continue to scrape the outer bark off until you reach the next layer of the tree called the phloem. The phloem is typically lighter in color than the outer bark, but darker in color than the cambium (or inner bark).
Sidenote: Do not scrape off a section larger than 1/10th the circumference of the tree. The phloem is the life source of the tree, this is where sap runs up and down the tree, giving it nourishment. If scraped off in small sections, the phloem is capable of healing itself so the tree can continue to grow and prosper.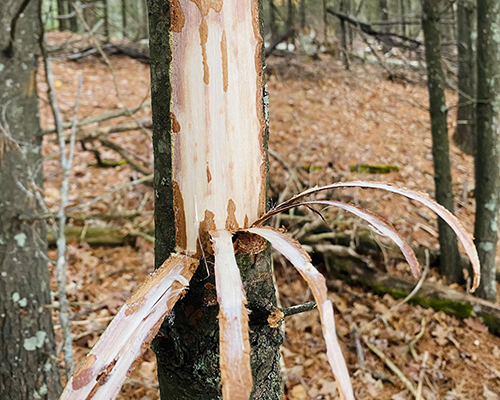 4. Once the phloem is removed and the inner-bark, or cambium, is exposed, begin harvesting by driving the tip of your knife into the bark, and then scoring a vertical line downwards. Do this again an inch or two away from the first score. Next, connect the two lines at top and bottom to make a vertical rectangle.
5. Pry the rectangular strip away from the tree peeling the inner-bark from the top horizontal score, down to the bottom horizontal score.
Sidenote: This process is typically easier to do during the spring when the tree is moister with sap. The bark tends to be drier in the autumn and may not strip off in one clean sheet.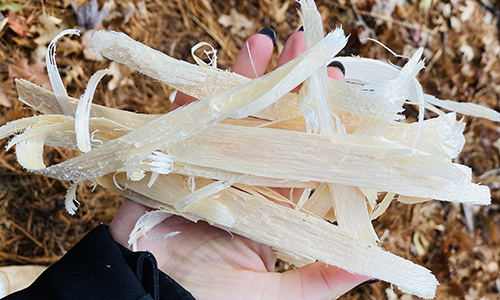 You can use your knife to scrape off any remaining tender white inner-bark and repeat the process until you feel you have harvested enough bark for your needs. One of the easiest ways to transform your pine bark into an easily packable and travel-friendly food source is by making it into flour.
Once in flour form, it can be eaten as is, or used to coat meats and foods for deep-frying, and even baked into bread. Below, is a simple pine bark bread recipe.
Related: 6 Backyard Plants You Can Turn Into Bread
Preparing Pine Bark Bread
STEP ONE: Dry out your bark. Heat your oven to 170 degrees F. Lay your bark out into a baking sheet and bake for about 1 hour or until crisp, checking on them every 10-20 minutes during the drying process.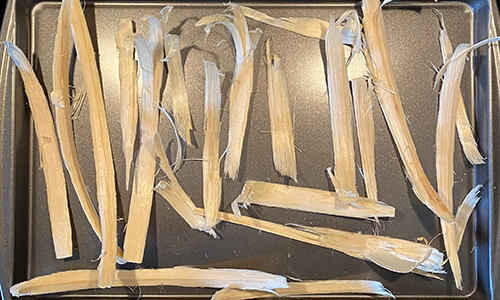 You can do this over a small fire as well (this will give your bark a smokey smell and taste).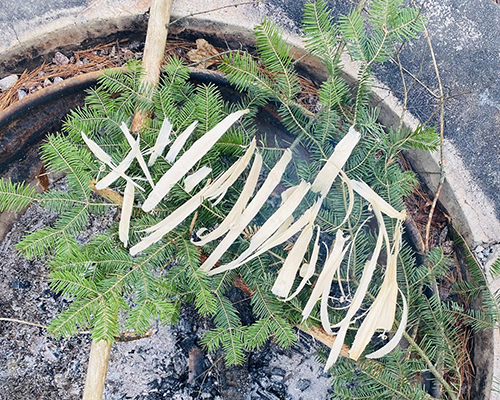 If you prefer to do it the way our ancestors did, a third option is to dry out your bark in the sun for up to 3 days, or until it turns a tanned color.
STEP TWO: Once your bark is fully dry, it is ready to be made into a powder, or bark flour. You can use a blender or food processor. Break up your dried bark strips into small pieces before adding them to your blender so it is less work on the motor.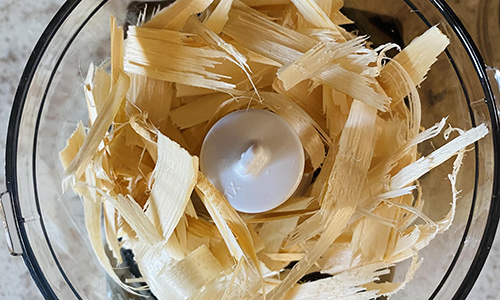 Pulse the dried bark until it has reached powder form. It most likely will have a coarser texture to it. Be aware if you run your blender or food processor for too long, the motor may begin to overheat.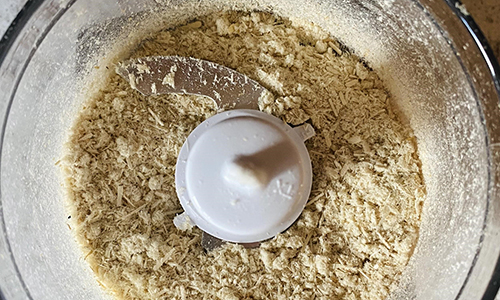 You can also use a muddler or a hammer to crush it into flour.
STEP THREE: Once your bark is in a powder form, it is time to prepare the bread dough. Some tips for preparing your bread dough include:
a. Follow a 40% bark flour to 60% other flour ratio. Do not use more than 40% bark flour in your bread recipe.
b. Add 50% water (or other fluid) to the total amount of flour used. So if you use 2 cups of bark flour and whole wheat flour combined, you would use 1 cup of water.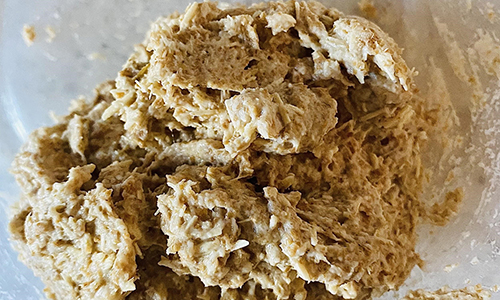 Here is a simple recipe to follow:
¾ cup pine bark flour
1 ¼ cup whole wheat flour
1 cup cold water
one tsp salt
Baking Instructions:
1. Heat oven to 350 degrees F.
2. Add the flour, water, and salt into a large bowl and combine until a dough forms.
3. You can keep the shape of one large dough ball, or separate and shape the dough into 6 dinner rolls.
4. Bake for 35 to 45 minutes, or until the outside is crispy and the inside is no longer moist and doughy.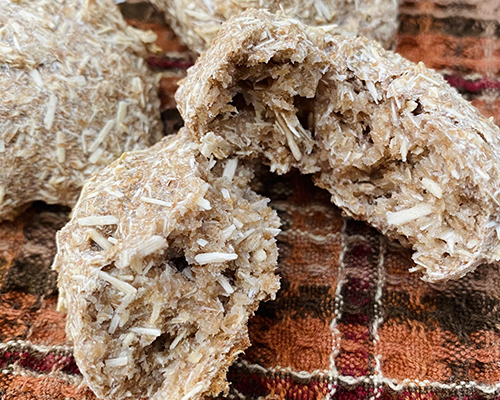 Tip: This is a very basic pine bark bread recipe that you can easily add your own twist on.
Related: How To Collect Pine Pollen – A Long Lasting Super Food
Some suggestions are adding a sweetener or herbs and spices to the dough before baking, like:
1 Tbsp honey or maple syrup
½ to 1 tsp of spices or herbs (cinnamon, rosemary, nutmeg, cloves, garlic)
5. Store bread in a cool, dark area.
Other Survival Benefits Of Pine Trees
Pine trees are a truly mystical natural resource, and aside from its superfood nourishing benefits, pines can be used as a very versatile survival tool:
Medicine: Being a natural antiseptic with antibacterial and antifungul properties, pine resin can be apply directly to wounds to encourage the healing process. It is commonly used to aide in the removal of splinters stuck in the skin. Just simply apply the resin to the affected area, and the splinter should come out on its own within 1 to 2 days.
Fire Starter: The resin can also be used as a natural fire starter, and is extremely flammable even when branches are slightly damp.
Shelter: Resin can be used as a building tool when combined with a small amount of charcoal from an existing (and extinguished) fire to form a glue for constructing shelters. Also the bristly boughs of pine trees are useful in making walls for shelter, or cushioning for a warm, dry bed.
So if you find yourself in a sticky situation, lost or stranded in the wilderness, and your stomach starts rumbling, seek out a pine tree. It is one of the most plentiful natural resources and may very well be what saves your life.
You may also like: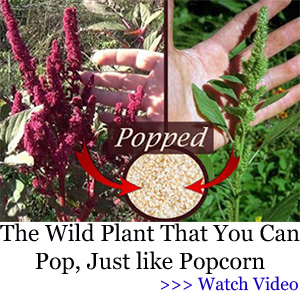 Meal In A Bag: Sweet And Spicy Meat And Rice
How To Make Bark Bread From A Tree That Grows On Almost Every Street in America (Video)
How To Prepare Your Car In Case You Have To Live In It
The Ultimate Survival Food You Can Only Harvest This Winter