As a prepper, I am constantly looking for food sources in the wild. We regularly go foraging for greens, berries, and mushrooms. However, I am also looking for some of those outside the box foods that I can preserve and keep on hand all year.
Pine pollen is one of those foods. While it has medicinal qualities, I really collect it because of the flavor it adds so some of the dishes I cook. Be aware that it is very possible to be allergic to pine pollen, so you might try just a little before you spend hours harvesting it.
In this article I will cover how to collect pine pollen, how to store it, and how to cook with it.
Related: How to Make Pine Syrup at Home (Step by Step Guide With Pictures)
Harvesting
If you have lots of pine trees in your area, you may notice a light coating of pollen on your car in May or June. The tricky part of harvesting pine pollen is collecting it before the wind blows it all away. The window for collecting it will vary based on where you live and the temperatures that year, but May is typically a good time to check.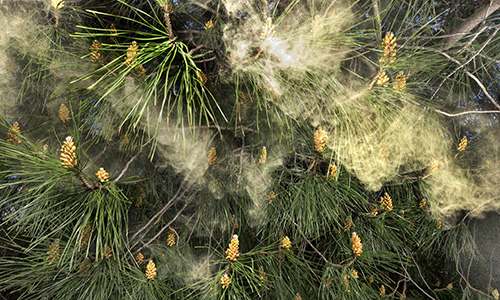 Head to an area of the forest with lots of pine trees. Red pines seem to work best for this. To determine if it is time to harvest, you will want to see lots of male catkins. They will be yellow and fat with lots of pollen when you have reached the harvesting window.
The catkins must have the pollen sifted out of them. The best way to do this is to dry them first. Bring a paper bag and a pair of scissors with you. Carefully cut the catkins from the tree but try to limit yourself to removing 1/3 of them on any given tree. This will ensure that the tree remains healthy. You will want at least one full bag for a decent haul. Head home and find a cool, dry place to dry out the catkins if you want to do it the old fashioned way.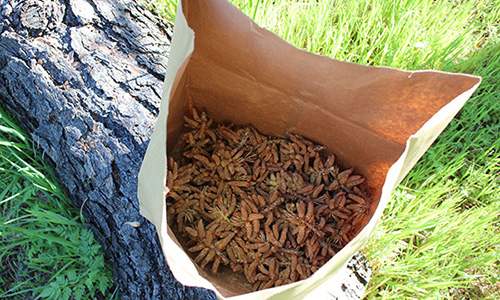 Spread out paper to catch the pollen that falls off and spread out the catkins. Give it a few days for them to dry out. If they are damp, this will not work. You will just end up with mold. The more modern way to dry them out is to use a dehydrator. Place them all on a tray for at least a few hours but leave them to dry overnight if they were damp.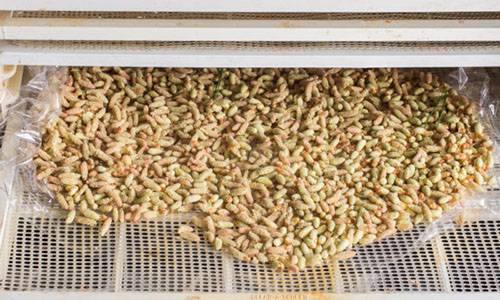 Once they are dry, just put them in a strainer and shake the pollen onto a tray to collect it. Be sure not to crush the catkins. You might think it would be faster to use a food processor, but that will leave catkin fibers mixed in with the pollen. You want pure pine pollen. Once you have shaken all of the pollen loose, sift it through the strainer again just to be sure you got rid of any fibers or other debris.
Storage
This part of the process is the most important. If you don't store your pine pollen correctly, it will lose its unique flavor.
Your best options are to keep it refrigerated or frozen depending on how long you plan to store it. Double vacuum seal the pollen if you can to keep air out of the package. Do not put it in a plastic container as they are porous, and you tend to get freezer burn. You might be able to get away with freezing it in a glass jar if you get a good seal.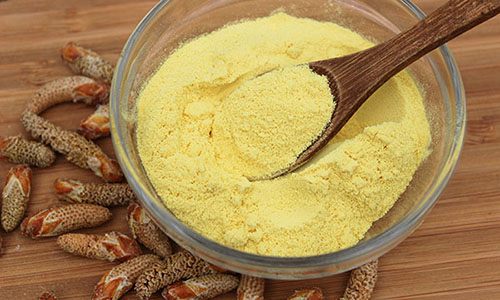 In my experience you can leave pine pollen in the refrigerator for about a week. However, if the air is removed you can keep it in the freezer for about a year.
Related: How Long Can You Store Food In The Freezer? (Infographic)
Cooking with Pine Pollen
I typically use pine pollen in small amounts as seasoning for dishes. Pine pollen contains testosterone, so I try not to go overboard with it. Typically, I will cook it with stock, salt, and some fat.
Raw pine pollen does not have much of a flavor to it. However, once you add fat and salt it gets an almost cheese like flavor. I like to cook it with mushrooms and greens for a truly local dish. Here are a couple recipes you can try out to get you started.
Pasta in Pine Pollen Sauce
This recipe is very simple and can be modified however you like. If you prefer, you can add meatballs, ground beef, or ground sausage. Put the pasta of your preference in a pot of boiling water. In another pot heat up your favorite marinara sauce or make your own. You can make marinara just by cooking down tomatoes, tomato sauce, tomato paste, garlic, basil, oregano, salt, and pepper. You can add veggies like onions or celery if you like. Once your sauce is hot, add either butter or bacon fat. Then add salt, pepper, and pine pollen.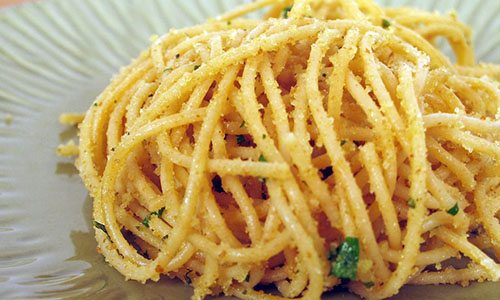 Let it cook for a few minutes and taste. It should have a nice cheesy flavor. If not, add some more and cook for a few more minutes. When the pasta is cooked to your liking, strain it and add it to the pot of sauce. The pasta will absorb the sauce in just a minute or two. Now you are ready to serve.
Creamy Pine Pollen Chicken Thighs
Start by browning all of the chicken thighs in a pan with oil or in the oven at 350F. It does not have to be cooked all the way through as it will continue to cook in the sauce. Get a large skillet on medium heat and add butter or bacon fat. Then add a little flour and whisk to create a roux. You want it to be just past blond for this recipe. Add in onions and garlic and cook until they are translucent. Now add a good amount of heavy cream and salt and pepper to taste. Add a can of stewed tomatoes and a bunch of fresh spinach.
Once the spinach is wilted and the sauce is a nice pink color, add in the chicken thighs. Now sprinkle the pine pollen over the top, cover, and let simmer for 30 minutes. Serve by itself or over rice or pasta.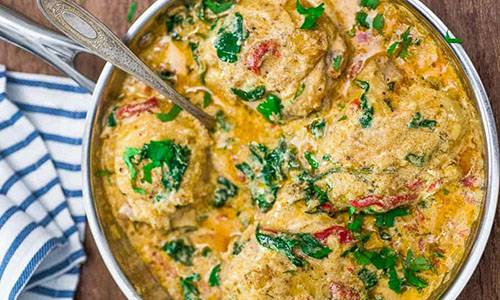 Related: Meal in a Bag: Hamburger Gravy and Mashed Potatoes
As you can see, pine pollen is relatively easy to collect. It is also simple to store it and add it to your favorite dishes throughout the year. Do not limit yourselves to these two recipes. Any dish that could use a bit of a cheesy kick can use some pine pollen.
The trick is to hit the pine groves at the right window. I usually check about once a week until I know the pines are ready for harvest. If you do the same, you should have a big haul and be good until the following year.
You may also like:
How to Make a Year-Round Self-Sustaining Greenhouse No Matter Where you Live in America (Video)
5 Devious Strategies That Will Get Preppers Killed
Bug Out Vehicles – Why Most People Get it Wrong
The Tree That Every Prepper Should Grow In His Backyard