I don't know how many times I open my pantry, filled with all kinds of ingredients and a surplus of canned goods, and still have difficulty coming up with an idea for a meal.
I stock up on canned items when they are on sale, so I have a variety on hand at all times, along with home-canned items, rice, pastas, and even seasonings.
But, there are times that I simply just draw a blank. Nada. Nothing comes to mind and I just end up closing the doors, hoping that when I come back, an idea will jump out at me. That usually doesn't work though.
Or, maybe it's not so much about a mental block on what to make, but an issue of time. There are many times that I wish I could just open a bag and heat it up for a few minutes and have a meal.
That's much easier to do with a freezer. But, what if you don't have room in your freezer for a few of these ready-to-cook meals? Or, don't have a freezer at all?
Meals in a bag are a great idea for everyone…from the super busy family to the prepper who needs meals for survival. There are a lot of recipes for beans and rice.
Related: How to Dry Can Beans and Rice for 20+ Years Shelf Life
But, I like a little variety…a little spice in my life, so to speak. Combining that thought with all the protein bowls you see on menus and advertised lately, I thought…why not turn that idea into a meal in a bag?
So in this article, I am going to provide a Sweet and Spicy Protein and Rice recipe that can be stored in a bag for long-term storage.
And, look for variation options at the end of the article.
Needed Supplies 
For 1-2 servings:
1-2 tablespoons of meat protein powder (see how to make that here)
½ cup rice
1 tablespoon sweet and spicy seasoning (see recipe below)
½ cup dehydrated veggies (I used a pack of peas, corn, tomato, and bell pepper)
Ingredients For The Sweet And Spicy Seasoning Blend
paprika (2.5 tablespoons)
garlic powder (2 tablespoons)
1 tablespoon salt
1 tablespoon onion powder
dried thyme (1 tablespoon)
ground red pepper (1 tablespoon)
one sugar or 3-4 sugar packs (you can omit this and add later if you prefer)
one tablespoon black pepper
You could always use the spices of your choice, or a spice blend on hand that you like instead. The above mix is just a suggestion.
How To Create This Easy Meal In A Bag 
There are a couple ways I would recommend the following process, depending on what type of rice you use. For example, if you use instant rice, all the ingredients can be mixed in one bag.
However, if you use a long-cooking rice, I would recommend separating the dehydrated veggies in a smaller bag within the bag, so they can be added later in the cooking process. Otherwise, they would be mush.
Related: Meal in a Bag: Hamburger Gravy and Mashed Potatoes
OK, let's make the meal in a bag:
#1. Pour the rice into a sealable baggie.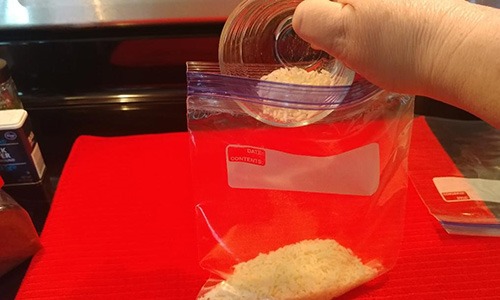 #2. Add the veggies.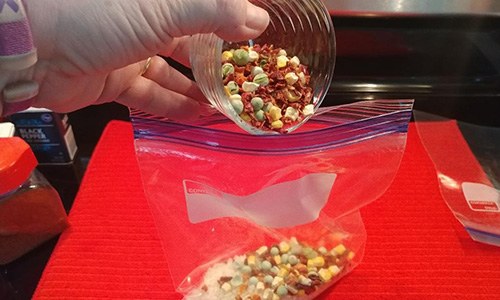 #3. Put 1-2 tablespoons of the meat powder into the baggie.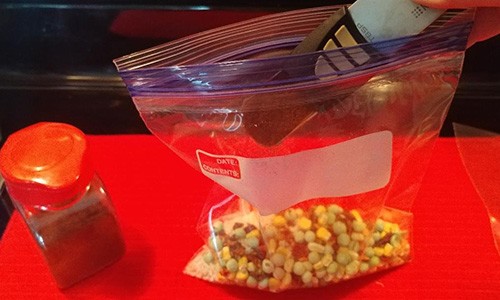 #4. Put 1 tablespoon of the spice mix into the baggie. You can add more, depending on how spicy you want it.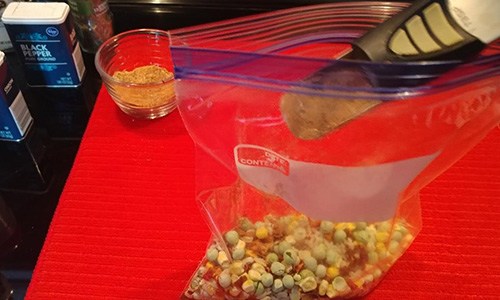 #5. Seal the baggie.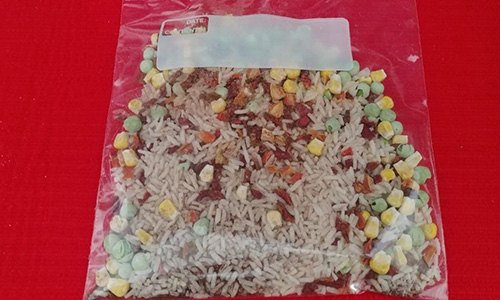 #6. Label the bag with the name of the meal and the date you put it together.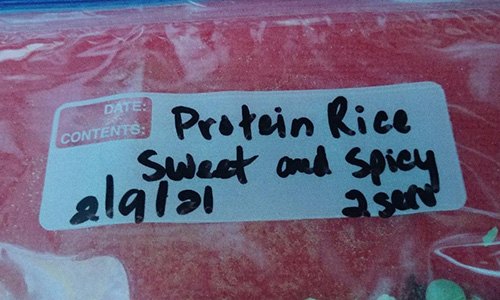 All the items in the bag have a shelf life of about 2 years, as long as they are not opened.
So, you can use a sealed baggie, rather than a food saver option. The only reason to consider using the food saver option would be to keep the seasonings fresher.
But in a sealed baggie, they will last at least several months, as long as it remains sealed until use.
Preparing the Meal
When you are ready to eat this meal, it's very easy to make.
Pour the contents of the package into a pot (hold off with the veggies if you want, at this point).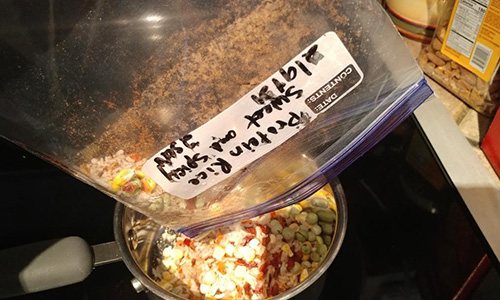 Add about 1 cup of water.
Bring to a boil and cook until the rice is tender.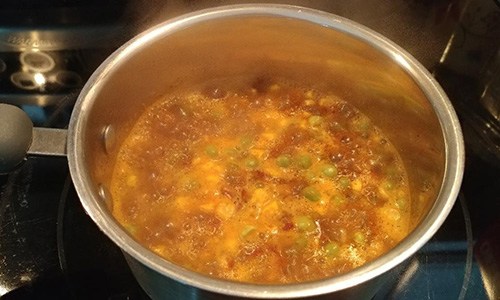 Enjoy your quick and tasty meal!
Variations
If you would rather add fresh meat, instead of the meat powder, you can do 1 of 2 things:
Add fresh cooked meat, such as tuna, chicken, or beef to the cooked rice meal and mix.
Add fresh meat to the baggie, as long as it is in its own sealed bag, then place the finished meal bag in the freezer. If sealed properly, it should last in the freezer for up to a year.
You could also add texture and more flavor by adding peanuts and/or fresh veggies when serving. Do this by adding the veggies at the end of the cooking process, or top with peanuts just before eating.
This is a really simple meal in a bag to make, in both prepping the bag and making the meal. Obviously, you can omit or add ingredients to your own liking. For example, if you don't like the seasoning, change it up. Or, if you prefer to add some fresh veggies from the garden, add those and adjust the cooking time accordingly.
But, having a few meals in a bag on hand will be of great benefit in multiple circumstances, whether it be you're a busy household, or for when SHTF, they are handy to have around. Just make sure that they have a good shelf life, like the one in this article.
You may also like: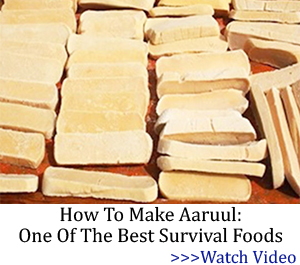 Delicious Recipes Using Cattails – "The Supermarket of the Swamp"
What Happens When You Pour Sugar Into An Onion (Video)
10 Survival DIY Projects You Can Start on Your Property Right Now