By Luxstar
My first thought after watching National Geographic's American Blackout was how a tiny amount of time and money could have saved some of the characters from having to go to the local grocery store to bid on a can of this or a bottle of that. Here are some suggestions for a Wal-Mart prepper food run.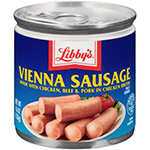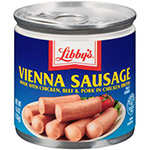 Libby's chicken Vienna sausage: This is one of my personal favorites (my version of fast food). These have a pull ring pop top. The ones I bought have a 3 year expiration date. I have eaten lots of things that were expired. These will still be good years after that. The Wal-Mart Great Value brand costs a little less but the Libby's tastes better. I eat these right out of the can. I have also added them to soup and pasta. Cost: $0.50. (11 cents per oz). 40 cans for 20 dollars.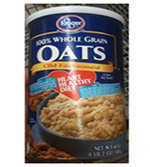 Great Value 100% Whole Grain Old Fashioned Oats: I burn through a half a cup every morning. When I was a kid we used to add milk to it without cooking it (water would work also) when we were in a hurry or add boiling water and let it sit for 10 minutes when we were not. If you need to cook or boil water in an American Blackout situation, see my information on cooking with candles.
You can cook your oatmeal or canned soup indoors. Oat meals will expire after 2-3 years, but again this product will be edible long after the expiration date. Cost: $2.88 for 2 pounds 10 ounces which works out to under 7 cents an ounce. This is a great price for bulk dry (like dehydrated) food. You can buy 7 for 20 dollars and some change.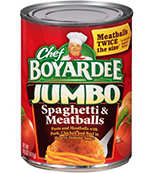 Great Value Spaghetti & Meatballs: This is a Chef Boyardee knock off. It requires a can opener (non- electric for blackouts). These are $0.74 each at my Wal-Mart which works out to under 5 cents per ounce. Eat straight from the can or heat in a pan with 1 to 3 candle flames. Expires after 2 years (extremely conservative "best by" date). 27 cans (meals) for $20.00.
Maruchan Instant Lunch, Ramen Noodles with Vegetables (compare to Cup O Noodles): Just add hot water. These are packed 6 per box for $1.62 which works out to $0.27 each or 74 cups of yum for $20.00. These are only good for a year which is about right.
Great Value Light Chuck Tuna: $0.78 per can. 25 cans for $20.00. Expiration date: March 2018 (and beyond)
Maruchan Ramen Noodle Soup (no cup and no vegetables). I buy these as filler for the Great Value Spaghetti and meat balls. In a grid down situation you heat up some water in a sauce pan along with the noodles (don't use the flavor pack). When the noodles are ready, drain the water into a cup and use to make instant coffee. Add a can of spaghetti and meat balls to the noodles and heat (stir occasionally). You will end up with about 2 cans worth of food for about a dollar. I can't find the receipt for these but they are under 25 cents each or more than 80 packs for $20.00.
Warning! According to a recent study significant consumption of Ramen noodles may increase a person's risk for cardiometabolic syndrome, especially in women.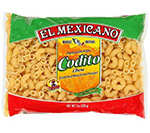 El Mexicano Codito Elbow Enriched Macaroni Product (a traditional south of the border favorite?):
Pasta is more energy intensive to cook than ramen noodles but from experience I can tell you that pasta last quite a bit longer. I need to try the trick some people have used for cooking rice. You bring the rice to a boil and then put it in a thermos to cook for hours without additional heating. In this case 20 or 30 minutes might work. I add these to soup and Chef Boyardee type products to double the size of the meal for pennies.
Cost: 7 oz. bag for 33 cents or 60 bags for $20.00. One bag makes a lot of noodles. I also like to cook these, drain and add grated parmesan cheese and butter. Both of these will be edible at least for a week or two without refrigeration.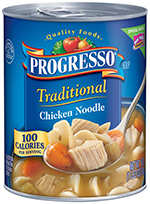 Progresso Soup. There are lots of soups to choose from. Pictured is Chicken Gumbo. Cost: 18.5 oz. for $1.48 or 13 cans for $20.00. This is another food that can easily be extended. You can double the volume for under $2.00 for the soup and the noodles.
For other extender ideas and for an easy source of fresh food in an emergency, check out my information on sprouting beans.
As you can see, $160.00 will buy a very large amount of non-perishable food. If you do not have emergency food, you can fix that problem with one trip to Wal-Mart.
Water: This is a subject that deserves an article on its own.  But for now, if you don't have water in a grid down emergency situation you should eat your soup first. Then what? You must have water. I do not buy bottled water. I seem to recall seeing a Great Value 24 pack for under $3.00. You can also stop by the sporting goods department and get 5 or 6 gallon water containers. Cleaning and re-filling 2 liter bottles works also.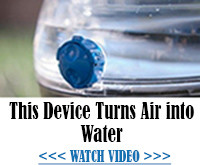 You can also find at Wal-Mart water storage kits for $96.50.
Includes: 55-gallon water barrel made from food-grade polyethylene.
6 foot hose and hand pump,
2 bottles of water treatment drops,
Barrel lid opener.
I got my barrels from a local animal feed store. Plan on 1 gallon of water per day per person.
Good luck and make your next emergency a pasta party. (A quiet family get together with blacked out windows and subdued LED lighting and lots of soup and pasta). No food is no fun.
Here is the tally from the article for what you can buy (non-perishable emergency food) at my local Wal-Mart for about $160.00:
40 cans of Vienna sausage
7 big boxes of oat meal (Big, 2 pounds 12 oz.)
27 cans of spaghetti and meat balls.
74 Noodles and vegetables (like Cup O Noodles)
25 cans of tuna
80 Ramen Noodle Soup (no cup and no vegetables)
60 bags of macaroni, 7 oz.
13 cans of Progresso Soup
This article was gladly contributed by Luxstar (also known as Wirkbot).
You may also like:
7 Actions To Take Immediately After An EMP Strike
An insanely effective way to build a 5 year food stockpile (Video)
How to Prepare For the Coming Food Crisis
What's the #1 Killer In Any Crisis? (Video)