As long as you have power available, a freezer is one of the best ways to preserve food. Just about anything can be frozen – meat, vegetables, dairy products, bread and most other staples.
Your freezer isn't a miracle machine, though. To keep food in good condition for a long time you need to follow a few simple rules. Get it wrong and you're likely to find your food deteriorating – and maybe even unsafe to eat.
Some general recommendations for freezer storage are:
To safely store food for long periods of time, use a deep freezer that will keep the temperature at 0ºF or lower. It's also a good idea to buy a freezer thermometer and check the temperature frequently.
Keep the freezer as full as possible. A half-empty freezer will spill cold air every time the door is opened, letting warm air in. It has to cool that down once the door is closed again. In a full freezer there's less space for warm air to take up. If there's a lot of empty space in yours, put in empty cardboard boxes – they'll help keep cold air inside. If you have a chest freezer this isn't a problem, because the denser cold air will stay inside when you open the lid.
Don't load a lot of food into your freezer at once. That will overload the freezer's cooling capacity, and raise the temperature inside. It will also take longer to freeze the food you just put in, and slow freezing reduces the quality of food. Don't put in more than three pounds per cubic foot of freezer space every day.
Related: Survival Food – 59 Long-Term Survival Foods and Supplies at the Grocery Store
Don't pack food in too tightly. The water in it will expand as it freezes, so close-packed food can get damaged. On the other hand, if you want to freeze something more quickly put it against the side of the freezer.
Before freezing your food, pack it in freezer bags. These protect against water vapor and leaks, they're easy to seal, and you can write on them what the contents are. Good marking will make it quicker and easier to find what you want, so you won't need to keep the door open – and letting cold air out – while you peer at bags to see what's in them.
If there is a black-out, your food will stay frozen for between two and four days, as long as you protect the freezer immediately. Leave it unopened; keep it in a cool place and insulate it by covering it with blankets or quilts (but make sure not to cover the compressor). This two to four-day rule applies to a full freezer; if your freezer is only half full then it might only keep food frozen for about 24 hours.
If during a power outage the food in your freezer becomes thawed, you might still be able to refreeze it. If it's only partially thawed and still has ice crystals, and the freezer temperature never went above 40ºF, it should be safe to refreeze. Otherwise, eat it right away.
Food can remain frozen indefinitely and technically be safe to eat, as bacteria will not grow. However, over time all frozen food will deteriorate in quality and become unappetising to eat when defrosted. The time it takes for :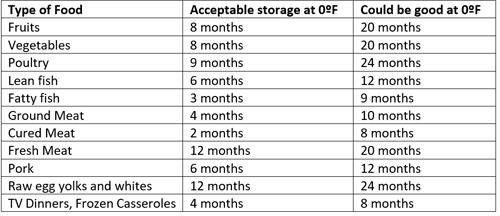 Also, you should know that the chart above has some variations depending on the specific type of food.
You may also like: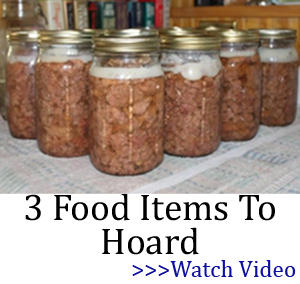 Cracking Open a Ten-Year-Old Bucket of Food

The Easiest Way to Protect Your Life and Supplies During the Next Crisis (Video)
What Should You Do With Your Canned Foods After the Expiration Date?