My grandparents were mostly self-sufficient on a small two-acre farm. They had a milk cow, raised a beef cow each year, had chickens, pigs, and a large garden. They traded for many items, sold some produce, and purchased a little coffee, sugar and a few other needed items. They worked hard and had very few luxuries, but they could live on what their land produced.
Traditional wisdom says that you need two to five acres for self-sufficiency. This was the limit in my grandfather's day, and it's the rule he taught me. However, farming methods have changed a lot since I was a child on my grandfather's farm. Using hydroponics, vertical growing, and other intensive farming methods, is it possible to be self-sufficient on less land? Could you produce all your own food on a small plot in the city?
It is certainly possible to be self-sufficient on less than two acres of land. Much depends on your location and climate. If you have good, fertile soil, then you are half-way there already. If your land is hard, rocky clay, like my ranchette in Texas was, then you are going to have to learn a few skills. However, modern technology and food production systems can work on any soil, anywhere. You just need to find the best system for your situation. Here are a few examples of ways to increase productivity and reduce your land requirements.
Related: Mini-Farming on 1 Acre
Barter for Land-intensive Grains and Tree Fruits
If you can barter some of your vegetables or meats for the grain you need, or trade eggs for apples, you can save the amount of space you would need for your own apple tree or for growing corn, rice, and wheat. Get to know the other farmers in your area, and establish a barter system where each contributes his specialty.
Extend Your Growing Season
In most areas you are only able to grow during part of the year. However, succession planting of cold weather plants behind warm weather plants helps, and a heated greenhouse can greatly extend your growing season. If you can grow year round you will only need half as much space, so investigate these methods and determine what is possible in your area.
Edible Landscaping and Raised Beds
Using raised bed gardening you can micro-manage the soil in each bed, providing the nutrients each plant type needs and the best pH for growing that plant. When plants get what they need, they grow better and produce more. The plants are more densely packed in the bed than in a traditional row, also conserving space.
Using edible landscaping in the front yard and raised bed gardening in the backyard, The Urban Homestead grows 6,000 to 7,000 pounds of produce each year using only natural fertilizers. They sell their excess vegetables for a profit of over $65,000 annually and use the cash to purchase rice, wheat, sugar and other staples. The Urban Homestead also produces over 2,000 eggs annually and 25 to 50 pounds of honey.  They do all this on a 1/10-acre city lot.
Related: Gardening For The Future – Hay and Straw Bale Gardening
The Garden Pool: Hydroponics and Aquaponics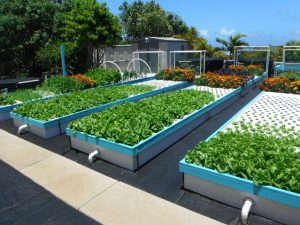 Founded by Dennis McClung, Garden Pool started as an experiment in self-sufficiency and has grown into a charitable organization that builds and teaches the garden pool concept in poor communities around the world. The sustainable food system is centered around an in-ground pool with a greenhouse built over it. The entire structure encompasses 480 square feet and sustains poultry, tilapia, fruit, vegetables, and herbs grown through hydroponics and aquaponics. The garden feeds a family of four with eight eggs daily and an unlimited supply of fish. The family trades excess fish for other meats. There are videos about the garden pool concept.
Vertical Hydroponic Gardening
A traditional garden bed requires almost half an acre per person to provide all the fruits, vegetables, and grains needed for an entire year. Each plant requires its own space; it competes for nutrients with its neighbors and will produce less if crowded. However, it is possible to get good results from crowded plants in a hydroponic system.
Another way to grow large quantities of vegetables and fruits in a small space is with vertical hydroponic gardening. Vertical gardening multiplies the amount of growing space available while taking up very little room in your garden or on your patio. The hydroponics system makes sure each plant gets all of its required nutrients in a small footprint. By using a vertical organic hydroponics system, you can grow all of your fruits and vegetables in much less space.
Vertical grow systems are available for purchase, or you can build your own if you have the knowledge. You can place the systems anywhere that you have sunlight. In the southern US, I've seen many vertical hydroponic systems placed in backyards and on patios. In New York, they are catching on as roof-top gardens to supply upscale restaurants with vegetables.
Related: Top 10 Foods to Grow for Survival
Plan Ahead for Self-Sufficiency
Before deciding how much land you will need, keep track of your consumption. How many pounds of tomatoes, squash, beans, etc. does your family eat each year? If you have the time, weigh and keep track of your intake for a full year. You can get an estimate using a week or a month, but keep in mind that eating patterns are different in the summer and winter.
Once you know your annual needs, research farming methods and yields in your area. How much can you expect to grow in the native soil? What about using hydroponics, vertical gardening, aquaponics, or other intensive growing systems? Start slowly with these methods; there is a learning curve.
To be self-sufficient you not only need land, but also good soil or other growing media, an agreeable climate or greenhouse, and a sustainable and steady water supply. If you are dependent on rainwater, you need to store enough to nourish your plants between rain storms. You also need the skill to preserve your harvest.
If you are planning to use traditional growing methods, you will need at least two acres to sustain a small family. If your family is larger, or if your soil or climate is poor, allow five acres or more.
It is certainly possible to be self-sustaining on less land, though. I've given you two examples of families growing all their own food on a small lot, and you probably know of more. Using alternative growing methods, you can greatly increase your yields. However, these methods have a learning curve, so don't plan to jump right in if you don't have the required knowledge and skills. Like most things in life, farming requires practice and patience at every level.
You may also like: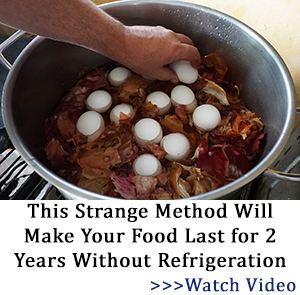 Cracking Open a Ten-Year-Old Bucket of Food
DIY Aquaponics (Step By Step Guide With Video) (Video)
50 Prepper Items To Shop For At The Thrift Store or Yard Sale
7 Survival Foods Made by Soldiers During WWI