One of the biggest issues people run into with their preparedness food storage is a lack of space. They simply don't have enough room to keep all the food that they'll need in the event of an emergency, leaving them feeling underprepared.
Space may seem like one of the biggest barriers to your food storage goals, but it doesn't necessarily have to be. Whether you live in an apartment, a small house, or even a camper, there are plenty of ways you can squeeze in more food storage so that your family can be prepared if worse comes to worst.
Related: My Famine Food Storage Menu
Get Creative with the Space You Have
You may be thinking of your food storage space as a specific, traditional space that you have set aside for food storage, like a pantry or a set of shelves in the garage or basement (though I'm certainly not recommending you store foods in those places unless they're appropriately critter proofed and climate controlled!). If you want to get serious about your food storage on a small foot-print, you might first consider thinking outside of the box a little when it comes to where you'll store food. Here are some ideas you may not have considered for fitting in more food storage.
Add custom shelving to areas under stairs to provide an extra space to store food.
Use unusable cupboard space more effectively. We oftentimes forget about those tough-to-reach spaces like on top of the cabinets and awkward or high-up cupboards. They wind up filled with junk-drawer-esque materials because you can't really access them easily anyways, but they're perfect for emergency food storage.
Upper closet shelves are often under-utilized spaces.
Store food under beds, and lift them up if there's not much room between the bottom of the bed and the floor.
Never ignore space inside of storage items, like baskets or luggage. Since you're already storing those items, go ahead and stick some food storage in them.
Create 'furniture' from stored food items. Instead of traditional end or bedside tables, switch it up with a stack of canned goods topped with a piece of wood cut to size. Toss a table cloth over it and no one will ever know the difference.
Utility room space is great for food storage, as well, so long as your food storage isn't creating any hazards with the appliances and house implements contained within.
Use organizing items like over-the-door racks and cutesy basket racks to up your food storage space.
Add shelves in cabinets so that they're better laid out for your personal food storage. This is one time that cabinets with adjustable shelves are a life-saver!
Store water in an unused bathtub or shower. Water storage can take up A LOT of space, but it's absolutely necessary that you have adequate water storage for your family. Use these water-proof spaces or invest in some water storage cubes that stack neatly so that it doesn't take up more space than it must.
Related: 23 Things a Prepper Should Never Throw Away. Why?
Opt for Bulk Goods that Fit in Your Spaces
We tend to get tied down by the spaces we have to work with, so make sure you're using them to their best advantage. While larger containers generally take up less space for the same amount of food, you'll want to fill in spaces with smaller items.
It's easier to fit in more food if it's all packaged the same. Whenever possible, purchase or store food in the same size containers to make the best of limited space.
Also, be sure you're stacking items to their benefit. Mix and match different sized and shaped goods in stacks on your pantry shelves so that you utilize as much of your available space as possible top to bottom, as well. Put items that don't stack well into boxes so that they do, allowing you to utilize more space.
Related: 10 Long Shelf-Life Canned Foods Every Prepper Should Consider Stockpiling
Use Flexible, Non-Wasteful Storage Methods
Bags are a great way to be able to pack a little more in to a small space. Mylar bags with oxygen absorbers can be squeezed in to small spaces much easier than gigantic buckets or even #10 cans.
Another way to save some space is to pack items in vacuum sealed bags. Oftentimes, you're paying (in space, of course) just for the way something is packed at the super-market. Vacuum bags mean that you're not wasting space to store air.
Utilize Wall Space
Just because there's no room for a full set of shelves on a wall doesn't mean that it's not available for food storage. Build a wall-mounted can organizer to create an extra space for canned goods. This is perfect for walls behind doors that often go ignored for their food storage potential because there's not much space available.
This is a great way to make sure that your canned goods are appropriately rotated, as well, with the oldest foods being used up first and the newest remaining inaccessible at the top of the organizer.
Opt for Food with a Smaller Footprint
Dehydrated food takes up less space. The water has already been removed, leaving smaller footprint food that can be vacuum packed for optimal storage. Where ever it's feasible, opt for dehydrated foods over canned goods. You can re-hydrate many foods later on if necessary.
Another way to aim for a smaller food footprint is to invest in small foods that pack a big caloric and nutritious punch. While a balanced diet is important, focusing on higher calorie foods, like whey protein, avocado powder, dried fruit, seeds, nuts, and quinoa to fill up a very limited space equals more energy that may be hard to come by for a long time after a disaster to fuel you up.
Make Sure to Store Food Properly, Even when You're Storing Small
Even if you're working with a small space, it's important that you adhere to the regular rules of food storage. Make sure you keep your stores safe from weather changes and pests, and be sure that you rotate food storage so that you're using older foods in your everyday diet and replacing them with new versions. This helps avoid food (and money!) waste.
You may also like: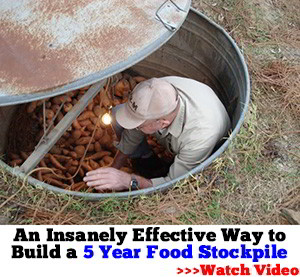 14 Must-Have Canned Foods You Didn't Know Existed
How To Make Your House Invisible To Looters (video)
Debunking Expiration Dates: What You Need to Know
50 Low-priced Items That Will be Invaluable when SHTF
When Grocery Stores Go Empty… A Back Door Shopping Strategy