How Much Does a Nuclear Bunker Cost?
I know that having a nuclear bunker might sound like too much even for the most dedicated preppers. But this is only because things are going well now. But in a time of war, having access to a nuclear bunker won't sound weird at all. And in times of peace, it can be used as a tornado shelter, a hideout, or a root cellar.
As you will see below, having access to a nuclear shelter can cost anywhere from $0 up to millions depending on the option that you would like to choose.
Here are six good options, starting with the most expensive and most comfortable ones to the one that costs you absolutely nothing.
Buying an Underground Luxury Apartment in a Renovated Missile Silo
$1.5 Million up to $4.5 Million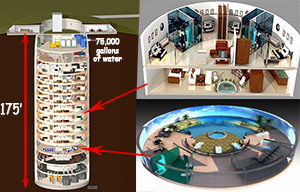 A group of investors from Kansas decided to buy an Atlas missile silo and turn it into luxury survival condos with everything you can possibly think of. The project was so popular that they've already sold out all the apartments, and now they are renovating a second silo.
They claim to have a redundant infrastructure for power, water, air, and food as well as "shared or common" facilities for extended off-grid survival with a community swimming pool, dog walking park, rock climbing wall, theater, general store, and an aquaponic farm, among other features, all of which are underground and encompassed by walls that are 2.5–9 feet thick.
So how much does an underground luxury apartment cost?
Half-Floor Units – approximately 920 sq. ft. on one level starting at $1.5 million
Full-Floor Units – approximately 1,840 sq. ft. on one level starting at $3.0 million
Penthouse Units – approximately 3,200 sq. ft. on two levels starting at $4.5 million
That's a lot more than I can afford, but if you're interested, you can save a spot in the second silo.
Buying an Abandoned Missile Silo
$500,000 up to $5,000,000 + Renovation Costs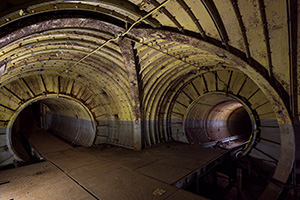 This can be tricky because missile silos vary from coffin-style Atlas E-type bunker to the huge Titan II-type bunker. All of these bunkers come in with a fairly decent property ranging from 10 acres up to 50 acres, and most of them have a medium-sized house just above the bunkers.
An Atlas F site, like the one in the picture, costs around $800,000 but with almost no land included. You can purchase an additional 20 acres at a reasonable price.
Prices vary a lot from site to site, ranging from $500,000 up to $5,000,000
But don't get the wrong idea that it's all luxurious. On the contrary, you'll need to put in a huge amount of work and money to make it livable. And if you want to gather water, food supplies, and everything that you'll need to live one year inside… my guess is that will cost a lot more than the initial price.
Want to buy an abandoned missile base? You can find properties for sale on 20th Century Castles or Hardened Structures.
Buying a Pre-fabricated Bunker Ready to Be Buried
$21,500 (8×12) up to $399,000 (20×80) + Installation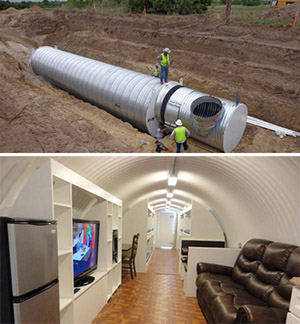 If you decide against buying a missile silo as your own nuclear bunker, you can instead buy a pre-fabricated bunker. There are many U.S. companies offering a variety of bunker styles; prices range upward of $21,000. Many also offer financing to help you pay for the bunker.
Some examples of ready-built bunkers are bellow:
Risings Bunkers prices starting at $39,500
The Urban Foxhole, mini bunker by

Smart Product Technology, price

s ranging from $21,500
Atlas Survival Shelters, these are the real McCoy and tested to withstand a nuclear blast; prices start at $35,950

Vivos: 

These have a massive global network of large, multi-tenant underground shelters. They work through a shared ownership model, where you apply to become a member (which is free); then, if accepted, you pay $35,000 per adult and $25,000 per child to have access to their bunkers.
If you are at the extreme wealthy end of the cash spectrum, you can pay a lot of money for a big, flashy deluxe bunker from Hardened Structures, which recently built a $90 million underground shelter that can house up to 100 people.
Related: Tents That Turn Into Bunkers if You Just Add Water
Once purchased, you'll need to install the underground bunker yourself (if you have the right skills) or use a professional service. Some of the services mentioned above will offer some installation, but be sure to read the small print before you purchase to find out if there are any hidden extras, especially with installation costs. If you want to install it yourself, scroll half a page down to find out the range of your excavation costs.
Buying a Used Shipping Container and Burying It Underground
$1,450 up to $2,800 + Installation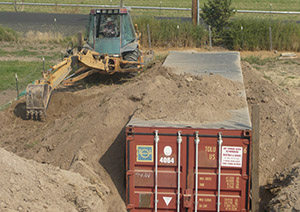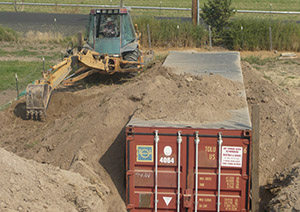 There are two major types of shipping containers:
20′ shipping containers – dimensions 20′(l) x 8′(w) x 8'6″(h) – weighing around 4,600 lbs(empty). The prices for these depends on how used or rusted they are, but they start at $1,450 and can go as high as $2,500
40′ shipping containers – dimensions 40′(l) x 8′(w) x 8'6″(h) – weighing around 8,120 lbs(empty). Cost: $1,800 – $2,800.
But things are a little bit more complicated. Some used shipping containers begin to bend under only a few inches of soil. This is why if you really think about burying one, you should reinforce the sides with gabion baskets. Here is what can happen.
You'll also need to build an exit and a staircase.
Excavation Costs:
Most excavation companies hire out a machine and operator on an hourly basis ($40-$150 or more an hour) for a wide variety of work. They typically bid on residential excavation for the entire project based on the number of yards of dirt to be moved ($50-$200 per yard).
Depending on local rates, the accessibility of the job site, its geology (soft soil, hard pan, boulders, etc), and whether the dirt excavated is left on site or hauled away, for a 20′ container you can expect to pay at least $400-$1,200. (Source)
Related: Earthbag Homes: The Ultimate Bullet-Proof Retreat
All in all, this might sound convenient from a financial point of view, but wouldn't it be cheaper to build it yourself from top to bottom?
Building a Concrete Block Nuclear Bunker
$3,380 (20′ x 8′ x 8'6″) – up to the Limits of Your Wallet and Imagination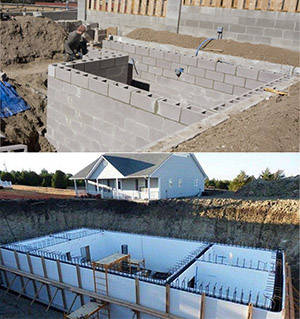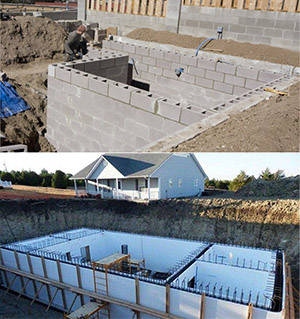 Unlike the narrow rectangle of shipping container bunkers, a concrete block bunker can be built just like you want/need it.
A 20 foot long x 8.6 foot high wall needs 12 blocks for the height and 15 blocks for the length. At $1.50 a block that is $270 for a wall of that size. (Source) so all four side walls would cost $1,080, with mortar and concrete maybe $1,200. A decent 160 square feet slab foundation costs between $800 and $1.600 (Source). The ceiling should be very strong with reinforced concrete so it will probably cost around $1,500.
With a total of $3,380, it cost more than a 20′ shipping container with exactly the same dimensions. But the structure is much stronger, and  it certainly won't bend or be crushed by a few inches of earth.
And while the price of building a larger nuclear bunker from more containers is directly proportional with the surface you'll get, with concrete blocks, the larger the bunker, the less the costs are per square foot.
The whole underground building can be reinforced if you want more structural security. The floor and walls can be tied together with bent 5/8 rebar and incorporated with grout into every core. In the ceiling, you can incorporate H beams.
Sheltering in a Natural Nuclear Bunker
$0, but not necessarily your best option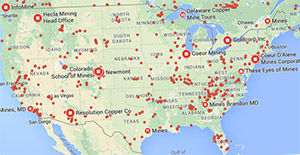 If you think about it, there are a lot of natural nuclear shelters in the U.S. that are absolutely free.
All you need to do is identify the closest one to your home and include it in your bug out plan in case a nuclear war is looming. Natural nuclear bunkers can be very large salt mines, mines of any kind,  huge caves or other natural structures. Click here to find the closest natural nuclear bunker to your home.
Please note that these natural nuclear shelters will protect you only from the nuclear blast and the initial radiation burst. You'll still need to get out and find food and water, so you'll still be exposed.
You may also like: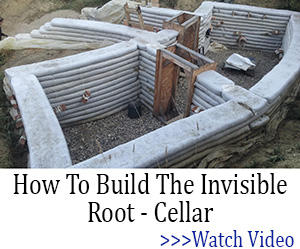 The 7 Lost US Nuclear Bombs That ISIS is trying to Get Their Hands On
The Real Reason Why ISIS Cannot be Destroyed (Video)
This Bug Will Kill Most of the Americans during the Next Crisis (Video)