Mushrooms, ignored by many, have turned out to be one of the most important keys to humans', animals' and planet Earth's health.
Just like trees and many other plants cannot grow without the presence of fungi, we also benefit from eating it.
Mushrooms are very low in calories, full of nutrients, and high in proteins and fiber. They also boost our immune system, help to fight cancer, and have anti-inflammatory powers. Scientists believe that they also help fight aging.
There are many different types of mushrooms, some of which are edible, like oysters, lion mane, porcini, button, shiitake, and many more. There are also many species that are not edible at all and can cause stomach pain if eaten and, in some cases, could even be fatal.
But the best news about mushrooms is that they can be eaten by everyone: meat lovers, vegetarians, and flexitarians. They can be used as a main or side dish, be dried as a snack, or blended to make a soup, and you can even make mushroom tacos.
Autumn is the best time to start foraging for fungi in the woods. But what do you do if you want fresh mushrooms all year round or it's forbidden to pick them at all? Or what if they are not native to where you live and are very expensive?
Why not try something different and start growing your own mushrooms at home?
So, I decided to give it a try and started growing mushrooms at home. I love oysters, buttons, and shiitake mushrooms, and those are very easy to grow. I did some research and bought some liquid culture online. (It's available to buy from around the world.)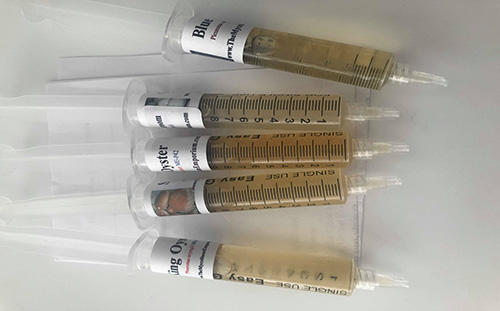 Related: Harvesting and Using Dandelion Roots – The Natural Detoxifier
While I was waiting for my delivery, I made some preparations:
#1. I bought some one-liter Mason jars.
Some people use plastic bags instead for this part, but I don't want any wastage, and those jars can be reused countless times.
I also bought 4 kg of millet grain as it was the cheapest option for me, but you can use any grain, even popcorn.
#2. You can put millet in a bucket with a lid or in any other pot you have.
Then pour boiling water over it, cover the bucket, and let it soak for 24 hours. Then drain the millet and fill the jars two-thirds to three-fourths full.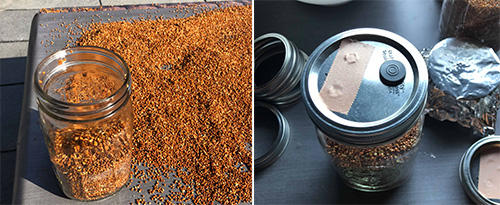 #3. I drilled three holes on the lids: one hole covered with a rubber stopper (so I could use it to inject the liquid culture without opening the lid) and two holes covered with medical tape for ventilation.
#4. Then I put the foil on top of the lids and put it in a pressure cooker for an hour to kill any bacteria.
I let it cool in the pressure cooker.
Mushroom liquid cultures arrive in a syringe, so it is very easy to inject it into the prepared jars.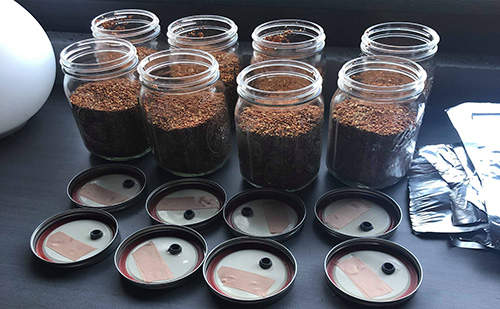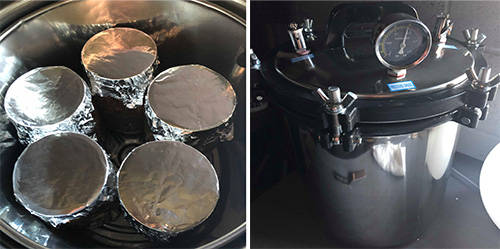 #5. Heat the needle on your spore syringe until it becomes red, and allow it to cool. This kills all of the germs.
#6. Inject up to 2 ml of the solution into your jar via the rubber port.
You will need one syringe for every five jars.
#7. Store it in a dark, warm place for two to three weeks.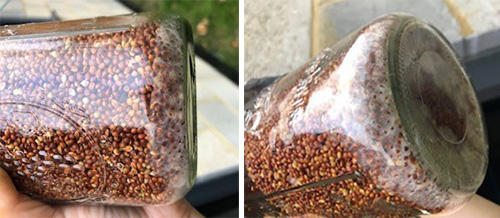 Do not open the lid during this time. When the jar becomes full of mycelium (white fluffy stuff), it's time to transfer it to the straw bags.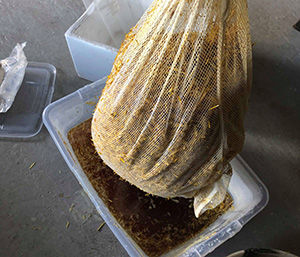 #8. I took some chopped straw and soaked it in water with some hydrated lime for 24 hours.
The lime drastically increases the pH of the water and automatically kills bacteria, mold spores and, other contaminants.
#9. Once drained, the straw is mixed with mushroom spawns from your jar (one jar for one plastic bag of a straw) and stored in the plastic bags with some ventilation in a dark, warm place for another two to three weeks.
Related: Straw-bale Bug Out House: How One Of Our Readers Did It
#10. Your bags are ready to fruit when they become white again.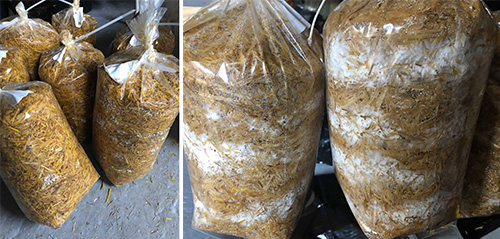 Sometimes you can see little mushrooms bursting to life.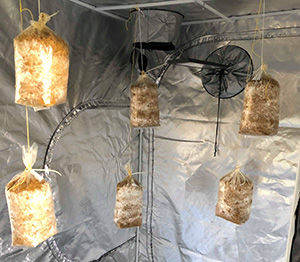 #11. Cut small holes two to three inches apart, and hang your bags in a humid greenhouse. (If you don't have a greenhouse, just place the bag in the bowl and spray it with water three times a day to keep it moist.)
Your bags are ready to fruit, and they no longer need to be kept warm.
This is the best time. Each day you will find your mushrooms growing larger and larger.
When the edges of the caps begin to turn upward, it's time to harvest them and eat or store them in a dry and cool place.
Usually, it takes three to four days for mushrooms to grow, so don't forget about them.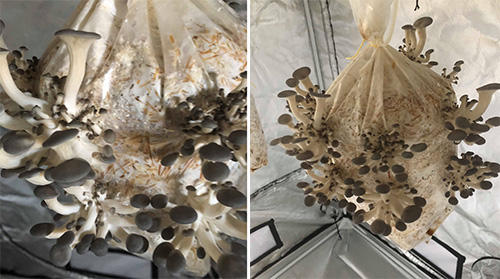 Just twist or cut the stem from the bag, and get cooking.
Mushrooms are a superfood and one of the most health-promoting foods on our planet.
You may also like: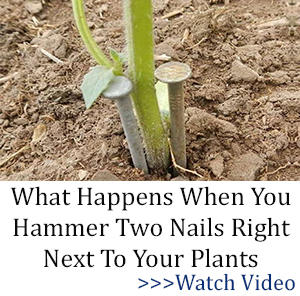 Amaranth Superfood- Storing And Using It For Survival
Cheap and Easy to Build Root Cellar in Your Own Back Yard (Video)
5 Survival Foods Your Grandmother Used To Make
What To Do With Your Frozen Food If The Power Goes Out