Freezing food is a great way of preserving it. If you can keep food at 0°F or lower you can delay spoilage for months or even years, and best of all, frozen food keeps most of its taste, texture and nutritional value. In fact, your freezer would be the ultimate prepping tool if it wasn't for one thing – it needs constant electrical power to keep running.
Many preppers have a generator or other replacement power source lined up, ready to take over if the mains power goes out in a crisis, but you still can't guarantee you'll be able to keep your freezer running all the time. In fact, you don't even have to wait for a crisis. What if there's a power outage while you're at work, and you come home to find that the freezer's been off all afternoon?
This has happened to most of us at some point, but unfortunately a lot of people – even preppers – don't know what to do next. Does everything in the freezer have to be thrown out? Is it OK to just power it back up and let the contents freeze again? Or can you keep some things, but not others? Here's what happens in your freezer when the power goes off, and what you should do about it.
Power Goes Off
The inside of your freezer stays cold through a combination of active heat removal and insulation. When the power goes off the cooling pumps shut down and you're just relying on the insulation. Don't panic, though – the insulation can still keep the interior below 40°F for up to three days, even in summer, as long as you keep the door closed.
When you open your freezer, heavy cold air will spill out the bottom of the door and be replaced with warm air drawn in at the top. Normally that isn't a problem. The coolant pumps will kick in, and inside a few minutes the warm air is as cold as what it replaced. With the power out it's a different story. The warm air will still cool down, but it does that by warming up your food.
Basic physics says that heat will flow from a warmer body to a cooler one, until their temperatures are equalized. Inside a powered-down freezer it flows from the warm air that just came in the door to the frozen food, until air and food are both at the same temperature. Of course, air doesn't hold a lot of heat, especially compared to frozen food, but in summer the air in your kitchen can easily be 80° or 90°F hotter than your collection of steaks. That means opening the door just once can raise the temperature inside by several degrees.
Even if you don't open the door, heat will still be flowing from the air to your food. The insulation on a modern freezer is good but it isn't perfect, so some heat will still make it through the walls. That warms up the air inside, which circulates, slowly warming up your food as it does. The more air in the freezer, the quicker it will warm up.
One way to keep your freezer cold as long as possible if the power goes off is to keep it full. If there's less air and more food, the food will soak up less heat from the air. If you don't have enough food to keep the freezer well filled, try filling old soda bottles with water and freezing them.
If the power goes out they'll soak up massive amounts of heat, and if it doesn't you can cut the plastic bottles away, smash the ice and use it to chill your beer in summer. You can also fill any spaces with closed cardboard boxes. That's not as effective as more food or water, but it will cut down how much air circulates (and escapes when you open the door).
Related: Powering an Off the Grid House (Cost-Effective)
What Food To Keep?
Anyway, the power went off and your freezer warmed up, but you've got it running again. Now what? How much of the food that was in it can you keep, and what's now a health hazard? Well, a lot of that depends on how warm the freezer got and for how long. If the food was kept below 40°F for a maximum of two days, or still has ice crystals in it, it should be safe to refreeze. If the inside of the freezer reached 50°F, everything in it needs to be used immediately (unless it's already spoiling) or thrown out. That still leaves a gray area, though, so here's a handy guide:
Fish and seafood. These foods go off very quickly, and they can become harmful to eat even if they look fine. If any kind of seafood has thawed out, discard it. If there are still ice crystals throughout the package – not just a few in the middle, surrounded by a mush of defrosted prawns – it's safe to refreeze or eat immediately.
Once vegetables have thawed, bacteria can grow on them very quickly. Like seafood, only refreeze them if there are ice crystals throughout the package. If there's no ice left but the vegetables still feel cold you should be able to use them immediately, as long as they're well cooked. Canning is also an option, if there's too much to eat immediately – but be very careful with temperatures, because you need to be certain that any bacteria are killed.
If thawed fruit isn't visibly spoiled, and tastes normal, it can be safely used or refrozen. If it's started to ferment it should still be safe to eat but might not taste quite right. You can still use it for cooking, though, as long as it doesn't actually taste bad.
Ice cream and dairy. Once dairy products have thawed they shouldn't be refrozen. Cheese should be OK to use. You can extend its life by coating it in wax. Milk and ice cream should be disposed of. They're perfect breeding grounds for bacteria.
Check every package of meat and poultry. If it's been above 40°F for more than two hours, get rid of it. If it's still cold to touch you should be able to use it if you cook it immediately. Don't refreeze poultry that's thawed out, but other meat that was kept below 40°F should be safe to refreeze.
Frozen dinners. If frozen ready meals have thawed, don't refreeze them. If they still feel cold, cook and eat them immediately. If they're at room temperature throw them out.
Obviously, the important thing when the power goes out is to keep the inside of the freezer below 40°F for as long as possible. Do that by keeping the door shut, sheltering the freezer from direct sunlight, and insulating it as well as you can. Wrap it in blankets and quilts, and if you can fit a layer of wadded-up newspaper in there that's great too. If you can get your hands on some dry ice, put a block on the top shelf. The cold gas it releases will sink down through the freezer, cooling the contents as it goes, and extend the life of its contents by hours or even days.
As well as this advice, always apply the basic rules of food safety. If something smells funny or looks like it's starting to change color or otherwise spoil, get rid of it. When in doubt, chuck it out. There's no mileage, especially in a crisis situation, in risking food poisoning. But if you can salvage any food after a power failure you should certainly do it, and now you know how.
You may also like: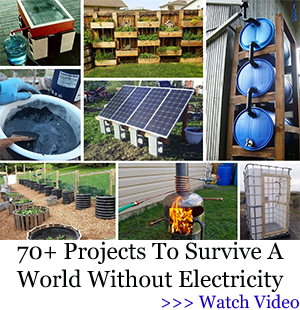 Turn a Car Battery Into an Emergency Power Source For the Home
How to Preserve Meat for Two Years Without Refrigeration (Video)
13 Survival Foods You Should Always Have at Home
How To Smoke Bacon The Old-Fashioned Way
7 Super Cheap Foods To Stockpile That People Usually Throw Away