Here at Ask A Prepper, we like to focus on things like the lost ways and ancient knowledge. The forgotten skills that were the difference between life and death are dissolving in the storm of convenience. It's pretty terrifying when you think about it.
We have all heard the argument about being thrust back 300 years and how hard it would be for the average person to survive for even a short period.
Within that ancient knowledge, there are also ancient staples that have lost their place in the hierarchy of needs. Amaranth is one such grain.
Amaranth lost its place to things like wheat and corn but this superfood was on the top of the heap for much longer than it has been buried by commercial agriculture.
At least as early as 4000 BC amaranth had been domesticated in Mesoamerica. The seeds were used for toasting and eating or milling into flour. However, amaranth had many uses from dyes to other ornamental purposes.
There are over 60 varieties of amaranth native to the Americas. As you know, it's always good to do business with native plants.
Growing Amaranth
Growing amaranth is a very interesting adventure because it's a plant native to Southern US states and even further south. This means that amaranth is used to those hot summers. It is also a very drought tolerant plant.
Depending on the method you'd like to use, you might consider starting amaranth indoors. If you are planning on growing lots of food, well, you will not want to start that many plants inside. You can sow seeds directly but you need to wait till there is no chance of frost.
The frost will be a big problem.
Amaranth is not a wide bushy plant and that is great. Because of this, you can get away with tight plantings. Look for about 10"-18" of spacing between plants. That is a big benefit if you are tight on space.
This could be a better grain for you than, say, corn because of that space benefit.
Using Amaranth, the Super Food
Unlike some other grains, amaranth can be enjoyed as a whole grain, flour and even as a green.
Greens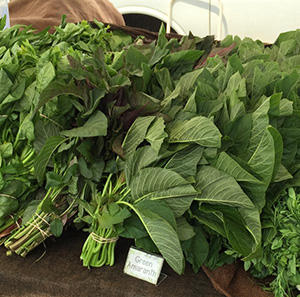 While amaranth is known for its grain you can also eat the amaranth leaves.
They are leafy greens that are delicious and do not get overly bitter in the summer heat. Treat them the same way you would treat collard or kale.
They are great stewed up with garlic and potatoes. This is a decent meal that can be had right from the backyard. Add some chicken or eggs and you really have some nutrition.
Grains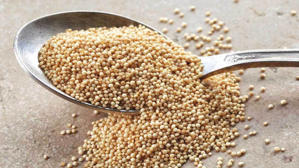 The most common preparation of the amaranth grain is to prepare it like a porridge. This preparation is very simple and requires that you understand a pretty simple ratio of 1:3. Use 3 parts water to 1 parts amaranth.
In other words, 1 cup of grain to 3 cups of water.
Bring the water to a boil and add your amaranth. Simmer, covered, for 30 minutes and you should be ready to dress the porridge up any way you like. Some people keep it simple with milk and brown sugar. You can also add things like freeze-dried fruits and honey for real flavor.
Related: How Long Can You Store Food In The Freezer? (Infographic)
Flour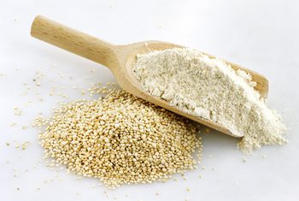 If you have a grinder, then making flour from your grain will be very simple. Amaranth flour is exceptional because of its high protein content. Its amino acid profile also makes it a very nutritious grain and is a great source of dietary fiber.
Even if you don't have the means to grind the grains, you can always use a couple of bricks to do the grinding. It will be crude, and you will not get as good a product, but it will grind them down, nonetheless.
You can treat amaranth flour as you would any other flour. Be sure you learn to catch your own yeast so that bread becomes something you grow rather than something you buy. That is a huge step towards self-reliance and independence.
If you really want to start your day off right, you can make some amaranth pancakes! In this situation, you are simply subbing out the flour in a pancake recipe for your new amaranth flour. These are powerful pancakes that add that protein and dietary fiber to a breakfast that is usually just made up of white flour.
As you can see, amaranth is a tremendous plant that can be used a number of different ways for a number of culinary applications.
Related: Turning Flour into Hardtack Biscuits With Over 100 Year Shelf Life
Storing Amaranth for Survival
Amaranth is a great survival grain. While corn is easily recognizable from a distance, to the unaware, amaranth looks more like some sort of ornamental. That means you can grow a field of this grain and have it look more like a part of the surrounding woods or a flower garden rather than a source of food.
Because this plant has many different uses it means you can store it in several ways.
Canning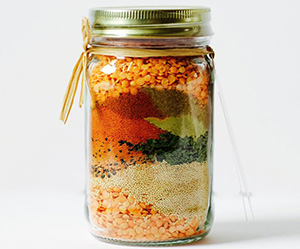 Probably the best method for the stewed up greens, canning will give you access to those great greens for the long term.
You can also can dishes including the greens like stews.
Your flour mixes are also great things to can, as well.
Remember those delicious amaranth pancakes we talked about earlier? You should can all the dry ingredients for that recipe and just add some melted butter, milk and egg for breakfast in a flash.
5 Gallon buckets
Since part of amaranth is a grain, you might also look into bucketing up that food. It will take a lot of plants to bucket up amaranth but if you do you can store it for the long term. You will need the typical loadout of mylar bags, O2 absorbers and 5-gallon buckets.
I would recommend 1-gallon bags for storing. Treat the grain as you would any other long term stored grain.
Freezing
All parts and derivations of amaranth can also be frozen. While this is not the most favorable means of storing food because freezers can go down with the grid, it can keep your amaranth around for later use.
When the grain thaws you can use it as though it were fresh, to grind or to simmer.
The time has come for us to start looking at nontraditional and ancient foods for sustenance. These foods don't make it into supermarkets for a number of reasons, but they thrive in our backyards. The entire landscape of food sourcing and production is changing.
The breadbasket of the nation is underwater! We must be realistic about the state of growing lands in this nation, they are being destroyed, sold and void of any nutrition.
Future wars will be fought over water and food among other resources. I know it seems silly in this time of excess but, it will come to pass. Prepare now using ancient foods that grow in your backyard and long term food storage methods.
Amaranth is one example of one such ancient superfood that is coming back into full phase. Get on board!
You may also like: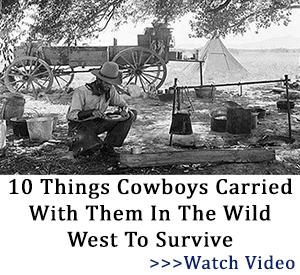 Ingenious Foods People Made During Famines
If You Are Too Weak to Prep then You Need to Watch This (Video)
How to Prevent Your Foods from Going Rancid
5 Survival Foods Your Grandmother Used To Make