When using ammunition to prep it's good to isolate your preps to a few specific calibers.
It's better to stock a lot of ammo of a few calibers than a little ammo in a  lot of calibers. Here is the five I've isolated as the best choices not only for their effectiveness but for cost, availability, and potential.
#1. 22 LR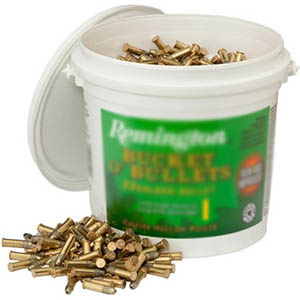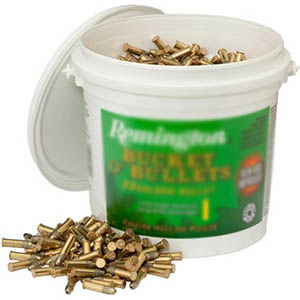 The 22 Long Rifle cartridge is one of the most popular cartridges in the world. It's been around for over a hundred years and is the most produced cartridge for the civilian market. It makes an excellent prepper cartridge for numerous reasons. First and foremost they are a very lightweight round. A brick of 500 can easily be carried in a cargo pocket, and companies, like Federal, even sell sealed cans designed to be stored long term.
22 LR is a poor self-defense round, but it is an excellent general purpose round. It can be used for self-defense and is deadly. It can also be used for picking off small game, getting rid of pests, and is quite quiet compared to standard centerfire ammunition. A single brick of 22 can be a total lifesaver when it comes to a long-term disaster situation.
The 22 long rifle round is actually quite cheap when compared to other rounds, I purchased a literal bucket of 1,500 rounds for 60 dollars. In the last few years, the price has risen and finding 22 LR has been more difficult. However, it seems to be returning to stores and prices are dropping rapidly since the 2016 election ended.
Related: The Top 5 .22 LR Survival Rifles
#2. 9mm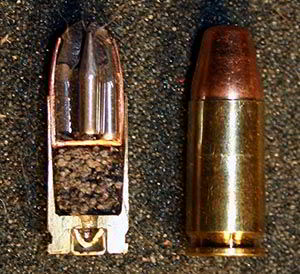 The 9mm round is easily the best pistol round simply because of how common and affordable it is. It's the cheapest self-defense pistol caliber and is abundant in supply. 9mm is also the chosen round of the United States military and is quickly becoming the new standard for law enforcement. All major handgun manufacturers produce a variant of their handgun in 9mm, and some companies only produce 9mm handguns.
Also in terms of pistol caliber carbines, the 9mm is the most abundant. In fact, in many situations, it's the only choice for a pistol caliber rifle. 9mm ammunition also allows for large capacities with weapons like the CZ P09 being capable of containing 19 rounds in a flush fit magazine. Also, modern 9mm ammunition is just as capable of stopping an attacker as a 40 S&W and 45 ACP.
The abundance of 9mm ammo in use by military and police forces makes it possible to scavenge ammunition easier than most other calibers. 9mm ammunition is also light recoiling and easy shooting, making it an excellent choice for anyone of any size.
Related: How to Build Your Own Ghost Gun
#3. 12 Gauge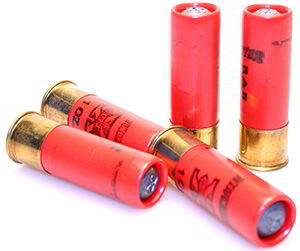 The classic 12 gauge round is easily one of the most available rounds of ammunition in the world. Even during the great ammunition drought of 2012 and 2013, 12 gauge ammunition was still easy to find.  12 gauge ammo and 12 gauge shotguns are one of the most versatile gun and ammo choices for preppers. A 12 gauge can take game ranging from squirrel to bear by just changing the load.
As a self-defense load, it has been used by generations of police officers who rely on a long arm. The 12 gauge round is incredibly powerful and quite common. The biggest issue come with the cost of effective buckshot and slugs. They aren't the cheapest rounds out there. The ammunition also tends to be big and heavy.
The 12 gauge is an immensely powerful round that has the ability to utterly destroy a target when needed. 12 gauge ammunition is incredibly common and if you could only have one gun I'd choose the 12 gauge shotgun and a pile of buck, bird, and slugs for it. It's powerful, versatile, and doesn't disappear when an ammo drought occurs.
Related: Best Gun for Home Defense
#4. 5.56/223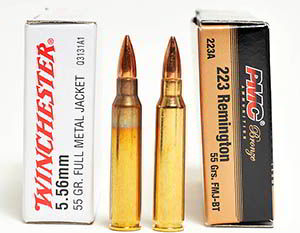 The 5.56 round is probably one of the most in demand rifles out there. The AR-15 is easily the most popular rifle in the United States. This often means that 5.56 or 223 ammo is in stock absolutely everywhere. The ammunition has dropped greatly in price and it's easily the most common round out there. The 5.56 is a lightweight, light recoiling round that semi-auto defensive rifles are commonly chambered in.
The 5.56 is a highly effective defensive caliber that has proven itself well overseas. I know from first-hand experience in Afghanistan that the 5.56 can get the job done, as long as the shooter behind it can do their part. The 5.56 is a low recoil round that is accurate up to five hundred yards with iron sights.  The rounds also have a lot of different loading available, which includes defensive, hunting, and standard ball projectiles. This makes the round versatile, and capable.
Speaking of hunting the round can effectively take medium game animals quite easily. Deer and pigs are no match for it. It's also more potent for dealing with potentially dangerous pests like coyotes and feral dogs.
Related: AR-15 Upgrades You Should Think About
#5. 308 /7.62 NATO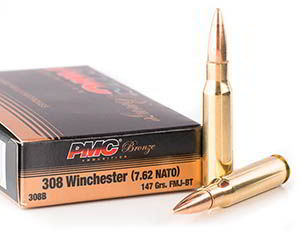 When it comes to extended ranges or shooting through serious barriers the 308 or 7.62 NATO are the round to go to. Any gun labeled 308 can accept 7.62 NATO, but guns chambered for 7.62 NATO should not fire 308. Most civilian firearms in this category are 308 anyway. The 308 allows for the taking nearly American game animal. It's a good choice for a scoped bolt gun designed for long range engagements.
As a battle rifle, its potent are breaking through cover, including vehicle doors, brick, and wood walls, and even light metal walls. There isn't much that can deflect a 30 caliber projectile. The round is also better suited for defeating hard body armor and has the ability to go through an engine block.
Of course, the ammunition isn't cheap and isn't as common as 5.56, but you'll find it in any big box store, or gun store worth their spit. The 308 round is the most common 30 caliber, medium to long range caliber. There is also a wider variety of rifles built around this round, including semi-automatic, bolt actions, and even lever actions. This round is also the standard for medium machine guns and sniper rifles in the United States Military.
Related: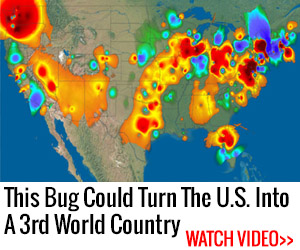 How Much Ammo Should You Stock Pile
7 Actions to Take Immediately Following an EMP Strike (Video)
How to Deal With The Most Common Handgun Malfunctions?