Do you know what the most versatile firearm is for survival?
The single barreled shotgun.
Why the single barreled shotgun?
A single barreled 12-gauge shotgun is by far the simplest weapon in any arsenal, and often one of the most affordable options for any shotgun. A used 12-gauge single shot can be had for under a hundred bucks. They are also legal in all fifty states without any specific laws outside of barrel and overall length.  Because of the simple nature of the single barrel shotgun it is very reliable. There are no gas tube issues, short stroking, or jams to worry about with a single barrel shotgun. It's a very simple, but also effective design.
Single barreled shotguns are also quite lightweight. Most folks are going to be running a rifle as their main defensive firearm because it's the best choice for a fight. A single barreled shotgun compliments the rifle by being lightweight and easy to carry, as well as more versatile when it comes to hunting animals, or killing pests. Single barreled shotguns with full length barrels also tend to be much more compact that a pump action or semi-automatic shotguns. They lack a magazine tube so they are usually thinner as well.
A 12-gauge shotgun can be used to take game as small as squirrels, and as large as bears. The only change necessary is the ammunition you've loaded into the weapon. Buckshot, birdshot, and slugs all change the overall strengths of the weapon. Each of these ammo types opens up different options in terms of animals that can be hunted. The shotgun has been a trusted hunting companion for generations for good reason. They simply work.
A single barrel shotgun isn't the best defensive weapon, but is an excellent utility weapon to compliment a fighting rifle. I specifically chose the single barrel shotgun because of its lightweight, its simplicity, and its ability to use caliber adapters.
Related: How And Where To Store Ammo
Caliber Adapters?
Yes, caliber adapters. Caliber adapters are metal inserts that are the same width of a 12-gauge shotgun shell. They allow you to fire multiple calibers through one gun. Some of the caliber adapters are the exact same size as a 12-gauge shell, others are longer and feature rifling to guarantee accuracy. A 12-gauge shotgun can easily handle 20 gauge, 16 gauge, 28 gauge, and 410 with these adapters, as well as almost centerfire pistol calibers
Let's start with the idea you do not own a single barrel shotgun already, and this idea interests you. A gun manufacturing company already thought about it. Chiappa, specially designed something called the M6. The M6 is an over under weapon with a 12-gauge shotgun on the top, and a 22 LR rifle as the lower barrel. The weapon folds in half, and Chiappa makes their own adapter system.
As a 12 gauge/22LR weapon it's already superbly handy, and can accomplish a wide variety of different missions. With the X Caliber adapters, you can convert the 12 gauge portion to 8 other calibers. This includes the 380 ACP, 9mm Luger, 38 Special/357 Magnum, 40 S&W, 44 magnum, 45 ACP, 410/45 Colt, and 20 Gauge. The pistol caliber inserts are all fully rifled for reliable accuracy. Do you know what is the best SHTF ammo to stockpile?
The system sells as a pair, and gives you the ability to fire 12 different rounds from a single weapon when you add the adapters and the 12 gauge and 22 LR barrels. The M6's folding ability is quite handy, and the rifle is super lightweight. The weapon is also outfitted with a short rail system for attaching an optic if you want one. The biggest downside to the weapon is the recoil from 12 gauge is quite stout due to how light the gun is.
Related: DIY Gun Solvent
Choices
Luckily Chiappa is not the only game in town when it comes to adaptable 12 gauge shotguns. It does bear mentioning that Chiappa sells the adapters separate if you already own a 12-gauge single shot shotgun and like the Chiappa setup.
Another company does produce a variety of adapters and is known as Short Lane. Short Lane offers a ton of different adapters in a wide variety of calibers and styles. You can go smooth bore to save some money, or rifled for a little more accuracy a little more money. They even offer different lengths of adapters to maximize velocity and accuracy, or super short rifled options for easy carry. They produce adapters for common shotgun calibers, as well as almost all popular pistol rounds.
The Short Lane adapters even have black powder options, and reloadable black powder shot shells. This adds even more variety to your single barreled shotgun, which can be lifesaving in a pinch.
These adapters aren't just for carrying and using tons of different calibers for different solutions. What they are used for is scavenging. Finding ammunition in a caliber you don't traditionally own is pretty much useless.  With these caliber adapters that useless box of ammo can have new life.
Downsides
Downsides to the single barrel shotgun and adapters are present. As we said before a single barrel shotgun is a poor defensive weapon. It's too slow to fire and way too low of a capacity. Most are quite light, and have some substantial recoil with powerful slugs, or full on 3-inch buckshot.
The adapters often have to squeeze into the barrels and can feel tight. However, they are a lot looser than a regular barrel. This is going to limit their effective and accurate range, even when rifled. The good news is they'll still be usable at twenty to fifty yards due to the barrel moving just slightly. Sure, they aren't perfect, but they are affordable, and can give you a real edge in a SHTF situation.
One Shot One Kill
The Single barreled shotgun is a surprisingly versatile weapon, and one I think should be in every prepper's arsenal. Even without caliber adapters the ability to use buck, bird, and slugs make a light and compact gun a versatile hunting option.
You may also like: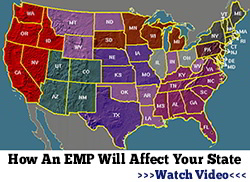 How To Make Gun Powder The Old Fashioned Way in Less Than 30 Minutes
How to Make Your House Invisible to Looters (video)