To get the most out of an article about expiration I think we need to first discuss expiration. It's a term that has several meanings in our world today and those meanings will change when we hit TEOTWAWKI.
To make the easiest distinctions between the several types of expiration we must look at the effect they have on the product or the producer. There are different goals when it comes to managing the three distinct types of expiration.
Retail Expiration
To understand this type of expiration you must first understand what goes into creating a product like an Oreo cookie, for example. A product like this is tested and manipulated by food scientists until the product is as near to perfection as possible. Once the size, texture and flavor are mastered, batches are run and packaged.
Nabisco offers a best by date or expiration date for retailers so that these cookies will taste just like they should. They must taste just the same no matter where you buy the package of Oreos. Most retail expiration dates are based on quality and consistency of product.
Of course, there is a little bit of turnover involved these retail expirations. Once things are expired the likelihood that customers will buy them goes away or decreases exponentially. Therefore, retailers are left with nothing to do but purchase or inventory.
These retail expiration dates are stamped on the product.
Related: What Should You Do With Your Canned Foods After the Expiration Date?
Safety Expiration
All foods reach a point where the actual safety of the food comes into question. We do not see this type of an expiration date on the product itself. These are extended dates beyond that which is stamped on the can or package.
These are guidelines that are approved by national food safety governing bodies and are employed by food banks all over the nation. Food banks can be sued so these are legitimate guidelines to use. Most of our expiration will be based on these food safety expiration dates.
Beyond Expiration
You can go even further beyond the safety expiration dates. This is taking matters into your own hands. When you go far beyond safety expiration dates there are several things you can look for to discern the potential for spoilage in that product.
Smell
Color
Look
Condition of Package (damaged cans, packaging lead to quicker spoilage)
Understanding Canned Goods
The process of canning foods in tin or aluminum cans uses a vacuum seal and a protective layer that keeps the food from direct metal contact. The vacuum seal removes oxygen which is necessary for bacterial growth. If the vacuum seal or the protective layer is compromised the product inside the can will be in jeopardy.
High Acidity Canned Foods – 18 months after printed retail expiration date
Canned Fruit
Canned Tomatoes
Tomato Based Soups or Sauces
Canned Fruit Juices
Canned Pasta
Low Acidity – 5 years after printed retail expiration date
Canned Meats
Canned Beans
Canned Vegetables
Boxed Dry – 1 year after retail expiration
Rice Mixes
Mac and Cheese
Grains
Related: How to Keep Grains Edible and Fresh for Over 40 Years With Nitrogen
Bagged Grains and Beans – Indefinite but inspect before cooking and rinse
Cold premade foods – Premade foods will only last 3 days after they expire. In most disaster scenarios refrigeration will be compromised. If that's the case these foods can only last 4 hours without proper temperature control.
Dairy – Most dairy can last between 7 and 14 days after the retail expiration
Yogurt 14 days
Buttermilk 14 days
Cottage Cheese 14 days
Milk – 7 days
Chocolate, Strawberry, Vanilla – 7 days
Aseptic Packaged Milk (shelf stable) – 3 months past best buy date
Hard Block Cheeses – 6 months
Frozen Meats – 1 year after initial freezing
 Medicines – the efficacy of medicines comes in to question after expiration. They will work but the dosing information will not be accurate. Overdose is possible if you are not careful. Read our article on meds and expiration for a deeper dive into this topics.
Health and Beauty
Bug Spray – 2 years
Sun Screen – 3 years
Tooth Brush – 3 months
Lip Balm – 5 years
Peroxide – 6 months
Cleaning
Bleach – 3 months efficacy will be affected for purifying water
Laundry Detergent – 6 months
Dish Soap – 1 year
Baking Soda – Indefinite
Vinegar – Indefinite
 Automotive
Tire – 10 years
Air Bags – 10 years
Childs Car Seat – 6 years
Break Oil – 3 years
Motor Oil – Indefinite
Home
Smoke Alarms – 10 years
Batteries – 7 years until these batteries fail you or offer much less power than you expect.
Fire Extinguisher – 3 years
Surge Protector – 2 years
Paint – 10 years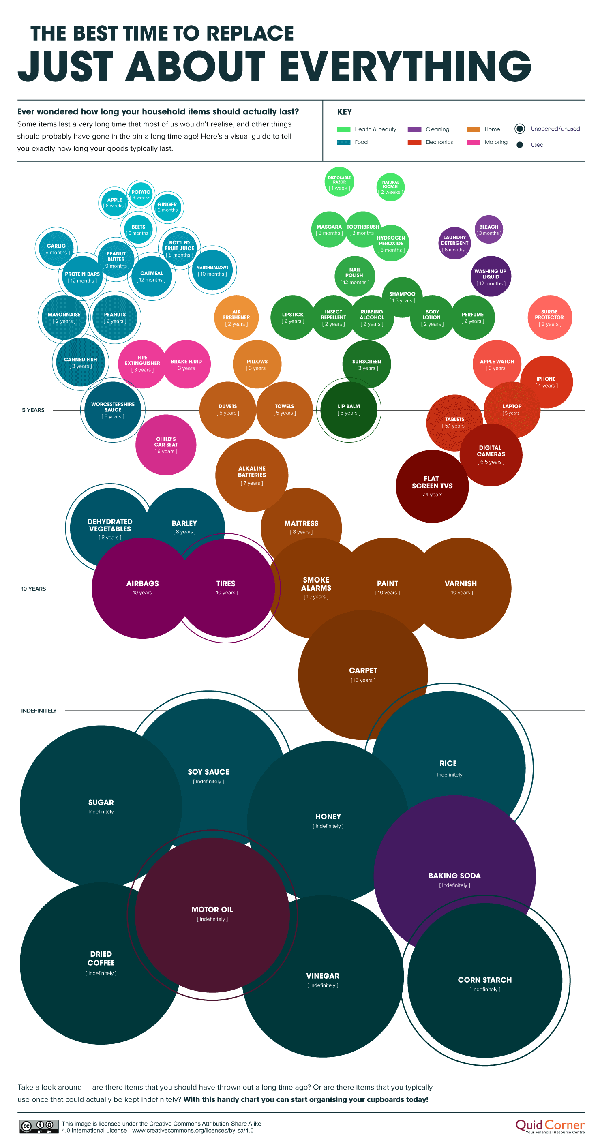 Long Term Food Storage – While many companies purport that their food would will last for 25- 30 years, what most companies neglect to inform you of are ideal storage temperatures. To get that long shelf life you want to store the food at 55 degrees. I don't know many people who are storing food at 55 degrees.
The Truth About Expiration in Survival
These expiration dates are a powerful tool to help you manage your emergency food storage and other resources kept on hand in case of disaster. These guidelines are time tested by food pantries all over the country. When things are going well and haven't reached a point of desperation I think these safety guidelines work well.
However, in survival there will likely come a time when resources run out and you are forced to eat foods that are far beyond the best buy dates or even the food safety expiration dates. You may come across foods that do not have dates or the dates have been rubbed off. If you are starving this will affect your decision to eat or not eat these foods.
When the condition of a food item comes into question. Be sure that you let the packaging tell you the story. The sturdier the package the better chance you have that the food inside is safe.
Look for undented seals on cans and cans that are not bulging. Look for cans that are free of excessive rust. When you are dealing with other dry packaged foods make sure your packaging is intact. Many of these foods will be fine to eat if they haven't had visitors (pests) in and out of the package.
You may also like: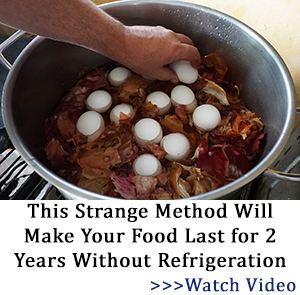 The Hidden Truth About Taking Expired Medications
How To Build The Invisible Root Cellar (Video)
Living without a Refrigerator – It Can Be Done!
30 Survival Items You Forgot to Buy