This article was gladly contributed by Tess Pennington and first appeared on Ready Nutrition.
Vacuum sealing food has taken this country by storm. The ability to divide and seal food in a low oxygen environment in order to prolong its freshness and storage time is a prepper's dream.
Vacuum sealing, or ROP (Reduced Oxygen Packaging) slows down the process of spoilage by reducing atmospheric oxygen, and creates an anaerobic environment that  limits the growth of aerobic bacteria or fungi, and prevents the evaporation of volatile components. Vacuum sealing is often used in combination with other packaging and food processing techniques.
As effective as this food storage source seems, it could put your health at risk. There are certain types of bacteria that prefer low oxygen environments and will grow on foods that have been vacuum sealed. Knowing the dangers that these bacteria possess can help you avoid them and keep your food storage safe.
Related: Canning Amish Poor Man's Steak
Botulism and Listeria Monocytogenes
Even in an oxygen-depleted environment, Anaerobic organisms can proliferate, potentially causing food safety problems. Botulism and Listeria monocytogenes are examples of pathogenic bacteria that cause food borne illnesses from growing and thriving in an anaerobic environment. Moreover, these bacteria have the capacity of growing at a faster rate in vacuum sealed foods due to the oxygen-free environment as well as the fact that these bacteria are not in competition with other spoilage bacteria. These bacteria often do not produce noticeable changes in the foods; therefore, relying on sight, smell and taste would not be helpful. However, only a tiny amount of these spores (a few nanograms) need to be present in order for them to be deadly.
According to the FDA, the following are dangers associated with vacuum sealing food sources:
Facultative bacteria (most foodborne pathogens) grow under aerobic & anaerobic conditions
Most spoilage organisms are no longer "indicators" for temperature abuse
Extended shelf life could allow "slow growers" to reach high numbers under refrigerated conditions
Secondary barriers such as low pH or aw are not always possible with cook chill and sous vide packaging
Potential for temperature abuse at retail and in the home is great
Cooking and fermentation destroy most vegetative cells but spore formers survive
Safety Guidelines for Vacuum Sealing Food
If you have  taken proper steps in preparing your food in a clean and uncontaminated environment, then this should not be a problem. However, if there is any question about the safety, then err on the side of caution and do not vacuum pack the food, as you would be creating a perfect breeding ground for bacteria.
Follow these guidelines to properly vacuum seal food:
Vacuum sealing food does not replace the need to pressure can or water bath home canned foods.
Wash hands before and during the vacuum sealing process.
Try not to touch food with your hands. Use clean spoons, tongs or something else to handle the food.
Be sure to keep utensils, cutting boards and counters clean.
Keep vacuum sealed foods in the refrigerator or freezer. Dry food, like crackers and nuts, can be stored at room temperature.
Freeze low-acid vacuum packaged foods and consume immediately after heating. Never heat a low-acid vacuum packaged food and allow it to stand at room temperature in the vacuum package.
Ensure that you do not cross contaminate food.
Properly label food sources with type of food and date packaged.
Ensure the seal is complete and that there is no debris in the seal.
Related: How To Repackage Foods in Mylar Bags With Oxygen Absorbers For Long Term Survival
Which Foods are Safe and How Long Do They Store?
Vaccum sealing food can be a productive way to maintain your food source as well as prolong its shelf life. Ensure that you take the proper steps in handling and storing your  food to reduce the presence of bacteria in your food storage.
This article was gladly contributed by Tess Pennington  and first appeared on Ready Nutrition.
You may also like: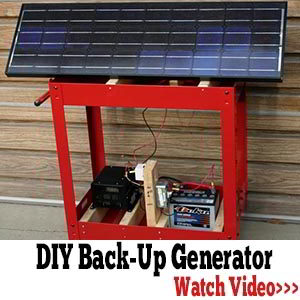 How to Keep Grains Edible and Fresh for Over 40 Years With Nitrogen
If You Are to Weak to Prep then You Need to Watch This  (Video)
This Super Root Preserves Meat Indefinitely!
How To Make Potato Flakes With 5 Years Shelf Life (without refrigeration)