Because people around the world spend so much of their time in vehicles, if an EMP were to happen, there's a good chance many of the affected people would be in or near their vehicles at the time.
Before getting to a list of items to have in your emergency kit, the first consideration needs to be: "After an EMP hits, what is my first job or goal?". Let's assume for sake of discussion that if an EMP happens, and it's obvious that major electrical infrastructure is damaged, your job is to get "home" or to an agreed meeting spot with your family to assess the situation and decide what to do.
The second thing to remember is that your car may or may not work. Even if it does work, massive traffic jams and other road closures may force you to be on foot to get to your family meeting spot.
Bug out Bag: Some people call this a "go-bag" or a "bail out bag". Whatever you call it, it should contain items that will help you mitigate almost every disaster. Your bug out bag is an add-on item to your EMP emergency kit. You should have the bare minimum items in your Bug Out Bag:
Related: 10 Awesome Food Ideas for Your Bug Out Bag
8 to 11 Gallons Backpack: Durable and comfortable enough to carry for 20 miles if necessary.
Some form of self-defense: Make sure you observe your local laws. Self-defense can become a bigger issue when people are panicking or stress levels from an emergency are high.
First Aid Kit: You should have an individual first aid kit for you and for a friend.
Some cash. Although I'm pretty sure you won't need it in case of an EMP. You can obtain almost anything if you let people make a phone call from your phone. That will be your best thing to barter with, without actually loosing anything (if you have a manual or solar charger of course). But cash will help in other events. And I'm sure nobody makes a kit only for EMP's.
Emergency Signaling items: Road flares, laser pointers and signal mirrors along with monocular or compact binoculars can come in real handy.
Compass / Map / Map Tools.
Related: The Lost Art of Reading Nature's Signs
Bad Weather Clothing: In the summer you should have items to protect your skin from the rain and hot sun, such as sun-screen, wide brim hat and rain gear. In the winter, you should have a set of polypropylene underwear and extra set of wool socks.
Specialized tools: Lock picks and a multi-tool are great to have. In the event of an extended journey on foot due to EMP emergency, a set of lock picks and multi-tool could help you gain access in a life and death pursuit for shelter.
Footwear: A good set of all-terrain footwear is definitely something to keep in your vehicle with appropriate socks and foot cushioning called "moleskin". This is especially true if you wear business footwear normally.
Faraday Bag: A faraday bag guards against the gamma rays given off by an EMP that can destroy electronic equipment.  A professional grade faraday bag can be had for under $300. If you have a large enough faraday bag (which would probably be pretty expensive), you can just put your bug-out-bag inside it. If you have a smaller faraday bag, make sure to put in precious electrical equipment. You should put the following items in your faraday bag:
Related: 15 Things You Think You Know About Faraday Cages But You Don't
GPS – Just because an EMP hits, does not mean that all direction finding satellites (or any of them for that matter) will be disrupted.
Spare wrist watch: Battery operated wrist watches are cheap enough to throw an extra one in your faraday bag.
FRS/GMRS and HAM handset radios (with batteries): Prices on FRS/GMRS and HAM radios have become quite reasonable, so having a spare set of radios in your faraday bag only makes sense.
Extra flashlight & Headlamp: Again, flashlights and headlamps are very affordable, I would just as soon put an extra compact flashlight and headlamp in the faraday bag, because the saying goes "2 is 1 and 1 is none", right?
Solar charger: There are several efficient and inexpensive solar chargers on the market that will keep your batteries charged for radios, GPS and lights. Depending on how long your trek home is, and how many days and nights it takes, you may need to recharge your lights so you can see at night.
Related: How to Build Your Own Solar Panels
Extra Cell Phone: While some people might disagree with this, an extra cell phone may or may not work in the event of an EMP.  A power grid may temporary go down, and come back up. Remember there are many variables to determine what an EMP will and won't damage. If your primary smart phone is damaged, a cheap, pre-packaged cell phone with activation card, in your faraday bag may be able to get you in contact with loved ones.
You may also like: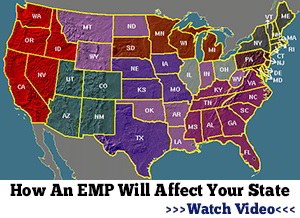 Top 10 Vehicles for Your EMP Survival
How to Make Your House Invisible to Looters (video)
How to Conceal Weapons in Your Vehicle
You Will Not Survive an EMP Strike Without This
7 Actions to Take Immediately Following an EMP Strike