The risk of losing power is one that we face every day. If anything, that risk is greater today than it has ever been. Not only is there the potential for a major disaster, such as an EMP, but we are also faced with the fact that our electric infrastructure just isn't up to the task. Much of the system is old and can't handle the strain.
We saw a very real example of this in February, when unexpectedly cold temperatures caused blackouts in Texas. We saw the same thing in California last summer, when the local electric company had to use rolling blackouts to help avoid causing forest fires.
Both states public utility commissions have already announced that they are looking at the probability of rolling blackouts again this summer, because utilities are unsure of their ability to produce enough power to meet everyone's needs.
Part of this problem can rightly be placed at the feet of those who are pushing for a higher percentage of "green energy," specifically wind and solar power, which are not reliable. State public utility commissions are forced to treat these unreliable electrical sources as if they are reliable, all the while knowing that they are not. This leaves little extra generating capacity for those times when it is needed. Should even one thing go wrong, chances for a blackout are high.
Even so, it's not fair to lay all of the problem at the feet of green energy. There are other factors involved, such as there being no incentives for electric companies to have emergency power in place, should something happen to one of their power plants. Nor can problems associated with drastic weather events be blamed on green energy. The truth is, we had problems with blackouts before green energy even became a thing and we will continue to have problems with them, as long as mother nature is uncooperative.
The truth is, any of us can be hit with a power outage at any time, even without an obvious cause. How much of a problem those cause for us is another thing altogether and depends largely on how ready we are for it when it happens. Taking the time to do some preparation can make all the difference in the world.
Related: How to Tell in 5 Minutes If It's a Power Outage or an EMP and Get a Massive Head Start
Installing a Wood-Burning Stove
One of the biggest problems facing us if the power goes out is heating our homes. Of all the electrical power used in the home, heating is the largest, with some families heating accounting for as much as 42% of the energy they use. Yet when the power goes out, our home heating systems are unable to function, even if we're heating with natural gas.
The most practical solution for heating without electricity is wood. Throughout history, mankind has heated our homes with wood, as it is about the only form of fuel that we can harvest from nature ourselves, with little special equipment.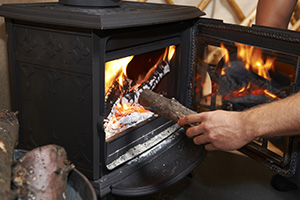 Installing a wood-burning stove is a better solution than a fireplace, both because it is easier to install and because it provides more heat per lo burned.
There are two main issues in installing any wood-burning stove:
The bigger issue is the chimney. This isn't too bad in a one-story home, but can be extremely difficult in a two-story one, as the chimney would then have to pass through an upstairs room.
Finding someplace to do that can be very difficult. Chimneys passing through the enclosed spaces and attics need to be triple-walled, so as to prevent the risk of fire.
Once such a location is found, a fireproof pad needs to be installed for the wood-burning stove to sit on. If the stove is close to the wall, then tile or some other fireproof material should be mounted on the wall as well.
Related: Never Throw Away Your Wood Ash! Do This Instead
Making Survival Candles
Compared to heating, lighting uses much less electricity. But that doesn't mean that we don't need to be concerned about it. While most of us are accustomed to depending on flashlights for emergency lighting, batteries only last so long, especially in the modern tactical flashlights.
While there's nothing wrong with using tactical flashlights, we need something else for low-level lighting, saving the flashlights and batteries for when they're needed.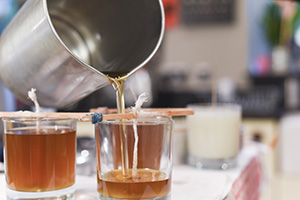 Making survival candles is an easy project that can be done in an afternoon. I keep my eye open for candles at garage sales, just for this purpose. Melted down, they can be poured into spaghetti sauce jars to make candles which are protected from having the wicks get wet.
When buying wicking for candles, it's important to buy a thick one, as that will produce a larger flame, giving more light. The wicks need to be put in the jars before the wax is poured. I use four wicks per candle, or more correctly, two folded over pieces of wicking, giving me four wicks at the surface.
The wicks are weighed down at the bottom end, to keep them in place. Having candles with four wicks produces four times as much light, when extra light is needed.
Building Your Own Solar Panels
Solar panels are the number one means of producing off-grid power. But buying enough solar panels to really do much good can be rather expensive.
Unfortunately, the panels don't produce a lot of power each, so it requires a lot of panels if you want to be able to run something like a well pump or refrigerator. Fortunately, you can build them yourself for about half the cost of buying them.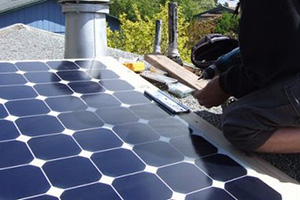 Building solar panels is more an exercise in patience than anything else.
The most tedious part is soldering the individual solar cells together. Since they are made of thin glass, extreme care must be taken to keep from breaking them.
But once they are soldered together, then it's just a matter of mounting them in a moisture-proof, glass-fronted frame.
The Battery Backup System
While solar panels are important, what's even more important is a battery backup system. This not only provides a place for the electricity that the solar panels are producing to be stored, it also allows storage of electricity before the lights go out, so that you have at least some power to work with.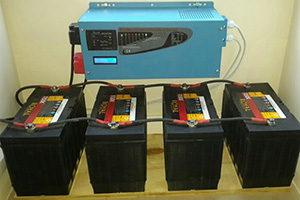 Any battery backup system consists of three basic items: a solar charge controller (battery charger), batteries, and a voltage inverter. The solar charge controller is intended to take the input from solar panels or a wind turbine and use it to charge 12 volt batteries.
The voltage inverter can then take the power stored in the batteries and boost it to 120 volts AC, so that it can be used to run appliances.
The expensive part here in the batteries themselves. Ideally, they should be 12 volt deep-cycle lead-acid batteries, the same ones used in boats and recreational vehicles.
Related: How to Get Power Out of Your "Dead" Batteries
However, I use used car batteries in my setup as well. They work fine, even if they won't last as long. But I can buy them cheap, making for a good tradeoff. You'll want as many batteries as you can afford, as that is what's going to make the most difference in the system.
A Simple Solar Cooker
With the power out, cooking can be a problem. My go-to cooker in that case, like many people's, is my barbecue grille. But there are some things that just can't be cooked well in a barbecue grille. Therefore, I also have a solar cooker to work with. That's about like cooking with a Crockpot, except that it's powered by the sun.
While there are several types of solar cookers, a basic solar cooker consists of a box with a glass or plastic cover.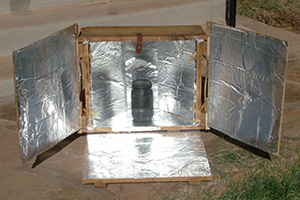 "Wings" made of the same material and covered with aluminum foil reflect more light into the box, allowing the temperature inside the box to heat up even more.
Food being cooked is placed in a pot, inside the box, where it can absorb the heat and cook, albeit slowly.
While a simple solar cooker can be made out of a cardboard box, you're better off making one out of wood and putting a glass cover/lens on it. The glass should be at about 50 degrees, allowing the sun to enter into it no matter what the time of year.
Make the wings adjustable, with something to hold them in place. That way, they can be adjusted to match the movement of the sun through the sky. When using the solar cooker, always make sure it is pointing due south.
Use a Homemade Root Cellar for Keeping Food Cool
Cooling food is one of the bigger challenges in a power outage. A modern refrigerator/freezer unit will keep the food cold for about 24 hours, without power. But after that, the contents will gradually begin to warm up. We obviously need to cook and eat or otherwise preserve this food as quickly as possible, unless we know the power is coming back on quickly.
For refrigerated items, all we really need is someplace to keep them cool. The average temperature of a refrigerator is about 37°F, which might be a bit difficult to reach. But before refrigerators existed, people would keep fresh food in a root cellar, which would usually maintain a steady 55°F.
Almost anything can be used to make a root cellar. The key is getting the food underground, where it is cooler.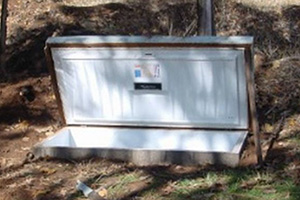 While digging an actual cellar is ideal, the same results can be obtained, on a smaller scale, by burying something in the ground, with the lid at ground level. An old refrigerator works great for this, because it has an insulated door. Bury it laying on its back, in the shade, with the door at ground level.
Cool with a Wind Cooler
Cooling a home when the power is out is even more difficult than heating it. By and large, all we do is open the windows and hope for a cool breeze. But we can do something to help that breeze cool even better and it only takes used soda or water bottles and cardboard.
The principle is this: air or any other gas, passing through an orifice and then expanding will cool. This is actually the principle an air conditioner operates by. The difference here is that we're not using Freon and we're not compressing the gas to make it expand super-rapidly. So we're not going to get super-cooling, although the air coming out the other side should be about five degrees cooler.
To make the wind cooler, cut off the top, funnel-shaped portion of the bottles. Then, using those as a pattern, cut holes in the cardboard to match their diameter, putting them close together.
Glue or tape the bottle parts in the cardboard, with the edge of the bottle part flush with the cardboard, and without the lids in place. Set it in a window, with the lid end of the bottles facing in. as the wind comes through the bottles, it will be cooled.
The cooling effect of these bottles can be improved by hanging a damp piece of thin cloth over the cooler. That way, the evaporation of the water from that fabric can work to increase the cooling action that the cooler provides.
You may also like: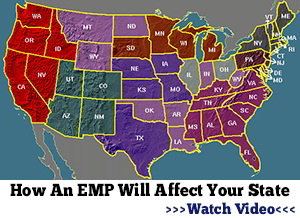 Backyard Projects That Might Get You Arrested (Video)
Top 6 Popular Types of Guns Not Suitable for SHTF
Homemade Hot Pepper Cream for Arthritis & Joint Pain