Whether expelled from the sun or emitted from a high altitude nuclear blast the electromagnetic pulse has become one of the great super villains of our time and rightly so. These weapons can change the entire game.
Imagine a world near total convenience and dependence forced into self-reliance. If close to 100% of the electronics stopped working some would adapt. Others would fall into a pit of despair. There are many experts that paint horrifying portrayals of this situation unfolding here in America. Here are 10 Faraday Cages you can make at home to protect your devices.
In our everyday, convenient, lives there are places we go that seem safe. In the event of an EMP these same places could become coffins. I want to discuss some of those locations and the reason why they are so treacherous.
You will see in some of these scenarios you could follow steps to aid in your survival. In other situations, you may just be out of time.
HOSPITAL ICU
With monitors, breathing tubes and the many other accoutrements that would be in place to keep you alive the most terrifying place to be when an EMP strikes would be in the intensive care unit. For most this would be an area of recovery for those injured or healing after surgery.
Your access to medication and care would go way down since the hospital would be thrust into turmoil. There would be emergency evacuations going on as well as a whole host of calamity. It would be easy for patients to be forgotten.
Depending on your condition you might just die right away but for those seconds without air or whatever else is keeping you afloat you would suffer. If you were better off than others around you the prospect could be a much more terrifying one. As you would hover just above death until you were discovered. If you were discovered.
Related: The Only Way To Get Antibiotics When SHTF (Video)
IN A CROWDED SUBWAY
The calamity of the subway is too much to deal with on a good day! The subway cars are powered by electricity as are the doors and the lights.
Hundreds if not thousands of people would be on those cars. They would be packed in like sardines and when that car stops and the lights go out an incredible level of panic would ensue. People would push and shove and there would no doubt be a few casualties from trampling and crushing.
When you take your seat on the subway stay close to exits and be sure you understand how to use them. This will give you first dibs on the exit. Also, use your phone or flashlight in your EDC to shed light on the situation. This would lessen the panic.
Related: Some Thoughts on EDC-Every Day Carry (Do You Even EDC Bro?)
ON A BOAT IN THE OCEAN
There is somewhere between 12 and 13 million registered boats in the nation. For many this is the best version of relaxation available. Whether it's heading down river or out passed the continental shelf, boating can be a tremendously rewarding experience. Though these machines run on the same kind of electronics as anything else.
During an EMP strike boats could also be rendered inoperable just like any other type of electronic. Just imagine for a second if you were 10s of miles off the east coast. Suddenly you would be subject to the ebb and flow of the tides. Your powerful boat does not have masts and sails to return you to the sandy shores of the homeland.
No problem though, right? The coast guard would be out to rescue you, wouldn't they? Not if their boats were also inoperable. You could be stranded for days, weeks or even months depending on the direction of the ocean. You may have a small survival kit on your boat but how are you going to get clean water and food for weeks under the searing sun. What about the battering waves of a storming ocean?
You would have to fish for food and create some sort of still in order to remove the salt from your water. Creating a solar still could work if you had the proper materials aboard.
IN ANY KIND OF AIRCRAFT
You are going down. Plain and simple. Americans are flying all the time. The disaster that would occur if something like this happened at any time during the day or night. There are an estimate 4000 commercial flights in the sky at any time. This does not include private flights or military in the air. It would be like a nationwide bombing effort as these planes fell. Some plains have a level of protection against solar EMP's.
If you were on one your best bet would be to remain calm and follow the directions of those more experienced than you. In most cases the trauma of the crash would kill you and it might be better that way. You wouldn't want to be drowned or trapped under debris and burned alive by jet fuel.
Read the safety manuals provided when you board a craft and take note of the various exits. These could become your only way out if you do survive a crash.
NEAR A NUCLEAR POWER PLANT
Per the energy information administration:
There are 61 commercially operating nuclear power plants with 99 nuclear reactors in 30 states in the United States.
We all witnessed the very real consequences of nuclear power in the Fukushima reactor disaster. We are ill equipped to handle a disaster of this magnitude. In fact, we are ill equipped to hand a disaster at all when it comes to nuclear power. How do we cool 99 reactors when we failed to cool one using the OCEAN?! More interested about this subject? Here you can find the US Nuclear Target Map.
Or take a look at the map of US Nuclear Power Plants: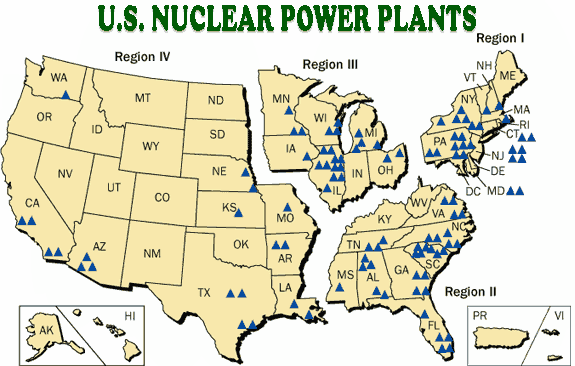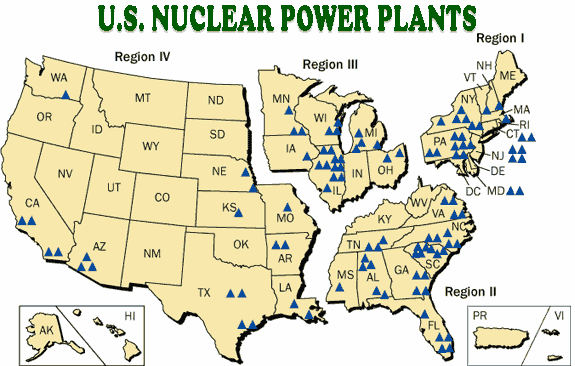 If you are living or staying in close proximity to a nuclear power plant be sure to get as far away as possible in the event of an EMP attack. How would you know? Glad you asked. This link: Nuclear Power Plants will tell you the location of all the power plants in your proximity. You just need to click on your state.
It's hard to imagine a version of the world like the one you would see following an EMP. It would be abandoned and hollow. The surviving souls that wandered this partially incinerated and partially radiated landscape would be in a desperate struggle for survival.
You may also like: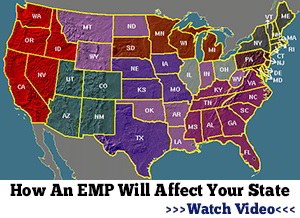 You Will Not Survive an EMP Strike Without This
EMP Myths and Facts. What's BS and What's True?
Top 10 Vehicles for Your EMP Survival
This Bug Will Kill Most of the Americans during the Next Crisis (Video)
10 Things to Have Ready before the Huge EMP!!!