I. About the AR-15 Upgrades
Even if it acquired a bad name after starring in the Aurora/Newtown shootings, the AR-15 style rifle is one of my all time favorite weapons for home defense because it's (still) legal and lethal if used properly. I know what some of you are thinking about: an assault rifle may not be the best choice for self defense; haters gonna hate anyway!
Some say that the AR-15 is America's Gun, the rock star of the weapons industry, the ultimate (and maybe the last) symbol of our basic freedoms; you know that old saying: the right to bear arms should not be infringed etc.
To others, this weapon's engineering porn is actually obscene and it doesn't belong into civilian hands; I say that this is the mother of all (legal) weapons and I enjoy the second amendment like I enjoy my first and then some!
Stick with me and I will show you my list of AR-15 upgrades. And feel free to post in the comment area your personal AR-15 upgrades.
Besides its bad-ass looks, the AR-15 comes with an awesome feature: almost every part is replaceable, making for a versatile and fully customizable piece of gear. With these AR-15 upgrades, you can build your own, precious and unique rifle.
One of the reasons for its modularity is that the AR-15 is hugely popular and there are many weapons manufacturers that offer it in their portfolio. I don't want to sound pompous but you must know one vital fact: not all the AR-15's on the market are created equal. What I'm sayin' is that there are low-quality versions and high end versions, depending on the manufacturer. Obviously, the higher-end bracket (read Colt) will cost you some extra green, but it's all worth it on the long run.
Now, why would you want to upgrade your AR-15? Simply because "this is my rifle; there are many like it, but this one is mine"(original Quote), or at least that's what Maj. General William H Rupertus had to say and I happen to share his opinion.
Given the huge amount of aftermarket parts, all interchangeable and widely available in gun stores, we can safely state that the AR-15 is an "open platform" weapon. Hence, knowing the AR-15 upgrades can make you one happy owner and it will also help you make a stronger "bond" with your gun. You know, "you will give your rifle a girl's name"… Full Metal Jacket freak, awesome movie.
II. AR-15 Upgrades
Moving along with the story, let's see which are the best DIY's for the "precious". You can make some AR-15 upgrades all by yourself, without being a gunsmith or even an engineer.
1. The Grip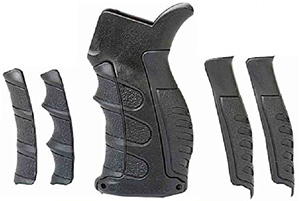 All AR-15 upgrades are great. So I'll randomly list them. Let's start with the grip: with the thin profile "standard" hard plastic A2 pistol grip, your AR-15 feels bland, boring and uncomfortable especially if you have big hands. If you're using your assault rifle regularly, you can safely go for an aftermarket grip and you will notice a considerable improvement in terms of ergonomics and even looks. For example, you can get yourself a grip made by Magpul, Ergo Grips, TangoDown or Hogue, these are the most popular grip upgrades available. I would personally go for an ergonomic grip with injected polymer texture
.
2. Adding Texture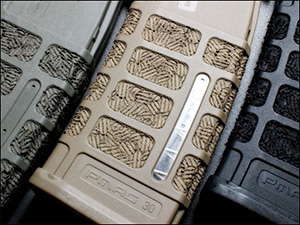 Stippling is one of the easiest and inexpensive AR-15 upgrades. The process consists in adding texture to a polymer material (grip/magazines) using a hot tool, dramatically increasing the grip of the treated surfaces, sometimes even the aesthetics. You can DIY, it's easy and fun or you can use a specialized company, like Lightfighter Innovations.
3. The Trigger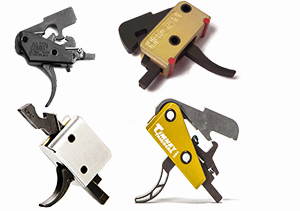 Next on the list of your AR-15 upgrades can be the trigger. You can basically use any style of trigger on this baby, the only limit is your imagination. You can go for a tactical, single stage, two-stage, adjustable, combat, non adjustable, the sky is the limit. There are many manufacturers to choose from: Rock River Arms, Wilson Combat, Geissele etc.  An upgraded trigger
can give you an advantage if you're a skilled shooter and you "feel the force".
4. High Quality Sights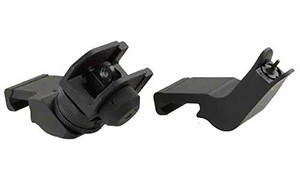 Speaking of "feeling the force", one of the "manly" AR-15 upgrades is for the back-up iron sights, one of the lost Jedi-arts when it comes to aiming old-school. Nowadays, people are using high tech optics on their AR-15s, but knowing how to aim with open sights is fundamental. You can get high quality aftermarket sights from Midwest Industries, Yankee Hill Machine or Precision Reflex.
5. Charging Handle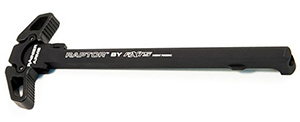 The charging handle is one of those "small touch" upgrades  that make a huge difference in the "looks", operation and overall feel in your AR-15 rifle. Some of the best aftermarket charging handles are offered by Rainier Arms Raptor
(my first choice) and  BCM Ambi Gunfighter.
6.  Stock AR-15 Upgrades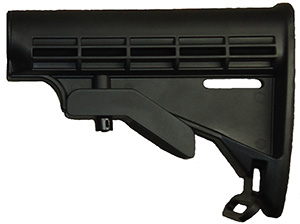 This is one of the most common AR-15 upgrades. "Inquiring minds may ask themselves – Which one is the best? when the real question should be – which one is the best for me based upon my needs?" (quote) And here we can talk a bout factors like rigidity, durability, weld, ease of use, adjustability, storage options, sling mounting options, cost and weight. A well chosen stock upgrade
(fixed or collapsible) to fit your personal needs/physique will boost your shooting performance, giving you balance and more confidence in your assault rifle. You can go for MagPul M93A, Ace M4 SOCOM, LMT SOPMOD, Vltor or Standard M-4.
7. Barrel Upgrade

The barrel is another logical upgrade for your AR-15 rifle. You can upgrade your AR-15's barrel using a variety of considerations, such as cartridge chamber, length, twist rate, profile and so on and so forth. It all depends on how do you plan on using your rifle or terminal ballistics if you want me to be pedant. You have a huge number of options when it comes to a barrel upgrade hence recommending only one option is an exercise in futility. The only thing to keep in mind is to go for a quality manufacturer, like Daniel Defense, White Oak, Wilson Combat, Noveske Rifleworks, Bravo Company or Rick River Arms.
8. Hand Guard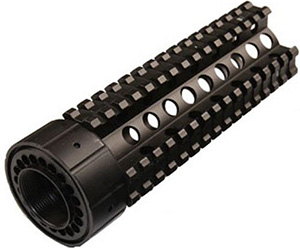 A free floating hand guard
spells awesome in my book when it comes to AR-15 upgrades. Along with improving aesthetics and shooting precision, an aftermarket free floating hand guard will enable you to attach all kinds of gizmos (optics, night vision, laser pointers etc) on your rifle, thanks to its MIL-STD-1913 rails.  Examples of high quality free floating hand guards include Daniel Defense MFR, Viking Tactics Alpha Rail, Geissele SMR or Alexander Arms MK10.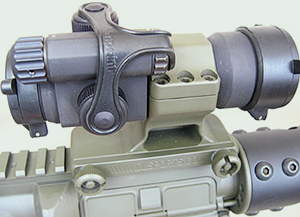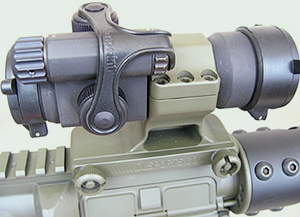 9. Optics
Yes, optics, the corner stone of any meaningful upgrade on your AR-15, isn't it? A cost effective optics can have several meanings. For example my eyesight is not as clear as when I was in my 30s. This sort of rules out using iron sights as a primary for me. For target shooting you do not need the Aimpoint or EOTech combat durability, but you don't want junk that will be unreliable. There are huge differences in price, quality and style but keep in mind that a decent optics upgrade
will cost you some green. I have found that the little Trinity Force 3-9×42 Tactical Rifle Scope With illuminated Range Finding Reticle Pattern is a technological marvel in a very durable package at $139.
There are holographic sights, red-dot and reflex to choose from and examples include EOTech, Trijcon SRS, Leupold DeltaPoint, Aimpoint Micro H-1 and last but not least, "zee good Germans" from Zeiss Victory Compact Point. The list is long, these are just a few examples but remember: those cheap "budget" optics are almost useless and a waste of money. If you don't have the dough for a high quality piece of gear, you better stay off cheap crap.
10. AR-15 Upgraded Receivers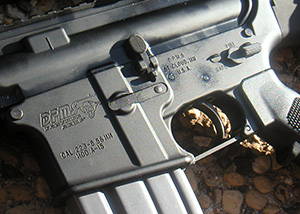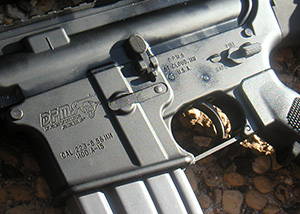 The centerpiece of a tuned-up AR-15 are the aftermarket/upgraded receivers. These are the heart of the rifle, the upper and lower receivers, as they are harboring the weapon's guts inside and they serve as the anchoring point for all the other parts in the rifle. There are two types of receivers: forged and billet, depending on the metallurgical process used in their construction. If you're serious about your AR-15 upgrades, you should go for a billet aftermarket receiver. You have many options to choose from: Patriot Ordnance Factory,  LaRue Tactical, Black Rain Ordnance, Mega Arms, Seekins Precision or CMT Tactical. All these companies offer custom made aluminum billet receivers, that look way better than the forged mil-spec models (standard) out there.
11. Flashlights
Last but not least (it was almost a Decalogue), one of the best AR-15 upgrades if you don't have the money for a fancy night vision kit and an infrared laser
, is a cheaper lights upgrade. The term tactical flashlight gets thrown around a lot, and it can refer to a seemingly wide range of devices. The fact is the needs of tactical users vary when it comes to flashlights. Your light should include a few more features to make it a truly capable weapon mount. Install a light upgrade
 with dual contact springs from a tough material, with high outputs and pay attention to the shape of the beam.
When choosing your AR-15 upgrades think about your PERSONAL needs and pick what suits you best.