When the world ends one of your primary concerns should be self-defense. While most people are good people, the outer layer of monsters will quickly swarm these good people. You may be forced to defend your home, your family, and yourself from these jerks. Being well armed with a modern firearm is the only realistic way to do so. I've come up with a list, broken down into categories of the top ten SHTF firearms.
Category 1 – My State Has Restrictive Firearm Laws
#1 S&W 686/586 357 Magnum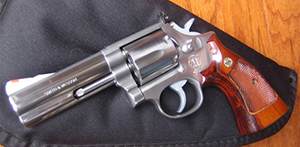 I've never known a state to ban a revolver. The 686 is a classic S&W 357 magnum revolver that has an excellent reputation for quality. The 686+ can even hold 7 rounds of powerful 357. The weapon can also fire the cheaper and easier to find 38 special. The S&W 686 has tons of holster options available for it, as well as speed loaders, speed strips, and grip options. The S&W 686 and 586 are the same weapon but the 686 is stainless and the 586 is blued.
#2 Rossi M92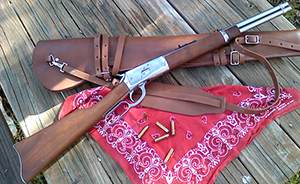 Again if you live in a ban state it can be legally difficult to acquire a modern defensive rifle like an AR 15 or AK variant. The Rossi M92 is a lever action rifle. The benefits of a lever action is the manual action, which makes it more reliable. The disadvantage is a limited range, however, up close this thing can take medium game and be a good defensive weapon. The advantage of the Rossi M92 is that it is chambered in many rounds including the 357 magnum. It can also safely fire 38 special. This means if you already carrying an S&W 686 your ammunition can work in both weapons. Other chamberings include 44 Magnum and 45 Colt. These are common revolver cartridges.
#3 Mossberg 500 12 Gauge Shotgun

This is an excellent shotgun to have regardless of state laws. The pump action Mossberg 500 is an overall excellent shotgun. The Mossberg 500 in 12 gauge is one of the few weapon capable of taking game from squirrel to elk. The gun can handle birdshot, buckshot, slugs and even other calibers with particular adapters. The Mossberg 500 can even be converted into a muzzle loading black powder weapon with the correct barrel. This is a very modular weapon that is legal in the most restrictive states. With that being said even in free states this weapon is an excellent one to have.
Category 2 – Free State Loadout with Logistics in Mind
#4 AR-15
The AR 15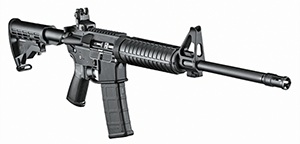 isn't my favorite rifle, there is nothing wrong with it, but I prefer something a little different. With that in mind, the AR 15 is my go to SHTF rifle. Why? First and foremost it's a well designed reliable rifle, lightweight, easy shooting, and affordable. It's also the rifle of the United States military and almost every police force in the country. This means parts are cheap, available, and easy to find. The same goes for magazines, ammunition, and other accessories. You can build an AR style rifle to suit your exact needs, and you can do it cheaper and easier than any other rifle on the market.
#5 Glock 19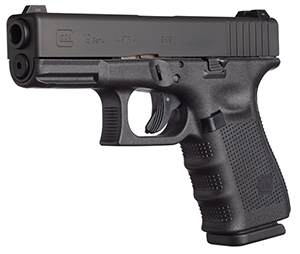 Again not one of my personal favorite handguns, but my chosen for SHTF. Glocks are reliable, accurate, easy to find, affordable, and butt ugly. They work, though, and they work very well. Spare parts, magazines, and ammunition are widely available for them. I chose the model 19 because it can be easily concealed, but is easy to fire as a full sized handgun. The model 19 can also accept Glock 17 magazines, as well as 33 round magazines for that little extra. The Glock model 19 is easy to shoot as well and chambered for the extremely common 9mm round.
#6 Kel Tec Sub 2000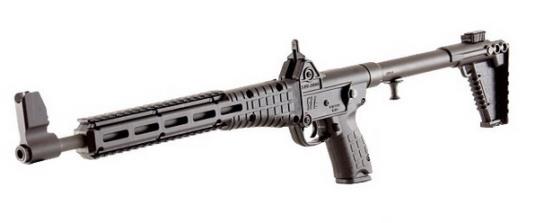 The Kel Tec Sub 200 is a pistol caliber rifle that is available in two generations. There are multiple models designed to house and use different magazines from Glock, Beretta, S&W, and much more. The idea is you match your Sub 2000 to your chosen handgun platform. This works as a modern and free state solution just like the Rossi and S&W 686 work for banned states. I have a preference for the Glock model due to it's affordable and widely available magazines. This rifle lacks the range of a traditional rifle but is also concealable. The rifle can fold in half and easily fit into a backpack or messenger bag for a lot of concealed firepower.
Category 3 – The Pragmatic Choices
#7 Ruger 10/22

A 22 LR rifle of some kind should make its way into your kit. I suggest the 10/22 for its widely available parts and magazines. You can customize a 10/22 to your heart's content. The 10/22 is a modest self-loading 22 that feeds from a rotary magazine. The weapon is accurate, lightweight and easy to shoot. There are takedown models of the gun available that split into two pieces for easy carry. The 10/22 is an excellent utility weapon that is capable of hunting small game and dispatching pests. A brick of 500 rounds can fit into a cargo pocket, and in a pinch, it can be used for self-defense. Its main role is utility, though.
#8 H&R Topper Shotgun

If you want to have a shotgun, but minimize the weight the Topper series is an excellent option. These little shotguns are single barreled, and hold and fire one round at a time. They are quite cheap, with used models often under 100 bucks. It's far from the perfect defensive weapon, but it is an excellent hunting and pest removal weapon. It's capable of hunting bird and squirrel and instantly becoming a deer and hog gun by just changing the ammunition type. The Topper shotgun is very light and easy to strap to a pack.
#9 Mossberg MVP

A bolt gun is an excellent staple in some SHTF armories. Bolt action rifles like the MVP are extremely accurate and capable of being quite light. I chose the MVP because it's a well-made rifle, with a wide variety of different options available. The weapon is available in both 308 and 223. The weapon is also modular, and Mossberg has a wide variety of different options for it. The biggest draw is that it can accept common and affordable AR 15 magazines or AR 10 magazines.
Category 4 – The Ammo Scavenger
#10 Thompson Encore Rifle

Thompson Encore series are probably the most modular weapons in existence. They are simple single shot rifles but are capable of taking a wide variety of different barrels and calibers. Starting with just the receiver and frame the user can custom order barrels to change the caliber in just a few minutes. This allows the user to gather a collection of barrels for common calibers and switch out when necessary.
Now it's your turn! What do you think are the best prepper guns to own?
You may also like: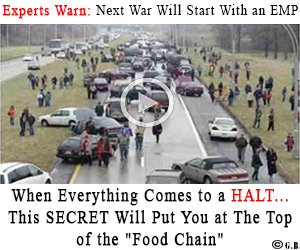 15 Things You'll Regret Not Having Enough of When SHTF
If You Are to Weak to Prep then You Need to Watch This (Video)
What Should You Do in Case of a Terrorist Attack?
Home Security Tips From an Ex-Burglar