Smoking is one of the tastiest and oldest ways of preparing food. When the lights go off and don't come back on, the ability to smoke meat will be a valuable skill.
Smoking is not only a safe way of preserving meat, but adds flavor while ensuring that nutrients are protected. In a post SHTF world, having a smoked ham ready to carve will provide a convenient snack or tasty meal.
This age-old tradition requires almost no equipment and can be done in the same simplistic way our ancestors did. Furthermore, all foods can be smoked. While it may not always have a preservative effect, it will add flavor.
Why To Smoke Meat?
Smoked meats are delicious. Furthermore, if done correctly, smoked meats can last for months, if not years.
Another interesting aspect of smoking is that smoked meats are healthy because the preparation process doesn't destroy nutrients in the same way as some other processes may.
I also recommend smoking due to its simplicity. Commercially available smokers add convenience, but at a cost. Not only can you build your low-cost smoker from old steel oil drums, but smoking can also be done with animal hides or other materials that create an enclosed space. A friend built an effective cold smoker from a discarded refrigerator.
Related: How to Build a Smokehouse In Your Backyard (with Pictures)
Flavor
In a world where spices have become rare or even completely unavailable, smoking will be a great way to add flavor to food. Not all smoking will have preservative effects but can add some welcome variation to your diet. You are only limited by your imagination.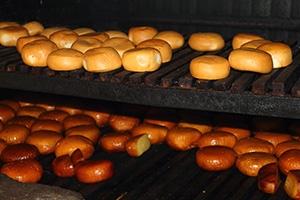 Smoked cheese and hardboiled eggs are good examples of adding taste to foods.
You can also smoke vegetables by laying them on racks inside your smoker. Smoked chilies and herbs can add unique flavors to stews or soups.
You can also smoke dried-fruits.
Smoking fish is one of the oldest and most time-honored traditions in all fishing societies.
Ever smoked jerky? Maybe it's time to start experimenting.
Preservation
The preservative benefits from smoking derive from the fact that smoking helps inhibit bacterial growth. This is achieved in two ways.
Firstly is that the smoke creates a "coating" on the meat by binding and penetrating the outer layers. This kills bacteria and also inhibits further growth.
Secondly is that smoking can help to dehydrate meat. Bacteria and food spoiling organisms require moisture, and the dryer the substance, the fewer bacteria can grow.
Related: How To Use The Bark Of This Common Tree To Keep Your Meat From Spoiling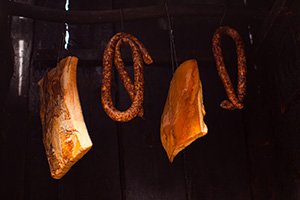 If your goal is long term preservation, you must cure your meats before smoking. Curing involves rubbing multiple layers of salts and sodium nitrite and sodium nitrate onto meats while allowing them to dehydrate.
Even after curing and smoking, make sure to store your food in dry, cool, and pest-free environments.
Food poisoning can originate from poor hygiene and contaminated animals or meat. Make sure that you only use cuts you can trust, and keep equipment and work surfaces sanitized. From slaughtering to eating, every step needs to be approached with diligence and the intent of maintaining food safety.
The Process
Hot Smoke
Hot smoking exposes meat to both heat and smoke. This should be done in a controlled environment where you can determine the heat and the amount of smoke.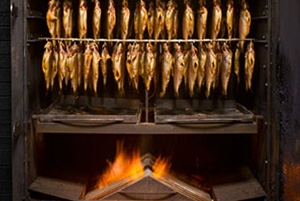 Hot smoking is done at temperatures ranging from 52 to 80 °C (126 to 176 °F).
You can smoke food items from 1 to 24 hours.
If the smoker goes above 85 °C (185 °F), your food could become completely dehydrated and inedible.
Most foods can be cooked again after hot smoking, but in many cases, like smoked hams, this won't be necessary and you can immediately eat the foods.
Cold Smoke
Cold smoking is typically done at temperature ranges from 20 to 30 °C (68 to 86 °F). It is important to fully cure meats before cold smoking. Could smoking is also ideal for imparting flavor to nuts and cheeses.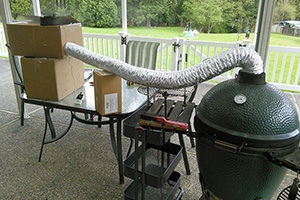 Ideally, you will cure your meat, like chicken, fish, or beef.
Then cold smoke for a while, and then do final cooking before eating.
Cold smoking is typically done for longer periods than hot smoking, and can sometimes go on for several days.
It's important to be aware that cold smoking is not a substitute for cooking. Also, be aware that meat that has not been exposed to sufficient heat may harbor diseases and parasites still active deep in the flesh.
Be sure to stick to health guidelines concerning the cooking of meat to eradicate flesh borne parasites or bacteria.
Related: How to Build a Clay Pot Smoker
What Could Go Wrong
Curing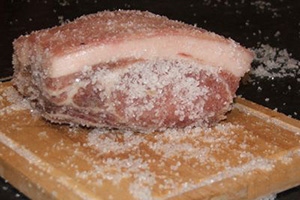 Too much curing can cause the meat to be too salty to enjoy. You could most likely still eat it in small amounts, but beware.
Too little curing will leave your meats susceptible to bacteria.
Many curing salts include sodium nitrate or sodium nitrite. These are important for preventing botulism, but should not be ingested above a certain threshold. Stick to health organizations' guidelines on the matter.
Burning
Hot smoking can burn or severely scald your meats. Rather smoke cooler and longer, than hotter and faster. Burnt meat loses its nutritional value and carbonized/blackened portions are bad for your health.
Balance
Just as too much heat can burn meat, too little heat can leave meat raw. The cooking process doesn't only change the nature of protein and fat but destroys bacteria and parasites.
What Wood To Use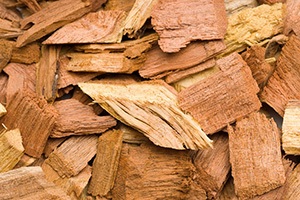 A simple rule is to use clean and dry hardwoods of species you know that won't cause damage to your health or gut.
These can be used as smoldering logs or cut into shavings, moistened, and then placed onto coals to create smoke.
Hardwoods to use include Oak, Hickory, Maple, Pecan, Apple, Alder, Cherry, and Mesquite.
What Wood NOT To Use
Most softwoods like pine, or all needle producing tree's, will give the meat a bitter taste. Never use chemically treated or painted woods, including wood that is moldy or rotting. Chemicals present in paints or treatments will end up on your meat and could be severely detrimental to your health.
Some types of wood contain compounds that can lead to severe diarrhea and even death. If you are not sure about the wood you have access to, don't use it.
Species never to use include: pine, redwood, fir, spruce, cypress, or cedar.
More comprehensive lists are available, and you would be well advised to familiarize yourself with them.
When In Doubt
Smoking meat is not a technique for rescuing meat. Use only fresh cuts.
Meat from dead animals that may have been lying about for some time, or meat that may have started to spoil and have slimy layers of bad smells should not be smoked. In some cases, cold smoking may even make matters worse.
Before working with any meat, do a thorough inspection to make sure it's safe.
Look for any discoloration of flesh or fat, also look for signs of fluids leaking from the meat. Discolored water-like discharges or any slimy or viscous discharges could indicate unsuitability for human consumption.
Don't ignore any strange smells coming from the meat of blood. Spoiled meat will also sometimes feel slimy or grainy.
There are a whole host of diseases and parasites that can be contracted from both living and dead animals. Organisms such as bacteria, parasites, and even viruses can infect humans when handling meat or through exposure to animal blood or other fluids.
Bacteria such as Salmonella, Escherichia coli (E. coli), Shigella, and Staphylococcus aureus (to name but a few) can be present in raw meat and animal blood. Clean working environments and thorough cooking will limit the risk of contracting diseases.
Parasites such as Tapeworm can be ingested from raw or undercooked meat.
Other diseases, though rare, can also affect humans. The list includes anthrax, cryptosporidiosis, dermatophilosis, Escherichia coli, giardiasis, leptospirosis, listeriosis, pseudocowpox, Q fever, rabies, ringworm, tuberculosis. Not all exposure results in clinical disease, and it's also important to note that many diseases arise from exposure to milk, feces, or other bodily fluids.
You must follow hygiene protocols when working with meat to limit exposure and don't eat meat if there are doubts about its safety.
Related: How To Smoke Bacon The Old-Fashioned Way
Source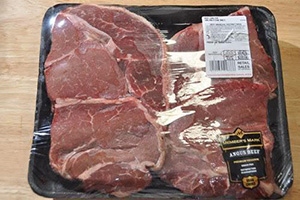 Despite regulations and their best intentions, abattoirs, butcheries, and even supermarkets supply thousands of pounds of contaminated meat to consumers every year.
Most instances of food poisoning or illness from foodborne bacteria or parasites can be traced back to commercial slaughterhouses.
Most of the time it's unintentional, but the human-error does occur.
It is important to source your meat from a trustworthy source. By slaughtering or hunting your meat, you will be in control of hygiene. Make sure that you know the signs and symptoms of the most common animal-borne diseases that can transfer to humans.
As a rule, only hunt and slaughter animals that look healthy, high spirited, and energetic. Lethargic, sloughing, or disoriented animals should always be avoided.
Great Taste
In almost all circumstances, smoking is a great way of creating delicious food while increasing food safety. It's simple and effective and will create finger-licking meals with almost no spices required.
It does however require some practice, so the best time to start is now.
You may also like:
10 Things Cowboys Carried With Them in the Wild West to Survive (Video)
Lost Native American Survival Skills
Top 13 Prepping And Survival Items You Can Find At Farm Auctions
The Ultimate Meat Processing Charts for Preppers