Farm auctions are one of my favorite places to search for prepping tools and survival gear. I frequently hit yard sales and flea markets for inexpensive preps, like sheets and curtains to turn into fabric, fishing gear, and boots with some life left in them. But, for the big stuff you will need to keep a survival retreat running during a long-term SHTF event, a farm auction is where you need to go.
Twice each year there one of the largest farm auctions in the entire country is held in my state. Not only is the week-long event a farm auction it is an Amish farm auction. Folks from around the country save up all year so they will have plenty of money to spend on old-fashioned manual tools, farm equipment, and well-trained livestock at the Mount Hope Auction.
The farm equipment sold at Amish and often even at auctions held at old farms in rural areas, was designed to be pulled by horses or is hardy and simple to fix. Being able to work on equipment without special tools or high-tech gadgets will make it far easier to keep it running when you can no longer call in a mechanic or shop for parts online.
There is almost always something every member of the prepping family will get excited about when attending a farm auction – including the kids. The auctioneer will be selling far more than large farm equipment on the block during the events. You should expect to find homesteading and off grid kitchen items, heirloom toys that often help teach farm skills to youngsters, and a plethora of gardening items of all types.
#1. Tractors
This is a Ford 2N tractor, circa about 1940. It is extremely rare. My husband got it as part of a combo deal. This old rusty beauty was billed as a "parts tractor" but after working on it for only an hour or so, it was up and running perfectly.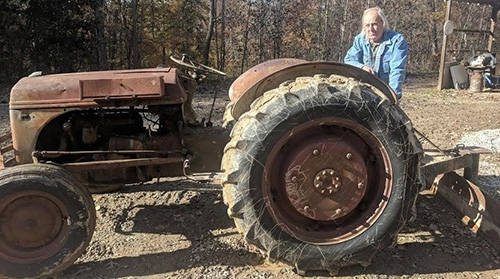 There will be tractors of all shapes and sizes at farm auctions. You must do your research before you go in order to not only get a good deal, but to find a model that spare parts are likely to be easily found in your area – or fabricated in your survival retreat homestead workshop.
If you do not need a tractor but know what is a rare find or in high demand, you could score either a barter item or a tractor you could resell at a higher price to fund the purchase of other preps or survival gear that you are currently lacking.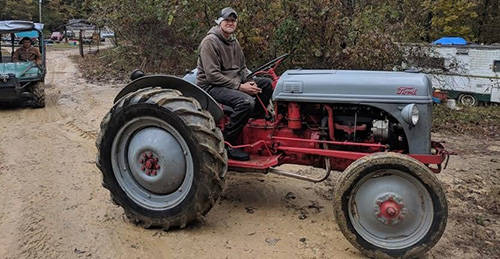 This tractor is a Ford 9N. Although it is not as rare as the rusty beauty shown above, it was still an awesome find. My husband scored both tractors for about $1,200.
#2. Hay Baling Equipment
If you are going to keep medium and large livestock as a protein and milk source during a long-term disaster, they will need hay to prevent them from starving during the winter months. Having hay delivered to your survival retreat will not be possible when the world as we know it has either temporarily or permanently come to an end.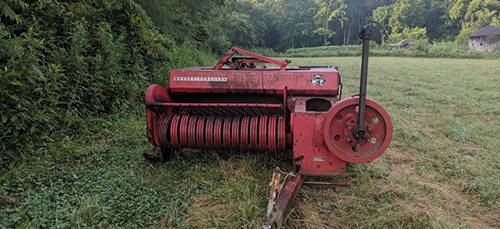 The hay baler shown above and the rake attachment featured below, are just a few examples of the type of baling equipment you can commonly find at farm auctions. At an Amish farm auction, you can also find hay balers that can be pulled by a horse team. If you are really lucky, you might also find horse drawn logging equipment, as well.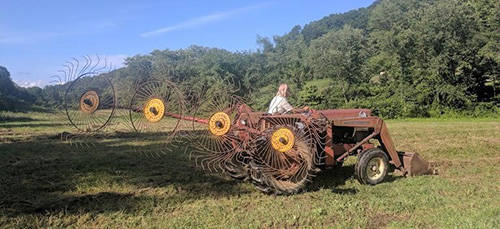 #3. Boats
Yes, you can even find row boats, canoes, and sometimes even amphibious vehicles, as farm auctions.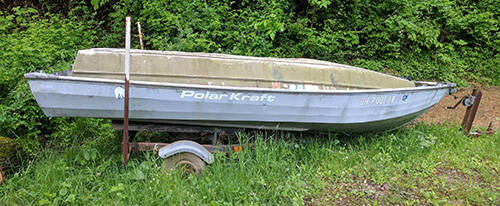 Make sure to pay attention to the fast-talking auctioneer when he details the water worthy nature of the craft. If you are handy, perhaps you can cold weld a bad spot on an aluminum boat, but you need to know how much work the fixing up will entail, before bidding.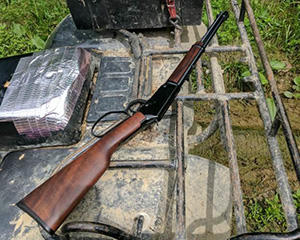 #4. Guns
The availability of guns at a farm auction may vary but state, but it is not unusual to find quality hunting rifles at such sales.
Before you can collect the gun at the auctioneer table you may have to submit to a background check.
Related: Best Gun for Home Defense
#5. Heavy Equipment
Farmers often have older, but still in decent shape, heavy equipment at their sales.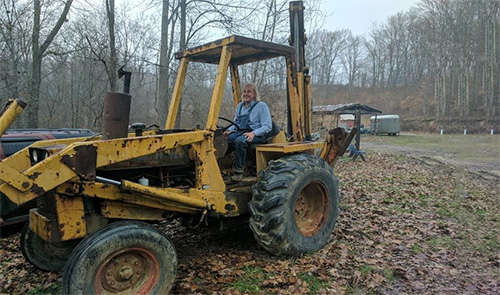 Common types of heavy equipment found at farm auctions include backhoes, skid steers, track hoes, and dump trucks.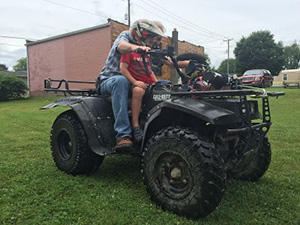 #6. ATVs
Four wheelers and side-by-side ATVs are nearly as common on farms as horses.
Farmers use the all-terrain vehicles to haul feed, square hale bales, to pull logs, and to hook a winch to for a series of heavy-duty work.
#7. Butchering Equipment
Farmers often butcher their own meat and possess not only stainless-steel tables and sinks to work upon, but both electric saws and special knives to complete the process.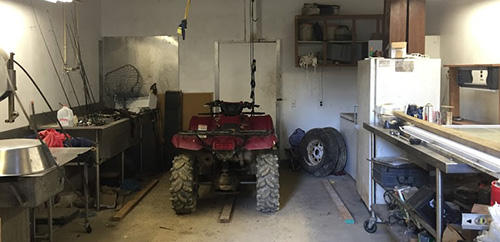 Unless you are going to become a professional butcher on the side to earn extra money, you do not need a separate building to butcher the meat you raise or hunt on your own survival retreat. In the photo below you can see how easily a common attached garage can be converted into a butchering area.
#8. Produce
Farm auction are also great places to score bulk produce.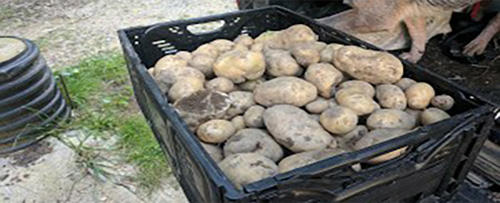 You will not likely be permitted to personally inspect each numbered tub that is placed up on the auction block during the sale, but it is common to be able to browse a trailer full of filed produce tubs before they are sent up for bidding.
#9. Cast Iron
Some of my best cast iron pieces were purchased at farm auction. One skillet is capable of holding about 10 hamburgers and is in excess of 100 years old. Do not let a little bit of rust, or even a whole lot of rust, on a piece of cast iron, deter you from bidding on the item.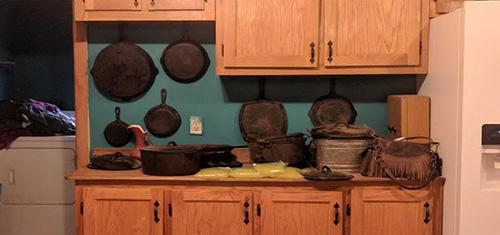 It is virtually impossible to ruin cast iron. When I find cast iron that is heavily rusted, I simply put the sanding bit on my husband's power drill and use it to remove the unwanted residue, and then wash it away before re-seasoning.
#10. Tools
Although finding old-fashioned manual tools is one of the reasons my husband and I hunt through farm auction listings so frequently, we also pick up cheap power tools that still have enough life left in them to use as backup tools or for barter.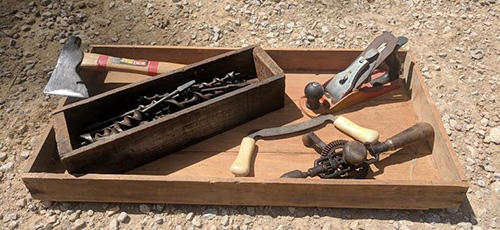 Manual tools to be on the lookout for at farm auctions include: potato mashers, manual drill and bit set, cheese press, juicers, two man saw, meat slicers, coffee grinders, and anything that could be used in an off the grid kitchen or workshop. Also, can you ever really have enough hammers and nails?
We often buy miscellaneous cans full of nails, screws, and other hardware at farm auctions and have never once been disappointed while sorting through our "treasures" later.
#11. Food Preservation
I believe our Mason jar "collection" is now up to about 5,761. Seriously. You can use the jars and rings over and over and over again. During a long-term disaster you must preserve all of the groceries you are growing and raising by canning, smoking, dehydrating, pickling, or salting.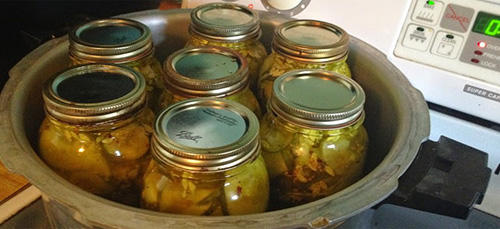 A farm auction is a superb place to find food preservation supplies in perfectly good shape. I shy away from buying even unused boxes of lids (unless they are super-duper cheap or part of a larger grouping of items) because the rubber on the lids could have cracked over time and not seal properly.
Related: How To Preserve Beef in Glass Jars
#12. Utility Trailers
Even if you do not keep large or even medium livestock on your prepper retreat, a bargain livestock trailer could still come in quite handy. A small trailer can be turned into a heavy-duty predator proof chicken coop, be used as a portable tool shed, as an attachment to a bugout vehicle to haul any number of items, including crops grown in portable containers.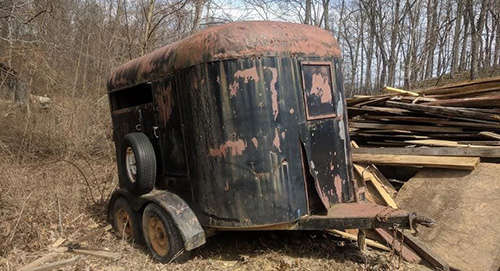 Utility trailers, or even hay wagons, are typically found in great abundance at farm auctions. A trailer could be used not only to haul good on or off the survival retreat, but could be turned into a mobile greenhouse, portable livestock pen, or upcycled into a camper style living area.
#13. Livestock
Buying animals at a farm auction can be easy on the wallet, but I advise doing so only with caution.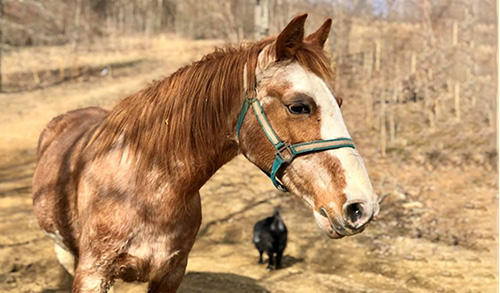 Most farm auctions are set up by reputable sellers, folks who have care for their horses, cattle, hogs, chickens, goats, ducks, and turkeys quite well. But, when farm auctions are hosted by larger and more commercial interests and allow members of the public to sell their livestock as well, the health checks of the animals might sometimes be lax. Unless you are familiar with the farm owners, breeders, or traders, you could run the risk of buying a sick animal or one that has "been doped" so it appears calm and manageable in the auction show ring.
This list is solely featuring the 15 most beneficial and common prepping items most often included at farm auction. It is by no means an exhaustive list. You will surely find dozens more quality and affordable, and even hard to find, homesteading, survival, and off grid living supplies at farm auctions in your region.
You may also like: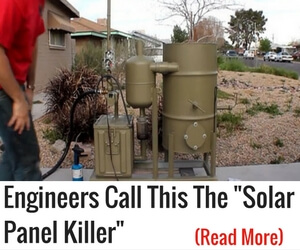 The Best 5 States for Living Off-Grid
How to Build a 44-Day Stockpile for Only $2.40 a Day (Video)
Prepping on a Budget – How To Get Survival Supplies When You Have Almost No Money