One of the oldest ways to put meat up for later is through smoking. Smoking meat helps to preserve it under less than ideal conditions, like we're bound to experience in a SHTF situation. Oftentimes in the olden days, the meat would first be cured, usually with salt, and then smoked to create a finished product that would hold up much longer than fresh meat. The combination of salt and smoke work together amazingly well to limit bacterial growth.
Related: How to Build a Smokehouse In Your Backyard (with Pictures)
So how do you do it? You'll see all sorts of very expensive smokers on the market, but they don't necessarily need to be that complicated, and you really don't need to build a whole smokehouse to learn the art of food preservation through smoking. You can build a simple electric clay pot smoker right at home, oftentimes from materials you've already got laying around.
Here's what you'll need:
Large terracotta pot – I used a 16 in. pot from a home improvement store, the most basic style they make to cut down on the cost.
A terracotta pot saucer – You'll need one that fits either over top of the rim of the terracotta pot or fits down inside of it pretty neatly. You could also use a smaller pot that fits well.
Brick scraps – You'll need several chunks of 2 in. thick brick or patio block, at least six of them.
Metal grate – Find a circular grill grate that will fit inside your pot. If you can't find a round one that fits well, you might consider cutting one down to size.
Handle – You'll want a way to easily get a hold of the lid and remove it, so you'll need a handle. There are several ways you could do this. Just make sure your handle will work with your lid of choice. I used a galvanized handle from a home supply store.
Electric hot plate – There are a couple requirements for your hot plate. First, you'll need to make sure that it fits in the bottom of your pot, so watch the dimensions when purchasing both the pot and the hot plate. Next, you'll need a hot plate that is at least 1,000w to make sure it can get your smoker hot enough. Last, make sure that the hot plate you're planning on using doesn't have an auto-off feature. This will really ruin your day, knocking the temperature down in your smoker and requiring you to disassemble the hot smoker to turn the hot plate back on.
Oven thermometer – You'll need to purchase an oven thermometer that has a decent range of lower temperatures on it. The motto you'll need to keep in mind for smoking meat is Low and Slow, so a thermometer that starts at zero is ideal.
Metal pan – This will be used to hold the woodchips, so any ol' pan should do. However, the prolonged exposure to high temperatures means you probably want to use a cheap metal pie pan.
Drill and drill bit – You'll need something (masonry bit, glass or tile bit, concrete hole saw bit, etc.) to make a hole in the bottom of the pot that's large enough for the hot plate's plug to fit through. You may also need a bag of sand for this.Related: 

How to Make Your Own Rocket Stoves (Tin Can & Long Burner Rocket Stoves)
Here's how to get started constructing your smoker:
First, check the bottom of your pot for a drainage hole. If there is a hole there, answer the next question. Does the plug to the hot plate fit through the hole? If not, or if there's no hole at all, you'll need to drill one large enough for it to fit through. Use one of the bits listed above to do this, but first set the pot in a bag of sand to help cushion it. You really don't want to crack this big, expensive pot, so take care here!
Put the handle on the lid. You can use an eye bolt, washers, and a piece of wood dowel to construct a handle, or you can rig up another handle of your own making. However you decide to do this, once again, take care when you go to drilling. The point of this handle is so that you can get the lid off even while the smoker is hot, and whatever way you find to do that will work just fine.
Now you'll start putting the pieces together to prepare for actually cooking. First, place at least three pieces of the brick scrap in the bottom of the pot to prop up the hot plate. This will allow for air to circulate.
Next, put in the hot plate. You'll run the plug out of the hole in the bottom of the pot first. If you've purchased carefully, it'll fit easily down inside the pot with room for the temperature adjustment knob.
Now, place the pan with wood chips on the burner of the hot plate.
Put the grate in. If it wobbles or doesn't stay up well, you can add some support. To do this, place a few dabs of silicone caulk that's approved for the heat around the edges to prevent the grate from moving. You wouldn't want the food you're cooking to be rolling around in there! Set the oven thermometer up on the grate to keep track of the temperature in your smoker, as well. You may want to bend the little legs around so that it holds on tight.
Now, set the whole contraption up on some more brick scraps to allow for air circulation around the clay pot smoker.Put the lid into place and make absolutely certain it sits well, and you're ready to get cooking!
Remember how we talked about Low and Slow? It's time to put that motto to work. Do a little experimenting to find which setting on your hot plate will keep your smoker at the appropriate temperature. Usually, you'll aim for between 210° F and 220° F, but that could vary slightly depending on what you're cooking. Check out this chart to see what temperature you need to maintain and for how long. You can cook most any meat that will fit inside of your smoker with ease!
You may also like: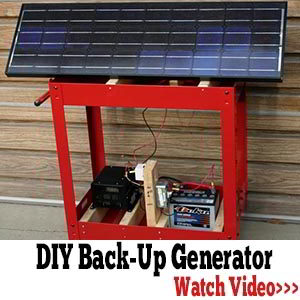 50 Prepper Items To Shop For At The Thrift Store or Yard Sale
7 Actions to Take Immediately Following an EMP Strike (Video)
30 Smart Ways to Reuse Things That You Usually Throw Away
How To Repackage Foods in Mylar Bags With Oxygen Absorbers For Long Term Survival