Have you ever noticed old gutters lying by the side of the road, or in a trash pile somewhere? If so, you might not want to pass them by next time. As they say, "One man's trash, is another man's treasure". In the case of gutters being tossed out, this old familiar phrase is so true!
There are several creative and clever ideas that could come to life with old gutters. Even your existing gutters might not be utilized as much as they could be at times. For example, do you have a downspout lined up in a way so that rain water running off can go into a large barrel? Rain water is excellent for watering gardens and lawns. If you save it in this manner, you could have it on hand during dry spells.
However, once you or someone else is considering replacing the gutters, don't throw the old parts out. There are several ways to put them to good use. And, if you don't see any lying around anywhere, check with construction companies to see if they are willing to share leftover pieces with you.
The following is a mix of both very practical ways to utilize gutters off the grid, as well as ways to enhance living space and organize items for anywhere or anyone.
Related: 36 PVC DIY Projects for Your Homestead
#1. A Wall Garden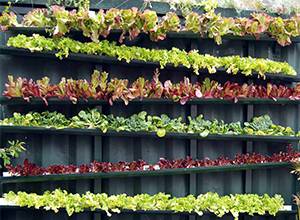 Leftover gutter pieces can be cut to your desired size, then mounted onto a fence, side of the house or garage, or anywhere you could mount them. Put them open side up to use as elongated planters.
Yes, they are narrow. So, you would use these planters to grow seedlings before transplanting, as well as herbs, succulents, or other small plants.
#2. Garden Edging
You could use old gutters to decorate, as well as help protect your garden space, by placing them around the edging, open side up. You can plant herbs and plants known to help keep pests away, such as the following:
Chives or Mint – to repel aphids, some beetles, mites, and rabbits;
Rosemary or Sage – to repel cabbage moths, some flies and beetles;
Garlic – to repel some beetles;
Basil – to repel flies, mosquitoes, and thrips;
Cilantro – to repel aphids, spider mites, and potato beetles.
#3. Organized Storage for Small Items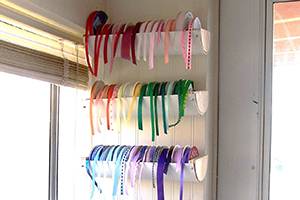 Gutters can be cut up in small sections, about 4-6 inches or so, depending on what you want to organize.
Flip them on their side, so that the opening is on top and bottom, and line them up to organize things such as nails, screws, brushes, or small tools.
You could also mount these on a board or wall for storage slots.
#4. Catching Chicken Droppings
If you have chickens, you are probably well aware that keeping up with the droppings in the coop can be time consuming and tedious. But, if you take a gutter and place it under the roosts of the cage (open side up), droppings can be caught in there, rather than the floor.
I would suggest using a mounting system that would allow for the gutter trays to be removed for easier cleaning.
Related: DIY Chicken Tunnel (Step-by-Step Guide)
#5. Indoor Garden Shelf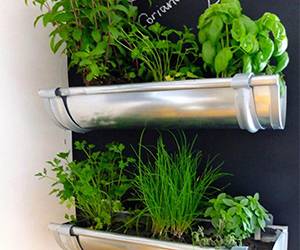 Cut the pieces of gutter to the desired size, and attach them to a wall to use as a small planter for herbs and succulents.
You can paint the outside of the pieces to go with your particular decor.
This is a great option for anyone who is short on counter space, but still wants to have fresh herbs within easy reach to use while cooking.
Related: How to Grow Medicinal Herbs On Your Windowsill
#6. Cable Organizer
It's not uncommon to have a mess of cables and wires around the house, if you are hooked up to power and devices. They can be unsightly, in the way, a trip hazard, and a tangled mess. Unless, of course, you do something to help organize and hide them.
By attaching a piece of gutter under the desk, it can hold all the cords and channel them right to the electrical outlets. You could also use them on a wall to conceal wires and cables.
#7. Waterscapes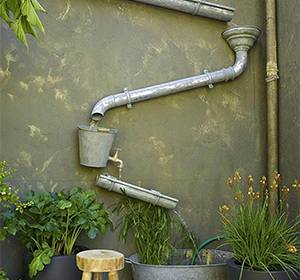 You could also get creative with gutter pieces in creating a unique water feature to hang on the side of your shed, fence, home, or garage.
Hang each piece in a manner that would drain into the one below it when it rains, until it reaches a large tub at the bottom.
In that tub, you could have fish or water plants.
Related: DIY Mosquito Trap That Really Works!
#8. Aquaponics Gutter Gardens
This project is perhaps a bit more ambitious, but gutters can provide a unique opportunity in aquaponic gardening. Aquaponics is a time-consuming project to get started, but you will end up with a unique self-watering system for your garden, and it could be done using old gutters.
I could really dedicate an entire article in setting up this system, but save the gutters in case you want to do this someday!
#9. Built-in Ice Trough in a Table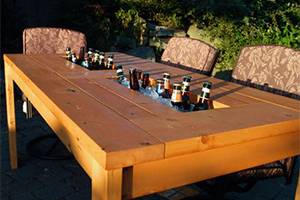 This is perhaps one of the most fun ideas I have seen in a while. Cut out a section in the middle of a wooden table top, then mount a piece of gutter from underneath, with the open side up.
You can then put ice and beverages in the trough for entertaining. Or, if you don't want ice and beverages, you could plant some of the herbs mentioned earlier to keep bothersome insects away.
As I mentioned earlier, some of these ideas are great for living off the grid, while others are more frivolous and just fun. However, each is a great way to repurpose old gutters, rather than just toss them out.
You may also like: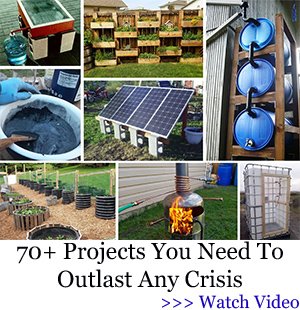 How Much Land Do You Need to Be Self-Sufficient?
When And Why You Should Chew Yarrow (Video)
Do You Know Your Rights Under Martial Law?
50 Emergency Items To Always Have In The House