We all know the importance of keeping plenty of food on hand to get us through a crisis. Stockpiling food is usually the first thing that any of us do as preppers – and it's something that we keep on doing, long after many of our other preps are in place. But having food and having a way to cook it are two different things. Without the ability to cook it, much of that food will be worthless.
Of course we all have cookware in our homes, as well as barbecue grilles, fire pits and other places to cook. But what if we have to bug out? I carry a complete set of backpacking cookware in my bug out bag, but I see an awful lot of lists which don't include that. Rather, it seems that there are a lot of people around who think a couple of pieces of aluminum foil is all the cookware they're going to need.
Well, I've cooked in aluminum foil. It works. At least, it works the first couple of times. Then the foil gets ruined and you don't have anything to cook that tasty packet of ramen in. What are you going to do then?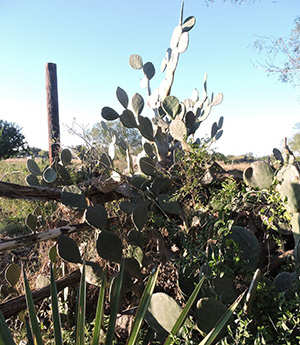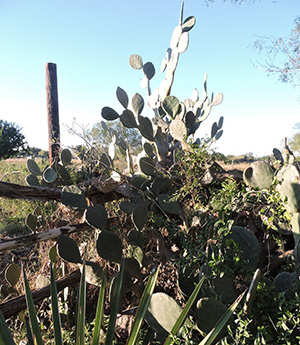 One option is to make a cup out of birch bark and cook in it. Of course, that presumes that you're in a part of the country where birch trees grow. If you're not – say for example, you're in the Southwest – then that isn't going to work. You'll need another option; an option like cooking in a cactus.
One of the most common cacti around is the prickly pear. I'm not sure how many different varieties of prickly pear there are, but there are 18 of them growing in the Sonora Desert alone. Some varieties provide the tuna fruit and others are eaten as a vegetable in Mexico, known as "nopal." While not common in the United States, nopal has been widely recognized by the health food industry for its many excellent properties.
Since the prickly pear is edible, there is no problem using it to heat water for making coffee or cooking your packet of ramen. For that matter, once you cook it, you could scoop the inside of the pad out and eat it as well. While it might not taste like your favorite vegetable, it will provide you with some nutrition.
Prickly pear leaves or "pads" come in a variety of sizes, depending on the particular type of prickly pear plant. Most have spines, but there are a few varieties, especially the nopal, which do not. I was fortunate enough to find one with only small spines to use for my experimenting with this method.
Preparing the Cactus
You're going to need one large prickly pear pad to use as a cooking vessel. Make sure that it is an unblemished pad, without scars and especially without any holes in it. There is no real way to patch any holes, so if you harvest one with holes or put any holes in it, in the process of preparing it, you're going to have to start over.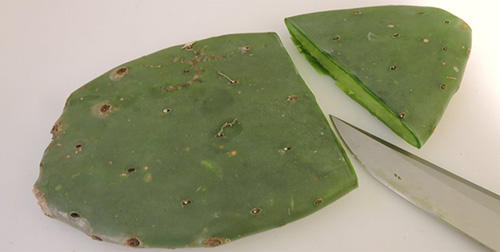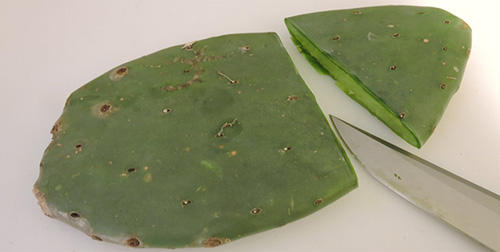 You can cut the pad at the joint, where it connects with the next pad, but if you do this, you'll need to cut the pad again, to make the opening for the top of your cooking pot. It works better to just cut across the pad, where it is getting close to its maximum width, providing you with that opening.
The next thing you'll want to do is singe the spines, so that they do not stick you. Be especially careful to singe the smaller spines, as they are usually sharper and harder to see and remove. You probably won't be able to burn the larger spines off all the way, without running the risk of putting a hole in the pad. But if you can at least singe off the point, it won't be able to stick you.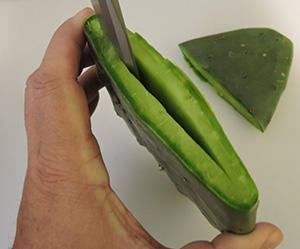 If you cut the pad off at the joint, rather than cutting a top, you'll need to cut it off now, making the opening at the top of your cooking vessel. Then you'll need to carefully stick your knife down in the middle of the pad, creating a slit so that it can be opened. It is extremely easy to put the point of your knife through the side of the pad at this point, rendering it useless and forcing you to start over, so you need to be extremely careful, cutting a little bit at a time.
The pad will be stiff, so it will not be easy to open it up and make a vessel out of it; but if you wedge it in the fork of a stick, you can force it open slightly. This will also allow you a stand to hold the pad upright as you are cooking in it.
Related: How to Cook without Alluring Smells
Cooking Your Ramen
With the cactus pad now prepared, you are ready to start cooking. Ramen are cooked in boiling water, so the idea is to fill the cactus pad with water and then to get that water boiling.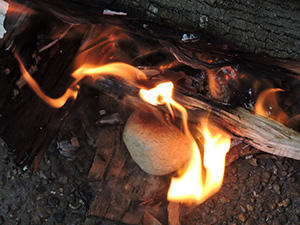 If we were working with that birch bark cup, we could put it over the fire. As long as the flames don't reach higher than the water level in the cup, it will not burn. I'm not sure if this will work the same way with the prickly pear pad, as I've never tried it. Rather than do that, we are going to put hot rocks inside the water to heat it up.
This, of course, requires a fire, which is the first thing we should have done before hunting up our cactus leaf. A larger fire is not needed, but it does need to produce some good coals, as the coals are the hottest part of the fire. We'll need to put some small, preferably smooth, rocks in those coals to heat them.
It's important that you use stones which don't have any cracks or fissures in them. If they do, there will be a chance that there will be water in those cracks. When heated, that water will expand and might cause the rock to break or even explode, scattering pieces all over the place. Better to avoid that, by not using stones with cracks in them. Stones that you gather from a stream bed are fine, just as long as you check them for cracks.
A couple of sticks can be used as "tongs" to pick the rocks up out of the fire and put them in the cactus pad to heat the water and bring it to a boil. You will probably only be able to use one rock at a time, allowing its heat to transfer to the water in the cactus. Once it has transferred (after 20 to 30 seconds) remove it and replace it with another stone. Repeat this until the water is at a boil.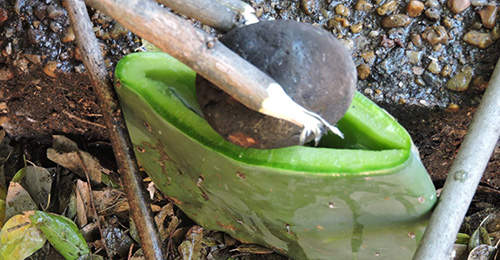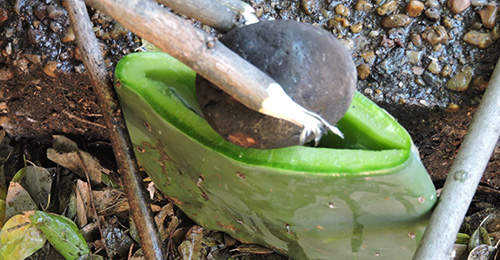 At this point, you're going to be glad that you have a couple of sticks holding your cactus pad up, as the boiling water inside it will make the pad hot and difficult to hold.
With the water boiling, you can now break up your ramen and put it and the seasonings in the cactus pad to cook. You'll probably only be able to fit about half a pack at a time, but the water can always be reheated to cook the remainder. Ramen cooks quickly, so you'll be able to eat it within a few minutes after putting it in the water.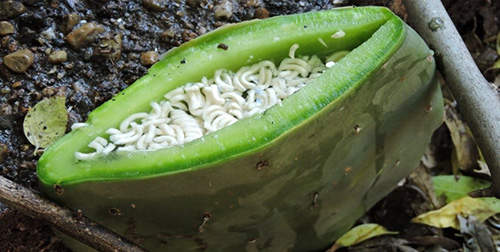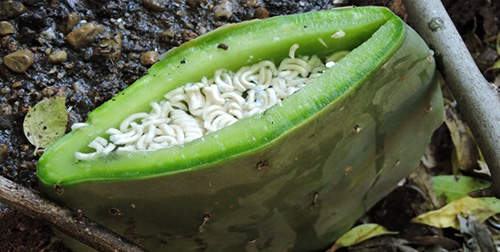 If you are adding any dry ingredients, such as dried vegetables or cut up jerky to your ramen, to turn it into a heartier soup, be sure to add them before the ramen, as they will need more time to soften in the hot water. Even so, those additional ingredients might be a bit chewy, but at least they will be edible.
Speaking of being edible, if you don't have a fork or spork in your survival gear, you can always use the time while you are waiting for the water to boil to whittle yourself a pair of chopsticks. That's the right way to eat ramen anyway, isn't it?
You may also like: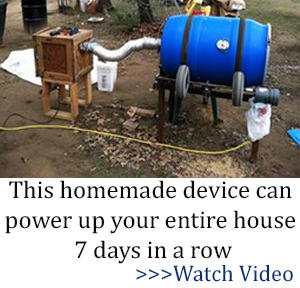 11 Food Storage Lessons Learned from WWI
What Happens If You Add Honey To A Coconut (Video)
7 Primitive Cooking Methods You Still Need to Know Today 
The Lost Art of Scratch Cooking
If you liked or article don't forget to pin it!