No one is perfect, and when it comes to home security, all of us tend to make mistakes that may seem small but can result in significant breaches to our homes.
Unfortunately, these lapses in judgement often go undetected until they are either exploited by the criminal element or pointed out in an article on your favourite prepping website.
These are nine home security mistakes you might be making right now.
Not Locking the Screen Door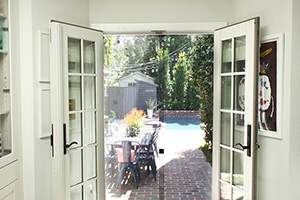 It can be tough to beat the summer heat, leading many people to leave their main entry doors open to let the cool breeze flow through the screen door.
This leaves only a thin layer of mesh between them and the outside world.
Most screen doors do come with a locking mechanism, but if yours does not, it is important to install locks and to use them.
While the doors themselves are usually flimsy and defeated fairly easily with some brute force, locking them is the difference between a criminal slipping in silently and one that has to make a lot of noise ripping the thin door from its hinges.
It can be a pain in the neck to lock and unlock the door every time you need to go outside, but the simple act of securing a screen door slows down any would-be home invaders, which allows you to mount a suitable defence.
Leaving Ladders Outside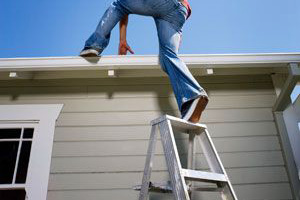 Storing ladders outside gives criminals free and easy access to every second-story window in your home.
All ladders should be secured inside the confines of your house or garage as not to have them used against you.
If you must store ladders outside, use a bike lock to prevent extension ladders from being extended.
These locks can be defeated, but usually, the process is very loud and will undoubtedly wake you or someone in your household.
Related: This Common Household Item Is One Of The Most Useful Survival Assets
In my youth, I would often climb through my second-story bedroom window in the early morning hours via an unsecured ladder in those instances where I did not have my house keys with me.
Leaving Second Story Windows Unlocked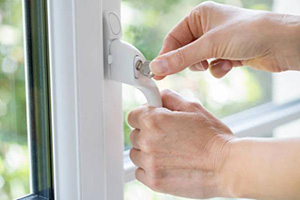 Even if you secure all your ladders, there is still the possibility of someone accessing your second-story windows through other means or by simply 'borrowing' a neighbour's ladder.
The best way to combat this threat is to secure all your second-story windows.
Either lock them closed or install a locking mechanism that will only allow the window to be opened an inch or two.
In the past, I've used a short length of wooden dowel to prevent the window from being fully opened. By keeping these windows closed or only open an inch, you remove a visual temptation for criminals looking for a quick and easy score.
Posting Your Absence to Social Media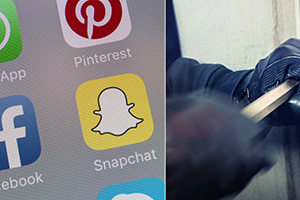 There is no reason anyone should post any information about their whereabouts or that they are away from home on vacation. All this does is announce to thieves that your home is ready to be ransacked. If you want to post holiday photos, do so when you get home, not while you are away.
Also, be aware of what you are posting from the inside of your home as well.
Never post pictures that have desirable items that thieves may want to steal in them; always audit your social media posts before publishing.
Opening the Front Door to Strangers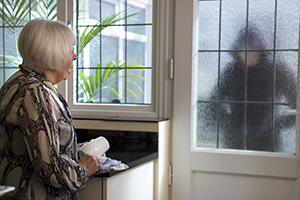 I do not often answer my door to strangers, but when I do, there always a locked storm door between the person outside and me.
The reason I do this is to prevent the probability of someone rushing through my front door and conducting a home invasion.
I also have a camera linked to my smartphone that watches the front step. This allows be to have real-time video of my front porch and two-way voice communication through the camera.
Regardless of your front door situation, always have a barrier between you and anyone who comes knocking.
Related: How To Deal With Neighbors And Friends That Come Begging For Food At Your Door In A Crisis
Leaving Garage Door Opener in Vehicle Outside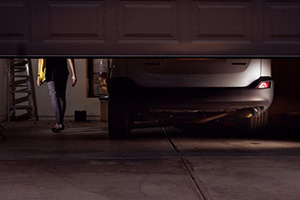 There are times that we leave our vehicles outside of our garages, but at the same time, we leave the garage door openers inside of the car.
If anyone were to break into your vehicle, they would then have access to this opener and, in turn, access to your home.
Likewise, never leave a garage door opener out in plain sight in your parked vehicle.
Many vehicles have garage door openers integrated into the rear-view mirror.
If you regularly park outside, do not program this feature because if you accidentally leave your car unlocked, it is one of the first things a thief may try.
Leaving Exterior Light Bulbs Burned Out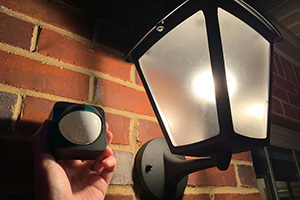 Exterior lighting is critical to your home's security, and when a light bulb burns out, you must replace it immediately.
Often these lights are a bit of a pain to disassemble far enough to replace the bulbs, which is why it is tempting to put that job off for another day.
Exterior lighting is critical to removing the cover of darkness from a criminal's toolkit. Every light that is left burned out increases the veil of darkness that can be exploited.
Training Your Dog to Not Bark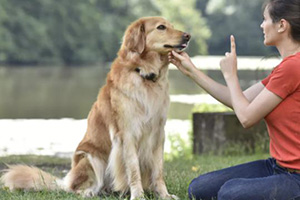 It is annoying when your dog barks like a madman every time someone knocks on the front door or walks down the sidewalk.
Many people train their dogs to not bark but doing so actually puts their homes at increased risk.
Criminals like to choose soft targets to hit, and if they hear barking every time they approach a given house, they are more likely to avoid it in favour of homes without canine guards.
While I have an 80-pound Labrador who likes to bark up a storm with an intimating woof, the small 'yappy' dogs are often as effective a deterrent as the larger breeds.
Leaving a Spare Key Outside Your Home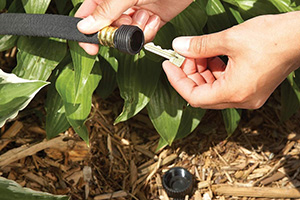 The chances are that what you think is a good hiding spot for your spare key is obvious to those who make a living burglarizing homes.
Instead, install a deadbolt that operates through a keypad. This allows you easy keyless entry into your home.
Most of these keypad deadbolts also can program temporary passcodes that you can give to contractors or other people who may legitimately need access to your home.
These temporary passcodes can also be revoked very easily.
Final Thoughts
We all fall victim to complacency in home security, but these small mistakes, such as I have outlined here, can result in the dreadful feeling of having your home violated.
All it takes is a little bit of vigilance to keep your home secure and the thieves moving along to easier targets.
You may also like: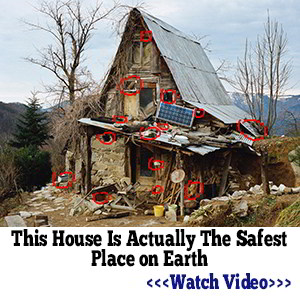 15+ Survival Items To Keep In Your Car At All Times For SHTF
How To Build An Underground Root Cellar And Bunker For Only $400 (Video)
The Most Probable Crises You Need To Prepare For In 2021
How to Identify and Use Kratom – the Painkilling Plant that Substitutes Opioids